KJK issues condolence message for Meredith Tax
"We promise Meredith that we will certainly lead the struggle for a freer world for all to success. Kurdish women will see her by their side in their struggle every day and every hour. We will always carry her feelings and longings with us."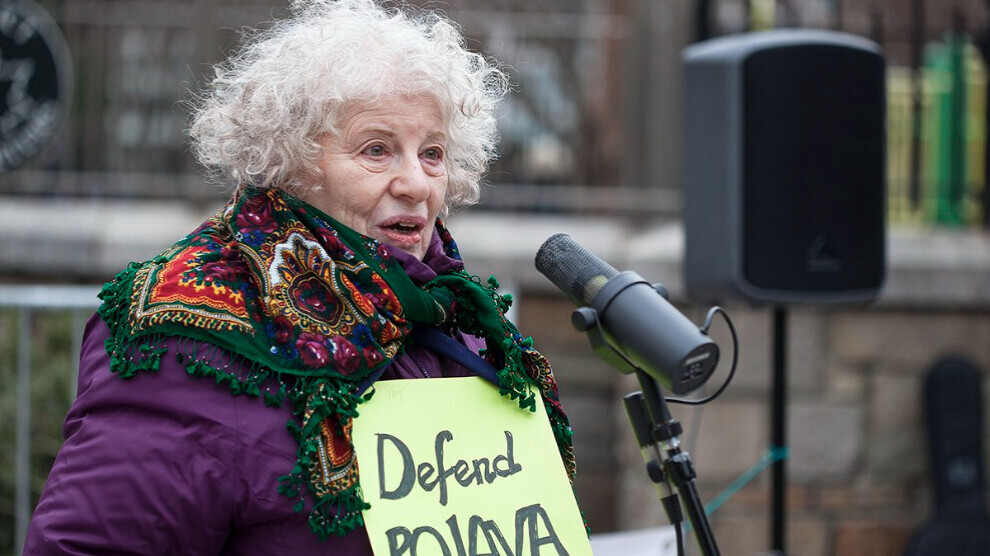 The Kurdistan Women's Community (KJK) Coordination issued a condolence message for the American journalist and writer Meredith Tax, stating the following:
"On September 25, 2022, we experienced the deep pain of losing our dear friend Meredith Tax, who was treated for cancer for a long time. The death of Meredith Tax is a great loss for all humanity, especially women. As the Kurdistan Women's Movement, we first extend our condolences to her family and friends. We will always keep her alive in our struggle as a valued friend and a leading dynamic of the feminist struggle.
In her 80-year long life, she lived a wise and struggle-filled life that very few people can afford. Her lifelong commitment to a radical feminism has never been shaken. In addition to her contributions to feminist theory, she has always been very interested in women's struggles around the world. She worked consistently and selflessly to understand and promote women's struggles in different parts of the world. She made significant contributions to feminist theory through her gender studies. She was also a founding member of an association that fights for the right to abortion in America. She was vocal about the depths her feminist perspective had reached in recent years after her acquaintance with the Kurdish women's movement. In the struggle for emancipation, women all over the world will not forget Meredith Tax, and she will always be remembered in their struggle.
Besides being an important left-wing feminist activist, she was an intellectual and writer with a strong sense of social responsibility. She gave a gift to humanity and us women with her countless articles and books, where she wrote ideas nourished from her beautiful heart. Even while writing, she struggled to ensure equal participation of women in the field of literature. With the Women's World Association, which she founded with her friends in struggle, the writer provided support to women. She knew how to transform all areas in which she was effective, into a field of struggle. This shows that our esteemed friend, comrade, and sister rose to the heights of the wisdom of our age and did not settle for what existed at any stage of her life, and did not hesitate to criticise all inequalities of thought and life-styles.
Sensitive to social problems, she never acted timidly in her criticism of the system. She did not remain indifferent to issues such as labor, nature and climate, war and destruction, especially women's issues. As much as she struggled against the Trump government, she did not remain indifferent and inactive against the wave of fascism that grew with the fascist Recep Tayyip Erdoğan government. Her attitude towards injustice has always been radical, both with her writings, her speeches at conferences and seminars she attended, and her actions. With these attitudes, she has enlarged her place in the hearts of peoples', particularly women. With this, she has shown everyone that she is a true and unyielding fighter for democracy as well as a radical feminist in struggle.
She saw the interconnectedness of all the wheels of oppression and exploitation, and defended the position that all the struggles developed against it should be interconnected too. She defended the fact that the feminist struggle was too interconnected with the class struggle to be separated. As a woman, she has always defended the insistence on being united against all these exploitation-based fragmentations and has served this with her practice.
As a great internationalist, she never neglected the solidarity between women and the common struggle. For this reason, researching, writing about and promoting existing women's struggles has been one of her most important works.
When Kurdish women fought against ISIS in Kobanê in 2014, this historical event attracted her attention to Rojava, and she continued her interest and commitment to the Kurdish freedom struggle until her last breath. As a feminist, it would be contradictory for her to be indifferent to this women's revolution that started under the leadership of the Kurdish women's movement in the Middle East. The excitement she felt for the Rojava women's revolution led her to get to know the Kurdish Women's Movement in more depth. With her books on the Kurdish women's struggle, she expressed the importance of the original autonomous women's organization and the women's system.
She argued that the reality of Rojava is a convincing example of a revolution centered on women's liberation struggle. By examining the history of the Kurdish women's movement, she focused on the dialectic of development. With this research, she was convinced that the driving force of the Kurdish freedom revolution was the women's struggle. Believing that this achievement must be protected, she was not limited to promoting, owning and disseminating the verbal and written Kurdish women's movement, but also pioneered the organization of the "Defend Rojava" committees in North America. With this valiant attitude, she earned the great love and respect of all of us.
Meredith also fought against the attacks on the Kurdish freedom struggle. She shared our pain and difficulties by taking action against the attacks that the Kurdish people, in particular Kurdish women, are subjected to. She would say that the Kurdish women's struggle contributed a lot to her. She called on all feminist circles to examine Kurdish women's experience and benefit from it. Undoubtedly, our friend Meredith Tax's devotion and sensitivity to us Kurdish women has been met in our hearts as devotion and respect towards her.
Dear Meredith, your efforts, libertarian thoughts and brave personality, have enlightened the women whose hearts beat for freedom, equality and democracy all over the world. We will keep your libertarian heart alive in our own struggle. By building the free, democratic, equal, ecological life, free from oppression and domination that you have dreamed of, we will respond to the friendship of women that knows no limits of sovereignty.
The death of our friend, comrade and sister, Meredith Tax, with her strong sense of responsibility and developed integrity of ideas, devotion and action in her personality, is a great loss. Losing a comrade and friend like Meredith in a period where women pioneers in the women's liberation struggle are so needed has given us great pain. We, Kurdish women, have always been inspired by her ideas, brave attitudes, sincere internationalist personality, and radical criticisms against dominant, sexist and patriarchal ways of thinking.
We promise to our comrade Meredith, who has made significant contributions to the universalization of the Kurdish women's movement, that we will certainly lead the struggle for a freer world for all to success. Kurdish women will see her by their side in their struggle every day and every hour. We will always carry her feelings and longings with us. On this basis, we once again share our sadness about her passing as the Kurdish women's movement, and offer our condolences to Meredith's family, close friends, loved ones and women all over."