Kurdish women's movement in Europe stands in solidarity with Afghan women
"As the Kurdish Women's Movement in Europe, we will remain in solidarity with our Afghan sisters under all circumstances. No woman is alone. And we will be the voice of every woman," said TJK-E.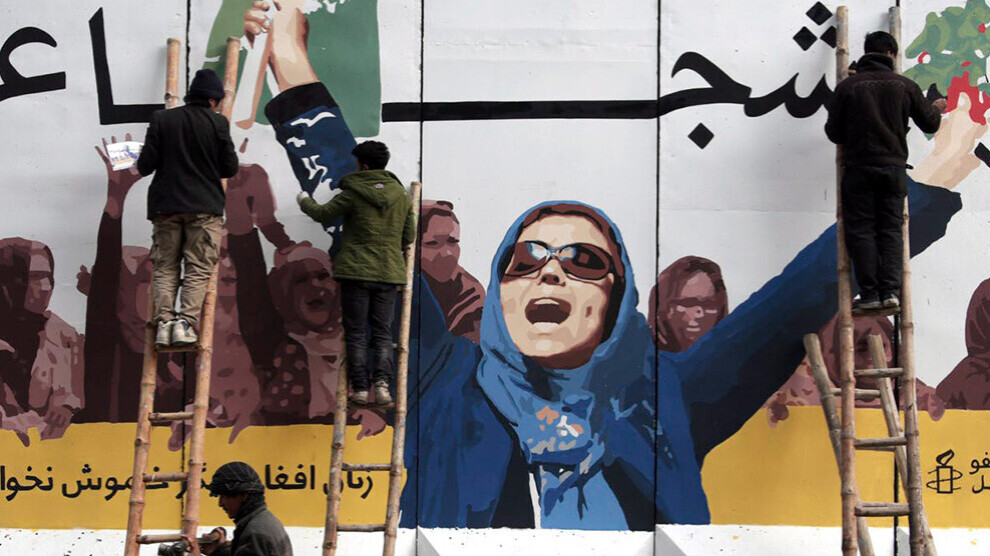 The Kurdish Women's Movement in Europe (TJK-E) delivered a message of solidarity to Afghan women, saying, "The Taliban's rapid progress is a new phase of the project to redesign the Middle East."
"The people of the Middle East have been sacrificed to the attacks of the colonial powers and the dirty relations of the reactionary forces in the region for centuries. The only solution offered by these powers to the peoples of the Middle East, who are in a constant state of chaos and crisis, has been to deepen the deadlock. Democracy, freedom of women, destruction of nature and history mean nothing to these powers and stand just as a demagogic discourse in the places in question.
To believe that all these common values ​​of humanity could be imported from abroad has resulted in a disappointment each time. States such as the US, Germany and France, as well as Turkey which is the biggest war organization in the world, and the paramilitary forces affiliated to these, have brought only blood, tears, death and massacre to the peoples of the Middle East," the TJK-E said in a written statement.
'DESIGN PROJECT'
Defining the latest situation in Afghanistan as the clearest example of this truth, the statement continued,
"The Taliban's rapid progress in a very short time is not a spontaneous development but is a new phase of the project to design the Middle East. Everything clearly shows that a theatre has been staged. The administration of a country has been openly transferred to a terrorist organization. The simplest and most realistic expression came from Afghan women when they called out to the hegemonic world powers and said 'We are disgusted by hypocritical so-called emancipators, Afghan women did not deserve this'. Democracy and freedoms can only be enjoyed and a humane life can only be spoken about in a system that peoples and women build with their own power and will. No other force, policy, external imposition or expectation will bring a democratic, free and equal life for peoples.
As Kurdish women, we know that self-organization and self-defence are more valuable than bread and water for women. For years, we have been struggling against all the genocidal attacks of the Turkish state and ISIS. We now have a say in our own lives based on our own strength, and we have started to build a free and equal life on our own lands. This struggle continues, growing stronger. We know very well that AKP, ISIS and Taliban are misogynistic gang organizations. It is a known fact that dictator Erdogan has relations with the Taliban as well as with ISIS. We will be fighting against this misogynistic mentality everywhere and at all times," the statement said.
'WE WILL BE IN SOLIDARITY UNDER ALL CIRCUMSTANCES'
The TJK-E statement concluded:  "Afghan women have been fighting for many years to live in an equal, free and democratic country against all kinds of reactionary forces, and thus they have developed a culture of resistance. They have fought against execution, stoning, rape and many other brutal practices and attacks. They paid prices for their cause. It is now necessary to further increase the solidarity and common struggle with Afghan women. Therefore, as the Kurdish Women's Movement in Europe, we will be in solidarity with our Afghan sisters under all circumstances. No woman is alone. And we will be the voice of every woman!"