March 8 message from female fighters on Til Temir front
Female fighters, who have been resisting the attacks of the Turkish state and its mercenaries on the Til Temir front, celebrate March 8, International Women's Day.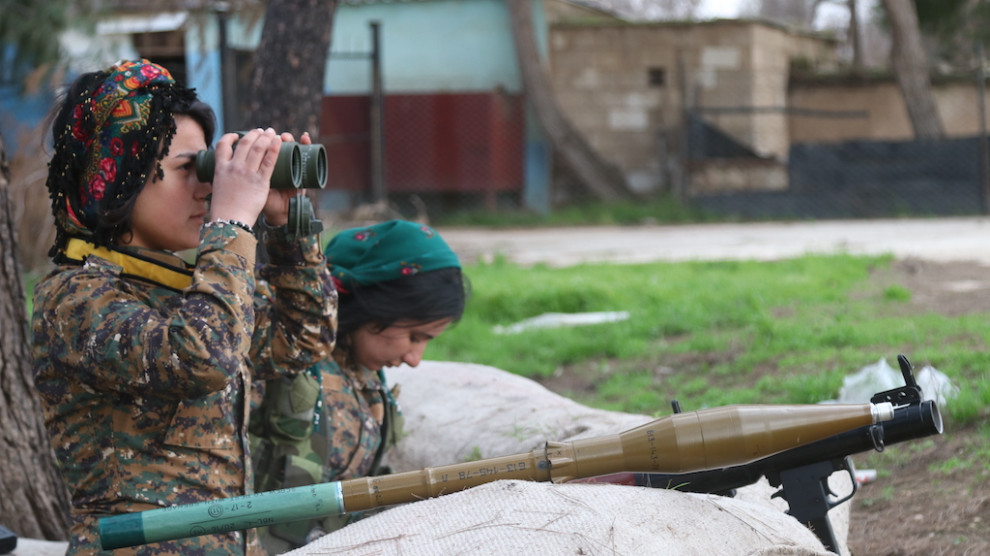 On the occasion of March 8 International Women's Day, ANF turned its lenses towards the female fighters who are resisting on the Til Temir front.
Til Temir Military Council member Xemlin Zechariah from Afrin said that the invasion attacks carried out by the Turkish state continue and added: "Female fighters are responding to the attacks. The entire front where we are deployed consists of women fighters. It is the closest front to the enemy. With this awareness, we give the necessary response to the attacks of the enemy today."
Arab fighter Beritan Cudi, from Til Temir, said that she joined the struggle to protect her people. "Our resistance will end the occupation. The Turkish state calls us 'terrorist', but we are the children of this land. They are the ones who attack our land. Our duty is to protect our people from all kinds of attacks."
Beritan Cudi emphasized that they welcomed March 8 on the resistance front and were proud of it.
Reminding the Turkish state's brutality in Serêkaniyê and Girê Spî, another fighter Rumaf Amude said that they will never forget the tears of the mothers and will fight until the invaders are pushed out.
Celebrating the March 8th of all women, Amûdê said: "Female fighters spend all days of the year with resistance and struggle. In no army women are involved at this level. Therefore, as women fighters, it is a source of pride for us to take part in this resistance."
Deniz Serêkaniye, from Serêkaniye, also reminded that the Turkish state's brutal attacks are not new. "They have attacked the people for years. However, in the last 5 months, Turkey has perpetrated unlimited brutality in our city unleashing all its technical strength. This is countered by a unique resistance."
Celebrating the 8 March of all the insurgents, Serêkaniyê said they will make 2020 a year of success.