Number of women detained in Batman rises to 18
The number of Kurdish women's movement activists arrested in Batman has increased to 18. Five women suffered food poisoning in police custody and had to be treated in hospital.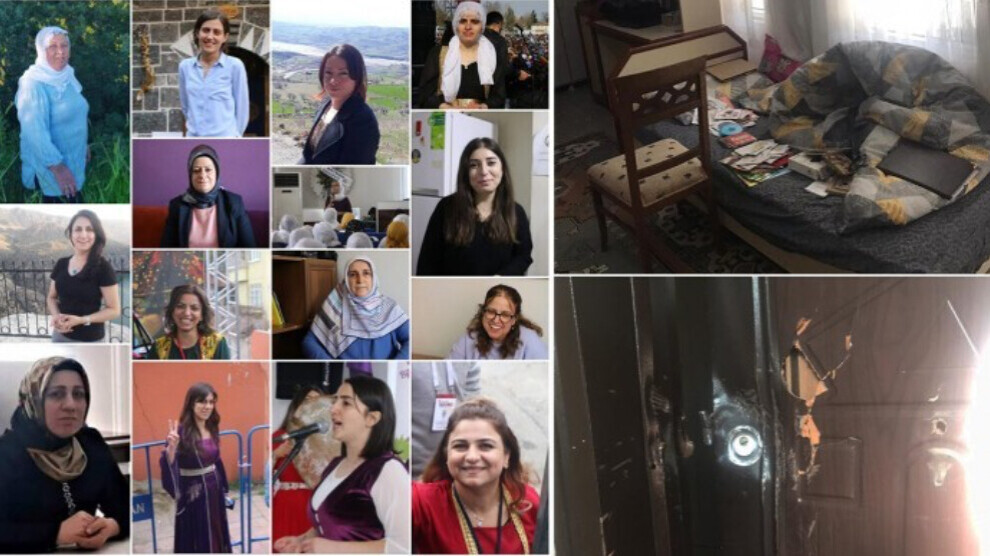 Three more activists have been arrested in the course of the investigation launched by the Chief Public Prosecutor's Office in Batman against the Kurdish women's movement.
15 activists from the Free Women's Movement (TJA) and politicians from the Peoples' Democratic Party (HDP) were taken into custody in Batman province on Tuesday morning. The detainees, who are accused of "membership in a terrorist organization," include Batman Co-mayor Songül Korkmaz who was replaced by a trustee after having her post usurped by the government, Bekirhan Co-mayor Gülistan Sönük, Kozluk Co-mayor Nazime Avcı, former HDP Batman provincial Co-chair Fatma Ablay, HDP Provincial Council member Semra Güneş, Batman City Council member Sebahat Acar, HDP Central District Co-chair Gurbet Doğan, Free Women's Movement (TJA) activists Gurbet Bozyiğit, Halide Keser, Gülnur Deli, Zeynep Oduncu, Ruken Zeryam Işık, Şükran Çelebi, Nuran Altan and Kurdish singer Sevda Adırbeli. Physical and psychological violence was used during the arrests at their homes.
In the same procedure, TJA activists Hacire Tanirgan and Leyla Bayram were also detained in Amed (tr. Diyarbakir) and an unnamed woman in Iğdır on Wednesday and transferred to Batman. In police custody, five of the detainees suffered food poisoning on Wednesday evening and had to be hospitalized. According to their legal counsel, they were taken back to the police headquarters in Batman after treatment.
Protests against the arrests took place in Batman and other cities in Northern Kurdistan on Wednesday. At the rallies it was emphasized that the women's movement would not be silenced by the repression.
Reports say that detention warrants have been issued for a total of 20 Kurdish women in the scope of the investigation.