Peace Mothers from Urfa and Amed protest the KDP at Kobane border
Peace Mothers from Urfa and Amed demonstrated at Kobane border crossing in order to support the families holding vigil to get bodies of their sons, and protested the Kurdistan Democratic Party.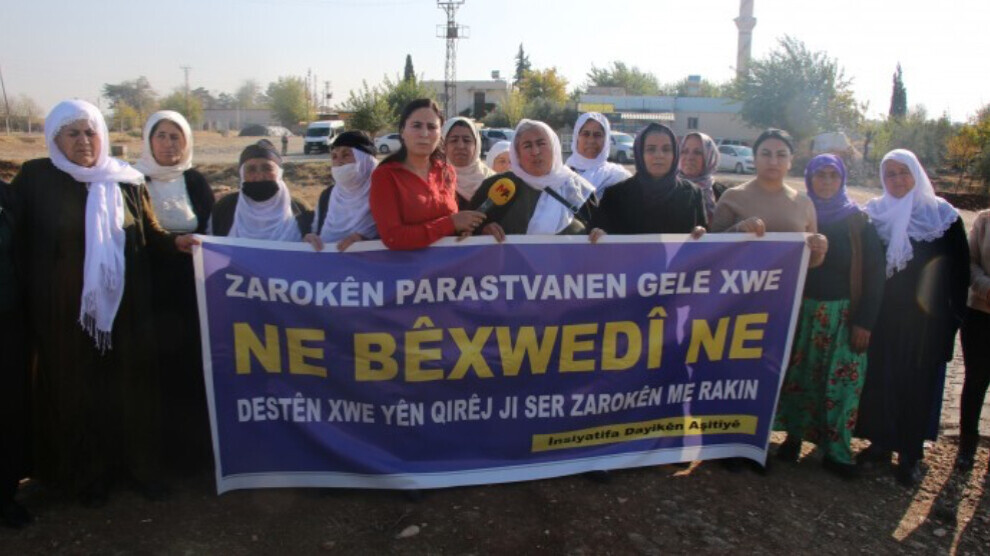 Special armed forces affiliated to the Kurdistan Democratic Party (KDP), which has been involved in cross-border operations of the Turkish state in South Kurdistan (North Iraq), laid an ambush against a guerrilla group in Xelifan region in the Federal Kurdistan Region on August 28-29. Five guerrillas of the People's Defense Forces (HPG) fell as martyrs, and two other guerrillas survived the ambush, one of them with injuries. The KDP forces have not given the bodies of the slain guerrillas to their families for 87 days.
Peace mothers to the KDP: Enough is enough!
Members of the Peace Mothers Councils in Urfa and Amed staged a demonstration at Kobane border to support the vigil launched by the Martyrs' Families Council, which has been ongoing for 50 days at Semalka border crossing demanding the bodies of guerrillas to be handed over to their families. The action was held in the neighbourhood of Kobane (Mürşitpınar) in Suruç district at the border with Kobane.
Speaking on behalf of the Peace Mothers, Hadle Oğur expressed their support for the mothers holding vigil at Semelka. She said, "We address the KDP; enough is enough! Hand over the bodies of guerrillas to their mothers. We stand with the mothers. We are all Kurds. Take your bloody hands off and stop the bloodshed!"
Referring to the 25 November International Day for Elimination of Violence against Women, HDP Urfa Deputy Ayşe Sürücü said, "Women have been subject to attacks in every field. Mothers are also suffering from these attacks. Kurdish mothers have been holding a vigil at Semelka border crossing demanding their children's bodies. They want the bodies of their children."
'Take your hands off Kurdish children!
Sürücü addressed the Barzani family and the KDP administration and urged them to abandon their hostile policies against the Kurds. She said, "Take your hands off Kurdish children. Do not go down in history with this shame. Hand over the bodies of their children to their mothers. Here, at Mürşitpınar border crossing, we say that the struggle led by women will change this system. We will win with the strength we get from history. Long live national unity."