Peace Mothers in Mardin appeal to the KDP
Mothers called upon the KDP not to be fooled in the face of growing tension in Southern Kurdistan.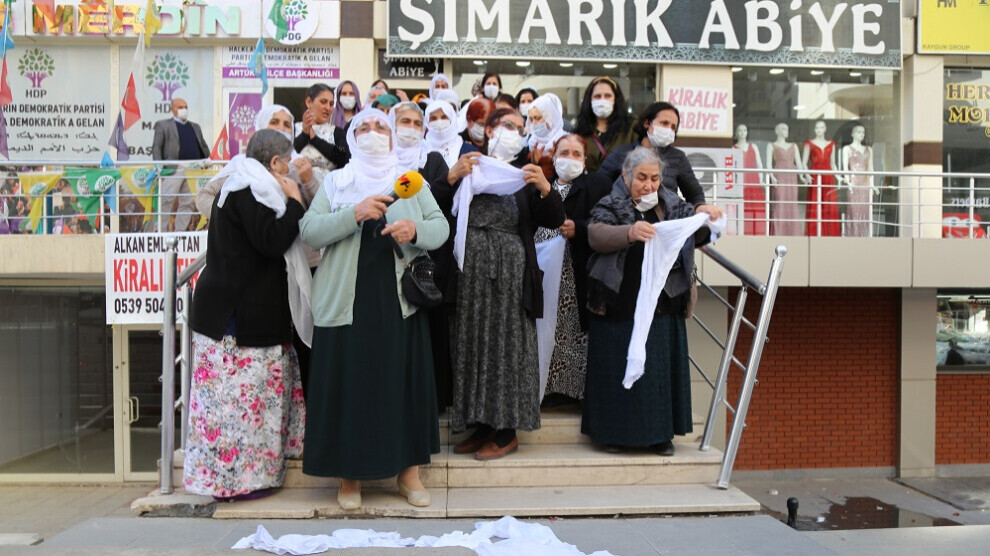 The Initiative of Peace Mothers in Mardin made a statement responding to the tension the KDP (Kurdistan Democratic Party) is starting to raise in Southern Kurdistan, Northern Kurdistan.
The statement was made in front of the Mardin provincial branch of the Peoples' Democratic Party (HDP) with the participation of HDP Mardin MP Pero Dündar.
Speaking here, Peace Mother Halime Kaya warned against a fratricidal war among the Kurds, saying; "The enemy of one of the siblings cannot be a friend to the other."
Highlighting the Peace Mothers' demand for peace, Kaya said they are against a conflict among the Kurds. Appealing to the KDP not to be fooled by Turkey, she said; "Let's stop this bloodshed. We don't want anyone to die and we appeal to the officials of all parties. Make sure that four parts of Kurdistan are united. We want unity. Hear our voice. Do not be fooled. This is nothing but a scheme."
Following the statement, Peace Mothers threw their white scarves on the ground and chanted slogans demanding peace.