Plaza de Mayo mother from Argentina visits Guven in Amed
Plaza de Mayo mother Nora Cortiñas visited Leyla Guven, who has been on a hunger strike to protest the isolation imposed upon Kurdish People's Leader Abdullah Ocalan for 115 days.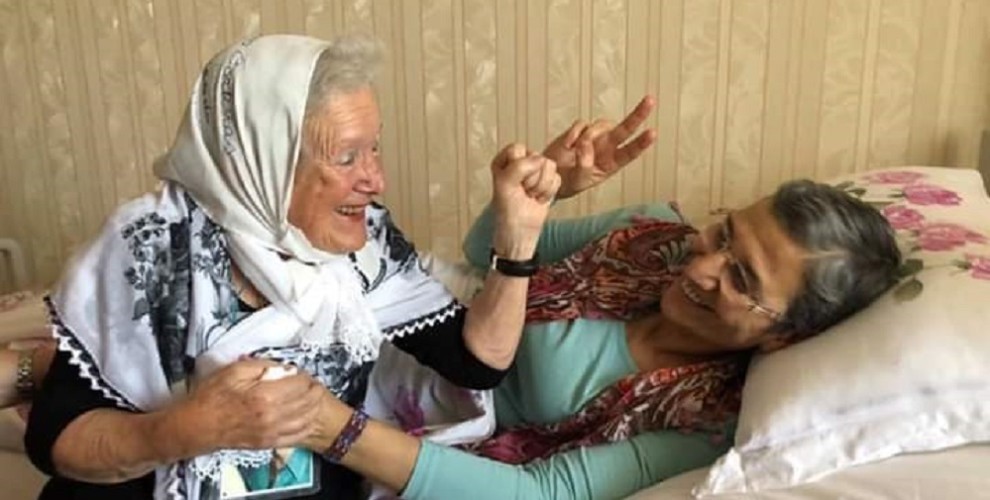 Nora Cortiñas from Argentina's Mothers of Plaza de Mayo visited DTK Co-chair and HDP Hakkari MP Leyla Guven who has been on a hunger strike since November 7, 2018 to protest the aggravated isolation imposed upon Kurdish People's Leader Abdullah Ocalan and demand Öcalan's health, safety and freedom.
Nora Cortiñas said she is in solidarity with all prisoners and all hunger strikers who support Leyla Guven's demands.
Beverly Keene from Diálogo 2000 accompanied Nora Cortiñas in her visit.
Cortiñas read a poem for Guven in her visit. The two women holding hands created an emotional moment during the visit.
Cortiñas said she came to show solidarity with Guven and stated that they are in solidarity with Guven and all hunger strikers. Cortiñas added that she will share with the mothers of Plaza de Mayo how important Leyla Guven's protest is and continue efforts to support her.
Cortiñas said: "I lost my son in the war on our country, and his body is still missing. Like your protests here, our search for justice continues. I never take this picture of my son off. He is a symbol for me. So I understand the significance of your protest."
GUVEN: MOTHERS DEFENDING PEACE AGAINST WAR MUST ALWAYS BE IN SOLIDARITY
Guven said she shares the pain of the Mothers of Plaza de Mayo and added that the pain in lands with wars is the same, and as mothers defending peace against war they will always be in solidarity and unity.
Cortiñas will hold a series of meetings with TJA activists and visit some prisons where hunger strikes continue.
The visit by Cortiñas and her companions is part of an international campaign demanding an end to the isolation imposed upon Ocalan.
This isn't Cortiñas' first visit to Kurdistan. She had visited Kurdistan and Turkey before to show solidarity with Peace Mothers and to attend demonstrations by the Saturday Mothers.
She had also submitted a letter by mothers of disappeared persons to the Ankara offices of the United Nations.