TJA: "Isolation will fail, women's struggle for freedom will triumph"
In the face of the ongoing bans on visits and the isolation of Kurdish leader Abdullah Öcalan, the Kurdish women's movement said, "The path of the women's struggle leads through breaking the isolation."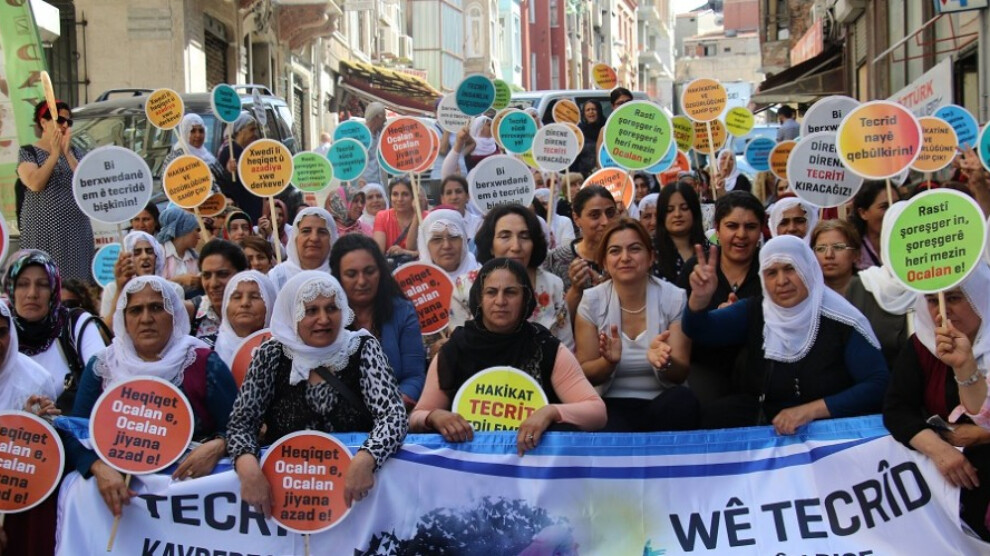 On October 12, Abdullah Öcalan and his fellow prisoners on Imrali were banned from seeing their lawyers for another six months. A three-month ban on family visits had already been imposed on August 18. The Free Women's Movement (TJA) issued a statement following the announcement of the renewed disciplinary sanctions against Öcalan, pointing out that Abdullah Öcalan was last able to have three lawyer meetings in 2019 after eight years of total isolation, and that the last sign of life from him was an interrupted phone call with his brother Mehmet Öcalan: "Since this last interrupted phone call, all requests from the family and lawyers to the Bursa General Prosecutor's Office continue to go unanswered."
"Isolation affects everyone"
The statement continued, "We know very well that the AKP/MHP regime is trying to stifle the freedom struggle of Kurdish women and the historical comradery of women through isolation as a means of systematic torture against Mr. Öcalan."
The TJA noted that with isolation, injustice is growing throughout the country, saying, "The deepening of injustice, patriarchal and fascist, monist domination is felt by all sectors of society, especially women. The economic crisis is rooted in the fact that resources are not used for democratization, but for social polarization and the politics of profit and war. The root causes of this deeply felt crisis are, of course, the failure to resolve the Kurdish question and isolation."
"The CPT must fulfill its responsibilities"
The TJA appealed to the European Committee for the Prevention of Torture (CPT), saying, "It must conduct more effective investigations into the situation on Imrali and, above all, carry out visits to Imrali. The committee must fulfill its responsibilities."
Addressing women, the statement said, "The fight against isolation is resistance against fascism. The way to fight against those who want to stifle the struggle for women's freedom and break the line of women's liberation is to break isolation. Isolation will fail, women will triumph. Women's struggle for freedom will triumph."