"We do not need a boss"
With their tailoring Elif Değer and Fatma Ekinci fight in Cizre against patriarchal ways of thinking. "We do not need a boss for our work," the two women explain.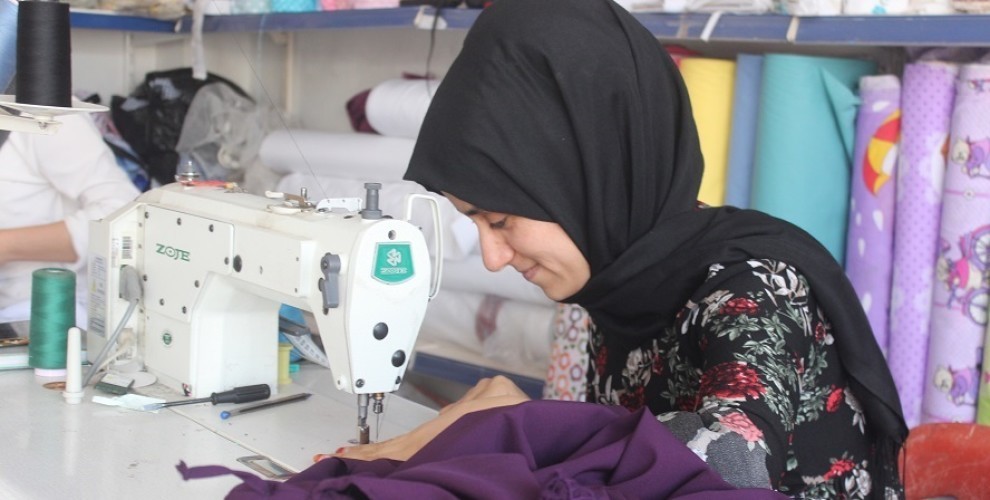 Elif Değer and Fatma Ekinci live in Cizre district in the Northern Kurdistan province of Şırnak. Four years ago, they opened their own tailor shop in the district to make themselves economically independent beyond patriarchal ways of thinking. In their tailoring they go about their profession, while they run a business in which also the handcrafted works of other women are sold. Elif and Fatma believe that women should not limit themselves to four walls. "Women's real place is the streets and working life," they say.
Elif Değer (24) was only able to attend only primary school because her family wanted so. She educated herself in other ways. "Since childhood, I've been interested in fabrics and tailoring," she tells. She attended a sewing class and started working as a seamstress. Together with her colleague Fatma Ekinci she decided to found her own business. "Why should we work for others? To do our own work, we do not need a boss!", they said and opened a tailor shop.
"If a woman wants, she can do any work"
The families of Elif and Fatma supported the project of the two women. "We would like to expand the business, but sometimes there are difficulties with the delivery of the fabric. Some fabrics are not available here. There are beautiful fabrics in Istanbul, but we do not have the opportunity to go there," they say.
The people in the district have quickly accepted the two self-employed women. Before the destruction of Cizre by Turkish security forces in 2015, the business was doing very well, Fatma and Elif said. Now their turnover has dropped by half.
Many customers ask curiously how the two women came up with the idea of ​​opening their own shop and how they managed to implement this idea. "Some of my acquaintances took the initiative after our step to become self-employed. I want to tell all women that they only need self-confidence. There is no work that women cannot do when they want it," says Elif.
Fatma tells: "I am very happy that as a young woman I am now economically independent. Some families refuse that the daughters work. It was not like that for me. My family supported me very much. The most important thing is to decide for something."