'We will follow the struggle of Sakine Cansız until the last drop of blood'
Suad Mistefa and Rewşen Reşîd from Dêrik met Sakine Cansız in Lebanon in 1991. The encounter left a lasting impression and the traces of the pioneer of the Kurdish women's movement have also remained in Rojava.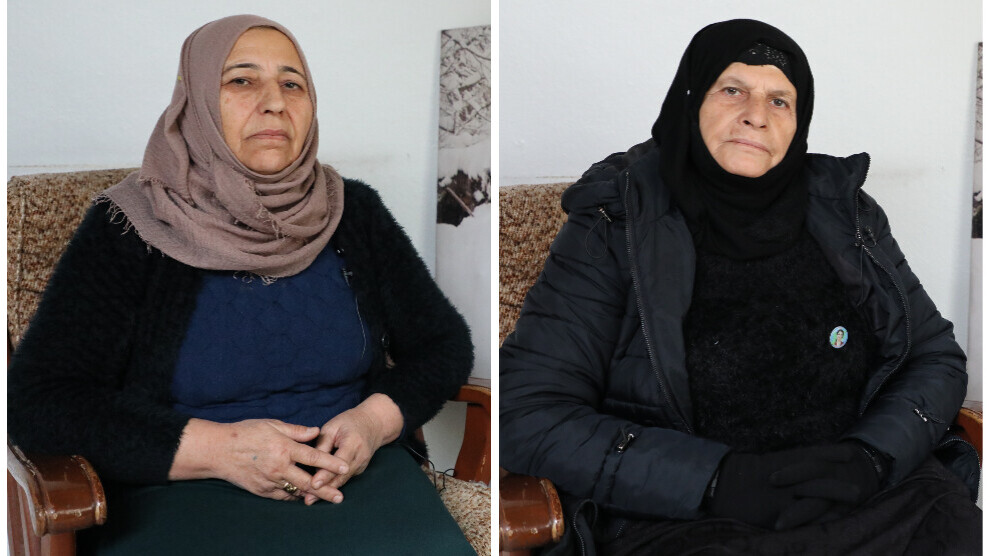 The militant life of Sakine Cansız (Sara), who was murdered in Paris on 9 January 2013 together with two of her comrades, led from Dersim to the dungeon of Amed to Rojava and the Kurdistan mountains to Europe. "This book is only a snippet of what all happened," she wrote in 1997 in the preface to her bibliography, "My whole life was a struggle." Truth cannot be described in an encounter, but an encounter can leave unforgettable traces in one's life. This is also the case for Suad Mistefa and Rewşen Reşîd.
The two women from Dêrik met Sakine Cansız on 15 August 1991 at the Mahsum Korkmaz Academy in the Bekaa Plain and got an impression of what it means to fight for freedom.
Suad Mistefa opened her house to the guerrillas in 1982 when Mazlum Doğan's brother brought a photo of the PKK revolutionary during a visit after his death in the prison resistance in Amed. This started a new life for her, Mistefa said: "My view of the world and the reality of women changed. At that time, I could not imagine women leaving the house and fighting and working for themselves and society. When the female guerrilla came, that changed."
One of the female guerrilla fighters who came to Suad was Binevş Agal (Bêrîvan), who had joined the PKK from Europe. "She kept talking about Sakine Cansız and told us that she was the only woman in the PKK who had been there when the party was founded. I heard from Bêrîvan how Sakine resisted in the Amed dungeon and that she did not surrender and had an iron will. She said that Sakine Cansız's struggle makes us sublime," Suad Mistefa said.

Mistefa stated that she met Sakine Cansız personally in 1991: "We went to Lebanon for the 15th August celebration. Sakine Cansız had just been released from prison. A friend said: 'Comrade Sara has come out of prison, let's greet her.' I asked: 'Who is Comrade Sara?' At that time I didn't know she was Sakine Cansız. She didn't know Kurdish. A friend translated for her. I asked why she didn't know her own language. She hugged me and said that I was right. The Turkish state forbids mother-tongue teaching, she said, but she was also self-critical. Then she told me about the time when she was tortured in the dungeon for forty days continuously."
Suad Mistefa, who spent three days with Sakine Cansız, told what she knows about her: "Her struggle was built on the philosophy of Rêber Apo [Abdullah Öcalan]. She lived on that and fought back the hand of surrender. She preferred resistance to surrender for almost twelve years under torture in the dungeon. I guess that's enough to make her a symbolic figure. She is a symbol for all women. The women who heard about her struggle against the Turkish state saw her as a pioneer and a trailblazer who fought for freedom and proved the willpower of women."
"SHE STANDS FOR THE WILL, HOPE AND REVOLUTION OF WOMEN"
"Women have found their freedom in Comrade Sakine's freedom", said Suad and talked about her influence in Rojava: "Comrade Sakine did not stay long in Rojava, she did not know Kurdish. She was only here several times on her way to the mountains and back. It was only a short time, but the traces have remained all these years. Sakine's struggle and life were a whole new page for women. It is thanks to her struggle that the walls of fear were broken."
In Rojava, Sakine Cansız will not be forgotten in a hundred years, Suad emphasised and added: "She is not only a pioneer for Kurds, but for women worldwide. We give her our word anew on every anniversary. Comrade Sakine was a leading commander and represents a philosophy, a struggle, an ideology and the will, hope and revolution of women."
Lastly, Suad Mistefa addressed the murder of Evîn Goyî (Emine Kara) and two Kurdish activists in Paris on 23 December 2022. The attack took place shortly before the anniversary of the murder of Sakine Cansız and her two friends, she noted: "Because France turned a blind eye to the first massacre and made itself an accomplice, the second massacre happened. The main target was Sara and Evîn, but their struggle is continued by their successors."
Rewşen Reşit went to the Bekaa Plain in 1991 to see her husband and sister, both of whom had joined the PKK. At the Mahsum Korkmaz Academy, her sister asked if she wanted to meet Sakine Cansız. "If it is possible, why not?" replied Rewşen.

"Comrade Sakine greeted us very warmly. We couldn't understand her language, but her enthusiasm said it all," Rewşen Reşit said about this encounter. "She had just come out of prison and said that the people from Rojava inspired her. There were a lot of people there and that impressed her. She said that the cohesion of the people strengthens the movement."
Rewşen Reşit stated that she had already known Sakine Cansız because of her resistance in prison, but meeting her in person was something else: "The movement had an ideal meaning for us, but meeting a leading woman was a special feeling and strengthened the bond. What she said had to be translated, but the anger towards the enemy was evident in her eyes. With her prison resistance, her struggle and her passionate desire for freedom, she was a role model for the people who came together in the Academy. She was a source of strength and a symbol of Kurdish women's resistance. Her attitude made us happy and gave us courage. Her struggle still gives us strength and we are proud of her. We will follow her struggle until the last drop of blood."