Women in Frankfurt vow common fight against femicides
A meeting about the "common fight against femicides" took place in Frankfurt. The event was organized by women's councils and Women Defend Rojava.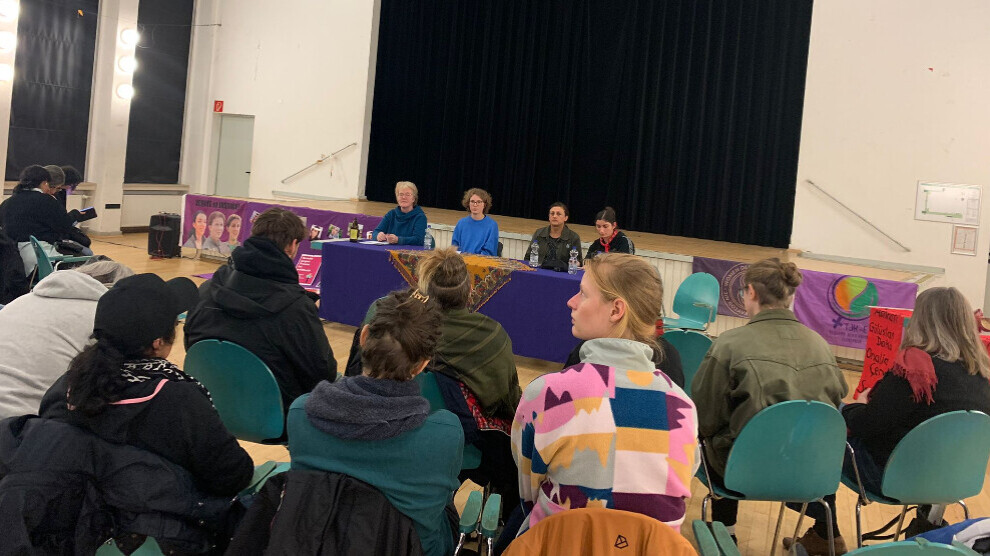 According to incomplete counts by the One Billion Rising initiative, as of 21 October 2023, at least 159 women and girls have been murdered this year and 120 women have been injured, some critically. Many of the murders and attempted murders involve acts committed by men against partners, ex-partners and/or children. These acts are still trivialized as "family or jealousy crimes" and "partnership violence". But they are based on contempt for women and hatred. They are patriarchal hate crimes that can only be combated if they are named as such. Women's movements have been working in this sense for years. In Frankfurt am Main, the Amara Women's Council organized an event together with Women Defend Rojava under the slogan "Common fight against femicides".
During the event, among others, an activist from the AG Process Support for the Femicide of Besma A. spoke. The group has been following the trial of Besma A.'s murder for the past two years.
27-year-old Besma A. was murdered by her 51-year-old husband, Cemal A., in their apartment in Göttingen three years ago. The man was sentenced to 13 years in prison for murder and illegal possession of weapons. The women criticized, among other things, the fact that the court repeatedly relativized gender-specific violence and even failed to classify the crime as a gender-specific homicide in the reasons for the verdict. The activists reported on their initiatives on the streets to raise awareness of the issue of femicide.
The platform representative emphasized the importance of raising public awareness of the issue of femicide, as "partner violence" is never gender neutral.
Zeynep Zelal spoke on behalf of the Kurdish women's movement in Europe, TJKE. She reported how the TJKE is trying to combat the patriarchal attitude in society through campaigns, organizational and information work and how it has already managed to change a lot in society. Zelal pointed out how necessary it is, in addition to raising awareness among women, to combat the patriarchal mindset and the institutions of patriarchy. This requires, she said, increased organization. She once again publicized the campaign of the Kurdish women's movement under the slogan "With Jin, Jiyan, Azadî for the women's revolution" and called for broad participation.