Women met for Leyla Güven in Amed once again
Women in Amed met once again to support HDP Hakkari MP Leyla Güven.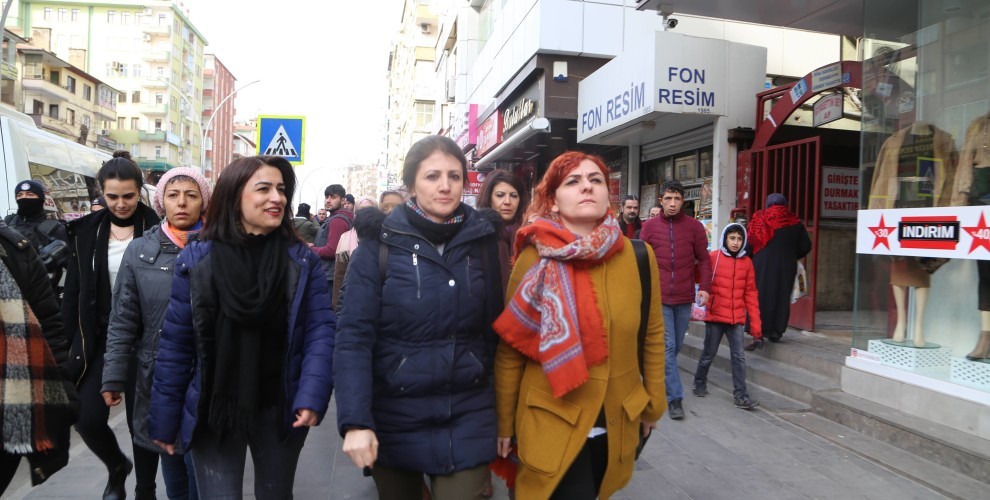 The Dicle Amed Women's Platform (DAKAP) wanted to make a press conference in front of the ACZ Plaza to condemn the police attack on women showing their solidarity to hunger striker Leyla Güven in Diyarbakır E Type Prison.
Police officers moved up to the ACZ Plaza and surrounded the members of DAKAP.
When women insisted on making the press conference, the police tried to divide women into groups of two and three.
The women then moved to Eğitim Sen (Education Union) Diyarbakır No.1 Branch to make their statement.
Women gathered at a short distance from the union building, chanting slogans and staging a march welcomed by people all around.
Isolation must be abolished
The women opened a banner saying: "Leyla Güven is right and isolation must be lifted."
DAKAP Spokeswoman, Selma Yusma, said that they would not step back despite the attacks on women.
Yusma recalled that women who gathered in front of Diyarbakır Prison on Sunday to support Leyla Güven, were attacked by police and a number of them were taken into custody.
Yusma said the women were exposed to rights violations while being transported by police and in the hospital. They confirmed they would file a criminal complaint against the police's arbitrary treatment and torture.
Yusma said: "In order to prevent that Leyla Güven's and other prisoners' health further deteriorate, we urge the government to abolish these discriminatory practices, particularly the Ministry of Justice, to fulfill national and international laws."