Women's Council exposes Turkish crimes in Afrin
A report details crimes by the Turkish state and mercenaries.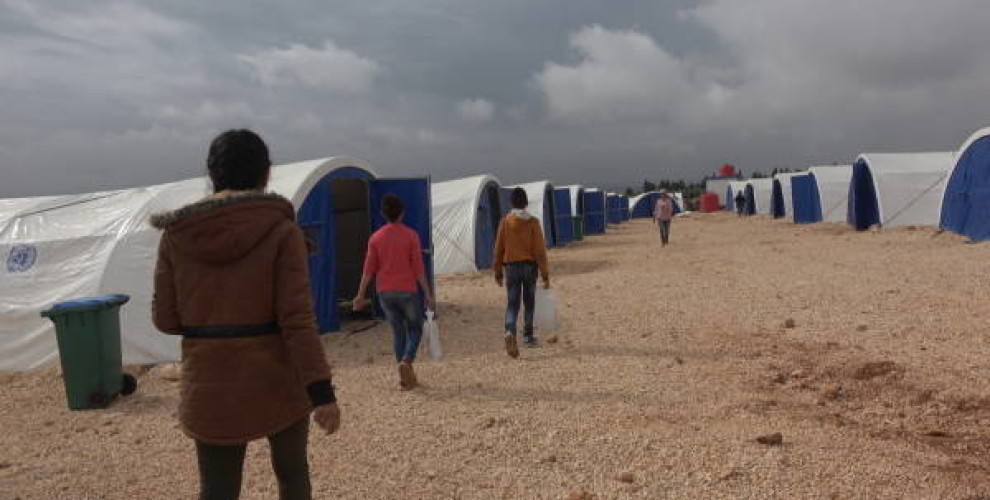 The Syrian Women's Council held a press conference to expose the inhuman practices the invading Turkish state is carrying out in Afrin. 
The meeting took place at the TEV-DEM Diplomatic Relations Hall in Qamishlo and was attended by a large number of women's council members. 
A statement was read by Lina Berekat, General Coordinator of the Women's Council.
Hundred of thousands forced to migrate
The statement underlined that a regional war is waged against the demands of the Syrian peoples. A war with the direct participation of regional and international support or their support to mercenary groups. 
The Turkish state, insisted the statement, is trying to reacquire its old power in the region by reviving the old Ottoman Empire invasion policies. This has deepen the Syrian war and forced hundreds of thousands of citizens to flee, pushed out by the mercenary groups directly supported by Turkey..
The statement also added that Turkey has no interests in talks and negotiation attempts to solve the war in Syria, like those of Geneva, Astana and Sochi. "Turkey - said the statement - has occupied Syrian soil, calling them no conflict areas or observation points and it is trying to legitimise this occupation and makes it permanent".
The statement pointed out at the violations on the people of Afrin carried out by the violent attacks carried out by the invading Turkish state. Turkey continue support to the mercenary groups and operation Euphrates Shield is actually carrying out an extensive policy of occupation.
In areas invaded by Turkey, it is carrying out a policy of demographic change. This 'Turkification' policies are visible in Jarabulus, Bab and Ezaz. "Turkey will go further, after Afrin, it would go from Idlib to Hama. It wants to add these territories to Turkish territory".
Once more the statement said that Turkey, in addition to all kinds of human and immoral attacks to make its presence permanent in Afrin, is changing the demography of the area, and has relocated mercenary groups linked to it from Damascus, Eastern Ghuta, Homs and Hama in Afrin. 
The Women's Council underlined the silence of international community allowing these policies to be carried out. These policies are actually reducing the hope of solution of the Syrian war.
In the report it is underlined that most violence is directed against women: so far at least 119 women have been kidnapped and women have also been subjected to rape and harassment.
What is the Turkish state doing in Afrin?
The report detailed the abuses committed by the Turkish government:
* Ethnic repression
* Massacre
* Women's rights abuse
* Torture, assassination, attacks on martyrs' funerals
* Unlawful trials
* Looting and extortion
* Burning books and historical documents
* Destruction and bombing of religious temples
* Abduction and slaughter of civilians
* Kidnapping
* Bombardment of cemeteries
* The bombing of Heyva Sor Center and Avrîn Hospital
* Bombing of Meydankê dam as well as electricity and water production facilities
* Bombing of mills and ovens
* Use of forbidden weapons
* Bombing of civilian convoys and use of civilians as live shields
It was emphasized that the Turkish state and its mercenary allied groups are responsible of war crimes and crimes against humanity in Afrin. All practices that, said the Women's Council, are in open violation of international laws. 
Civilians are deliberately targeted: in the bombing of the city, 259 civilians including 56 women and 46 children were killed. 
At least 707 civilians, of which 104 women and 155 children, were injured in the bombardment carrying out by the Turkish state, and hundreds of thousands of people from Afrin were forcibly expelled from their house.
Calls
The Syrian Women's Council made the following calls:
1) We call on the international organizations, institutions and civil society to stop their silence on what is happening in Syria and to fulfill their responsibilities. Once again Recep Tayyip Erdogan and the violations of the peoples of Syria rights, beginning with Afrin, should be brought to the international court and tried as a war criminal, for the role he played in the Syrian war. Turkey's occupation army should leave Syrian territories.
2) Military operations against civilians in Afrin, carried out by Turkey and mercenary groups must be condemned.
3) Legal and civil institutions in Syria should work together to document Turkey's human rights violations and war crimes in Afrin. 
4) Conditions must be created for the return of hundreds of thousands of people forcibly displaced from Afrin, and the confiscation and looting of property must be prevented. In addition, mines placed by the Turkish state in Afrin and surrounding villages should be removed as soon as possible.
5) Relevant international institutions and organizations should quickly provide to the basic vital, economic and human needs of the people of Afrin.
6) In order to counter the nationalist attacks by the occupiers aimed at carrying out an ethnic genocide, legal work should be done. The people should be guaranteed that they will not face such attacks again. The ongoing demographic change in the region should be stopped".