Women's workshop in Shengal: We will defend ourselves
Speaking at the 'Women and Defense' workshop in Shengal, YJŞ Commander Hêza Şengalî said: "The suffering we have been through must turn into power and wisdom in 2014."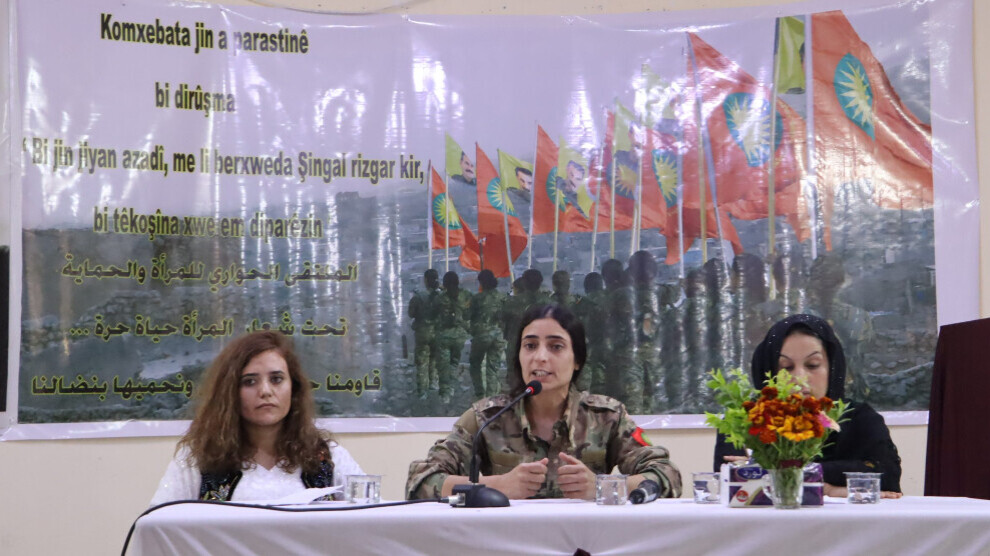 On 3 August 2014, the Yazidis in Shengal (Sinjar) in the Kurdistan Region of Iraq were attacked by the terrorist group ISIS, which was acting as a proxy of Turkey. ISIS practiced special measures against women in order to humiliate them and to kill them, making it also a case of feminicide.
In Shengal, ISIS carried out both genocide and feminicide systematically. Of the women who were kidnapped that day, 3,000 are still missing. Tens of thousands still suffer from the trauma they experienced on 3 August 2014.
After a selfless struggle led by the guerrillas of HPG (People's Defense Forces) and YJA Star (Free Women's Troops) and fighters of the YPG (People's Defense Units) and YPJ (Women's Defense Units), the city was liberated on 13 November 2015.
The Free Yazidi Women's Movement (TAJÊ) is holding a workshop titled 'Women and Defense' in Shengal on the anniversary of Shengal's liberation from ISIS. The workshop, which started at Shengal People's Assembly this morning with the participation of 150 women, has ended.
The workshop continued with three seminars in the afternoon, where YJŞ Commander Hêza Şengalî, TAJÊ Diplomacy Committee Member Ferîde Şengalî and Fatîma Mustafa from the Arab community of Shengal addressed the participants.
YJŞ Commander: We will enhance our organization and defend ourselves
YJŞ Commander Hêza Şengalî took the stage at the first seminar and spoke about the self-defense of women. Remarking that a defenseless society would be condemned to remain ignorant of everything, Şengalî stated: "Our society was freed from darkness upon the call of Leader Öcalan. Martyr Gülçin from East Kurdistan, a mother of two, sacrificed herself for us. Comrades. Arîn, Bêrîvan, Rosyar and Nûjiyan guided the Yazidi women. The suffering we have been through must turn into power and wisdom in 2014. We must embrace the dreams of the martyrs. We reiterate our promise to rescue the Yazidi women who are still in ISIS captivity, and to take revenge. The YJŞ has fought not only against ISIS, but also against the KDP and the Turkish state. Some circles question our legitimacy. And we ask them; are those forces who fled from Shengal in 2014 legitimate? We will increase our strength and respond to all attacks. We will respond to those who attack our belief by defending ourselves and enhancing our organization. We will frustrate the vicious plans against Shengal."
Fatîma Mustafa: Defense is not a man's thing
Speaking in Arabic, Fatîma Mustafa from the Arab community of Shengal stated that the KDP sought to deceive the Yazidi society, but Yazidi and Arab women stood united against it. Fatîma Mustafa said that defense was not a man's thing and that nobody would be able to defeat the YJŞ.
Ferîde Şengalî: Those engaged in betrayal will not be forgotten
TAJÊ Diplomacy Committee Member Ferîde Şengalî said: "Neither those who betrayed us, nor those who brought light to us will be forgotten. We have the YJŞ and the Asayish (local security force) but everyone must defend themselves and prevent further massacres. Only those who remained in Shengal and defended the Yazidis can speak in their name. We should not let anyone feed on the blood of our martyrs."
Cîhan Celo: Women have power and will
Making the closing speech, Cîhan Celo, Co-Chair of the Democratic Autonomous Administration of Shengal, stated that the workshop was marked by messages of struggle, self-defense and stand against the enemy. "We, women, have power and will. They will not be able to make plans against us anymore. We must protect ourselves and fight against the attacks of the enemy and the attacks of men. Yazidi women have resisted throughout history. Today, we have united around the idea of a democratic nation. We will resist together against isolation, repression and schemes. We owe Leader Öcalan. We are here today thanks to his ideas. We dedicate our workshop to Leader Öcalan, to our martyrs, to all our people and to women."
The workshop concluded with the slogans 'Jin jiyan Azadî' [Woman, Life, Freedom] and 'Bijî Rêber Apo' [Long Live Leader Öcalan].