Women support sacked workers of Flormar
The women workers have been sacked from Flormar for joining a trade union.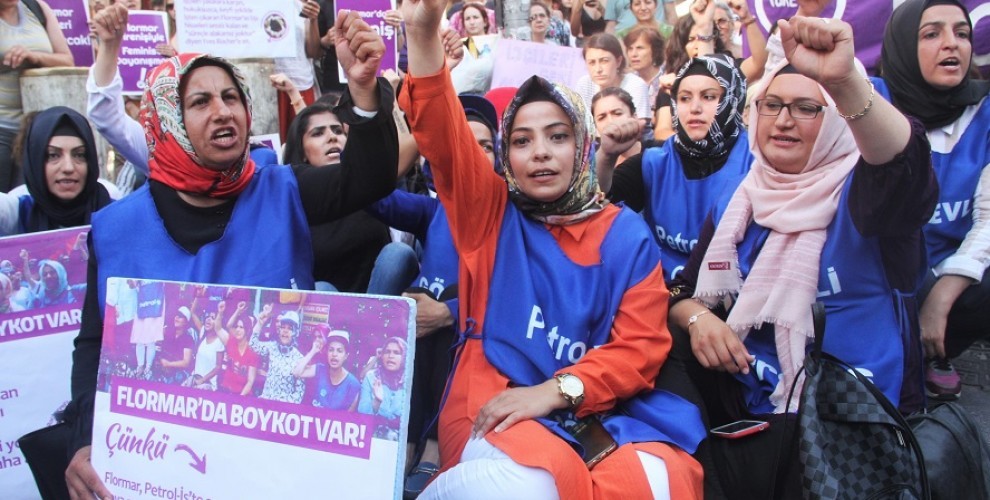 Women organized a forum in in Kadiköy, Istanbul, with Flormar workers who were sacked for being members of a trade union.
The Women's Union Force has been fighting since 15 May, when they were dismissed for being unionists.
The forum site was covered with banners saying "Boycott Yves Rocher and Flormar" and participants chanted slogans like "Flormar workers are not alone", "Flormar resistance will win" and "Right to union cannot be denied".
Metal workers and lots of people joined the forum.
Ayşe Güley, a worker at Flormar said: "We will continue to fight for our rights".
Feryat Gökçen, an activist who spoke at the Forum said: "I worked at Flormar for two months and was sacked 10 days after affiliating to a union."
Sacked for reclaiming their rights
Talking about Flormar working conditions, Gökçen added: "Flormar is not really a place to work. Working conditions and hours are very heavy. Salaries are so low that we decided to organize. We have been resisting for 61 days. We have struggled to work in better conditions. But the employer expelled us. To be unionised is a right. We reclaimed our rights".
Women's rights are at stake
Authorities remained silent in the face of the right claims by workers. "Women's working conditions in Turkey are getting worse. - said Gökçen - Women workers are always seen as an additional income. That's why their salary is so low. When salaries are raised for men, they are not raised for women. When we are asking why our salary did not raise, we are told 'your husband is working anyway, no need for your salary to raise'".
Another Flormar worker Gulperi Güldalı also said that she has worked for 8 years in Flormar and suffered oppression for 8 years.
She said that after so much oppression they decided to unionise. But the employer "offered us money not to be a member of the union. There are so many different things going on inside. The bosses make money at women workers' expenses".
Güldalı added: "I am calling from here to the President. They are ignoring what the bosses are doing to us. We want you to see us".
Worker on struggle Sultan Kılıç, who has been working for 9 years, said: "I saw a lot of pressure at Flormar. The production chief threatened me. They sacked us without compensation. We could not take advantage of anything. We could not use our constitutional right. We are resisting for 61 days and I know we will win".
We will win
Ayşe Güley, a worker at Flormar for 5 years, said she was promised a raise in salary every coming year. But it never happened. "They just fool us. - she said - We worked and made the bosses rich. We are fighting using our constitutional right, and we will fight to the end".
After the Forum, women walked in front of the Flormar store and made a call to people to "boycott Yves Rocher and Flormar products".