Artists in Istanbul: Our friends must be released immediately
Artists held a press statement to protest the arrests of their colleagues on Tuesday.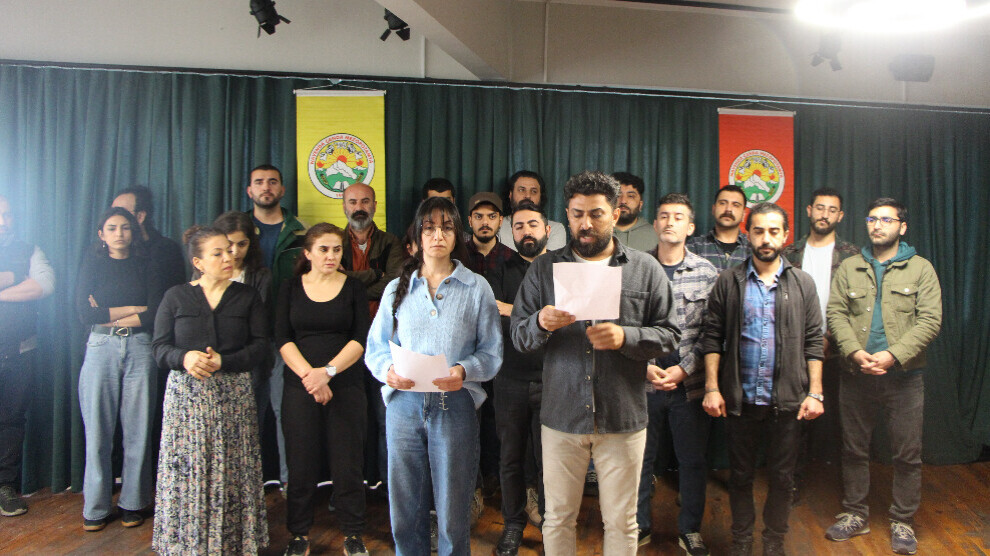 Mesopotamia Cultural Center (MKM), Peoples' Democratic Congress (HDK) Culture and Art Assembly, Shadow Culture and Art Center, Revolt Fire music group, held a press conference to protest the arrests of 128 Kurdish artists, journalists, politicians and lawyers on Tuesday. The press conference was held in Beyoğlu, Istanbul.
MKM artist Dilan Suyu said that authoritarian regimes will soon be destroyed and added that the current authoritarian regimes will collapse. "We see how the official ideological mentality has become unsustainable. The government is only trying to protect their own existence by denying the reality of cultural genocide and the very society. The peoples want to live in freedom. Peoples are struggling to affirm their existence by defending and implementing a multi-lingual and multi-cultural reality. Artists are the conscience of society. We must clearly state that none of us will have the chance to live humanely until this country is democratized and free."
'We will stand up'
Suyu said that artists will stand up and won't kneel to anti-democratic practices. "Whatever the cost, we will always fight against injustice and for a world in which everyone can freely live. We call on everyone to join forces. Let's live a free future by putting an end to this regime of cultural genocide that is trying to prolong its life by force. We have not and will not bow down to any attack. Together we will resist better. All detained artists, lawyers, politicians and journalists should be released immediately."