Cultural institutions in Rojava in solidarity with the artists in Turkish custody
Cultural institutions in Rojava expressed their support for the journalists and artists who are among the dozens detained in yesterday's political genocide operation in Turkey.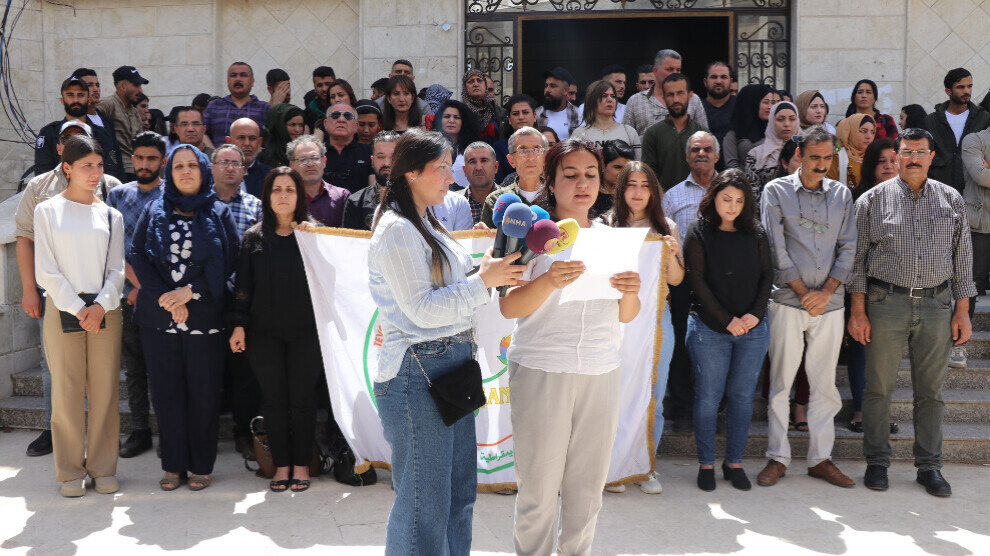 The Mesopotamia Democratic Culture and Art Movement (TEV-ÇAND) and the North-East Syrian Literature Council and Cultural Association released a joint statement condemning Tuesday's political genocide operation in Turkey, in which dozens of journalists, artists, lawyers and political party members were taken into custody in an operation based in Amed (Diyarbakır).
Reading the press statement in front of the Mihemed Şêxo Culture and Art Center, TEV-ÇAND member Zîlan Mecîd called on all democratic circles, organisations and parties to treat the critical process before the May 14 elections with sensitivity.
The statement warned that peoples would face political, cultural and physical genocide in the event that the AKP-MHP wins the elections.
Mecîd expressed that artists and writers in North-East Syria stood in solidarity with the artists detained in North Kurdistan.
Remarking that the Green Left Party represented an honorable life and identity for the peoples of North Kurdistan and Turkey, Mecîd called for support for the Green Left Party in the upcoming presidential and parliamentary elections.