Attacks on Kurdish language and institutions
Pressures on Kurds have not changed since the 90s. Most institutions were closed with the state of emergency after the July 15 coup attempt, and now Turkish is imposed even in the Kurdish section. The attack has intensified in the last 10 years.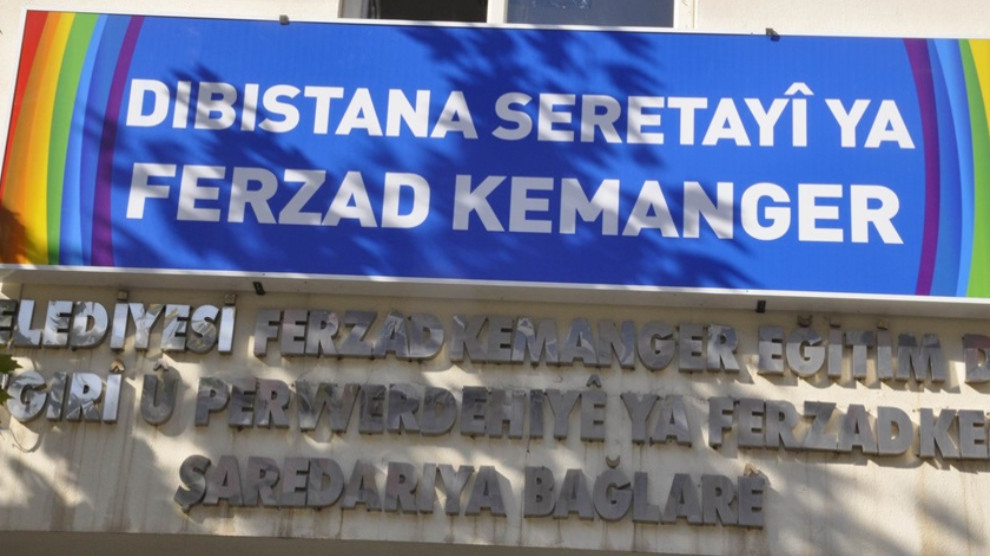 The news that a thesis cannot be written in Kurdish in the Kurdish Popular Literature department at Dicle University appeared in the media. In addition, the language of teaching in the department is Turkish. In a statement after the video of the lecture shared by Selim Temo on social media, the university said that the claims were false and underlined that the language of teaching was Turkish. Afterwards, the Ministry of Transport said that "Kurdish is not one of the common languages" in reply to the Kurdish announcement motion on the planes tabled by HDP deputy Ebru Günay.
Although the AKP eased the pressure on Kurdish during the time of the solution process, almost all Kurdish institutions became targets after the coup attempt in 2016. The pressures were particularly intense. Trustees were appointed to municipalities, Kurdish signs were removed, and the Kurdish letters for road and pedestrian signs were also deleted. Kurdish speakers on the street and songs sung at weddings started to be targeted just like in the 90s. After 2016 a picture emerged of how much assimilation and pressure on Kurdish and Kurds has increased.
Schools sealed three times
The pressure on Kurdish had actually begun to be experienced during the solution process. KURDI-DER, MAPER and Eğitim Sen opened Dibistana Seretayî a Ferzad Kemangar-Ferzad Kemanger Primary School in Bağlar district of Amed and Dibistana Seretayî a Berîvan-Berivan Primary School in Şırnak Cizre district and Üveyş Kindergarten Primary School in Hakkari Gever in 2014. Dibistana Seretayî a Berîvan was ordered to be closed by the prosecutor the day after it was opened, but continued to give education in Kurdish when the seal was removed by the students and their families. The school was sealed 3 times in total. Afterwards, education in Kurdish was completely stopped with the trustee appointed to Cizre in 2016.
Ferzad Kemanger Primary School, which was opened in Amed in 2014, providing Kurdish education to 250 children aged 5-11, was closed with the Decree No. 677. Ali Heriri Primary School, which was teaching in Kurdish in Amed, was also one of the schools closed. Dicle Fırat College, which provided education in Kurdish in Amed Kayapınar district in 2010, was among the schools closed in 2016.
The activities of Üezş Kindergarten, which has been serving in Gever since 2014 and whose curriculum was prepared by KURDÎ-DER, also ended with the appointment of a trustee. In the school where at least 800 children were educated, alternatives were also blocked over time during the closed periods. In 2016, with the curfews, the training place in Ape Musa Park was closed and turned into a police station.
A 4-storey Kurdish school in the village of Yalaza (Kerwas) in the Lice district of Amed was destroyed in April 2017, in an operation organized during the curfews. Zarokistanis and other kindergartens, whose curriculum was in Kurdish and that were supported by DBP municipalities, begun to be transformed into institutions that provide Turkish education or Quran courses by the trustees appointed to the municipalities.
Attacks on Kurdish institutions
The Kurdology department within the "Living Languages ​​Institute" was also affected by the decree issues of Mardin Artuklu University.
The Istanbul Kurdish Institute, which has been working on Kurdish language, literature and history since 1992, was also one of the institutions closed by a decree. In 2006, the Research and Development of Kurdish Culture (KURDI-DER) with its 37 branches in different provinces, headquartered in Amed, was closed with the 677 Statutory Decree. Civil society organizations such as the Ehmedê Xanî Language Academy and the Kurdish Writers Union were also closed by decree.
In addition to institutions and academies, many TV and radio broadcasting in Kurdish were among the institutions closed: DENGE TV, JİYAN TV, VAN TV, ZAROK TV and many radios were closed with the 677 Decree Law. All institutions providing education and broadcasting in Kurdish were the target of this attack.
After the state of emergency proclaimed after 15 July, while the institutions and every area where Kurdish was kept alive were attacked by the state, nationalism also targeted citizens on the streets.
Attacks on Kurds on the street
Rıdvan Işler was attacked and injured by a group of racists for speaking Kurdish on a bus in Istanbul in 2013. In 2014, Mahir Çetin, who was attacked by a group of 15 people in Kaş for speaking Kurdish, lost his life. The camera recordings of the attack against Mahir Çetin came to light later. According to the images, Mahir Çetin was attacked by a group of about 15 people and died of a result of the injuries sustained.
In Kagithane, Istanbul, 21-year-old Sedat Akbaş, who spoke Kurdish on the phone while waiting at q bus stop in 2015, was attacked by 6 racists with knives and killed. After the AKP municipality did not provide a funeral car for Akbaş's funeral, he was sent to Batman by bus.
Fikret Aydemir, who was a soldier in Ağrı, was harassed for a long time by racist soldiers because he spoke Kurdish. He was treated in the hospital for a long time.
Ekrem Elder, 71, who spoke Kurdish with his wife, after she had a eye surgery in Çanakkale Onsekiz Mart University Research and Practice Hospital, was beaten up by a patient.
On 16 December 2018, Kadir Sakci lost his life as a result of a racist attack he suffered for speaking Kurdish in Hendek, Sakarya, while his son Burhan Sakci was seriously injured.
Şirin Tosun, who went to work as a seasonal worker in Sakarya's Karasu district on 21 August 2019, was shot in the head with a gun for saluting in Kurdish.
Finally, a young man named Barış Çakan, 20 years old from Ağrı Patnos, was stabbed in the heart for listening to Kurdish music in Alsancak District of Ankara Etimesgut district.
Almost all of these incidents were reflected in the media and social media, but governorships and government officials tried to hide that the motive of the attacks was actually related to Kurdish language.
Attacks on weddings and football matches
The attack on Kurdish was not limited to institutions or people but targeted weddings and even football fields. In 2018, police raided the wedding held on a street in the Narlıdere district of Izmir, where Kurdish music was played. Police detained the wedding musicians for "making a victory sign" and "playing Kurdish music".
In the same year, 36 HDP members who sang "Serhildan jiyan e" together on the bus while going to the HDP congress held in Ankara Sports Hall on 11 February, were summoned by the Diyarbakır Police Department.
Kurdish music was banned at weddings in Van, but a step was taken upon the reactions.
During the Turkey Football Federation (TFF) 3. League play-off a match between Kayseri Genclerbirligi women's football team and Batman Belediyespor Women's Soccer Team was played. Batman executives said thet they were attacked after they lost 1-0. Batman Women's football team's coach Mehmet Kalkan said that during the match, their footballers talked to each other in Kurdish. However, Kalkan said that there was tension during the match after rival players went to the referee and told him that the Batman players were swearing in Kurdish.