Leader Abdullah Öcalan Park, a public place to rest and meet in Til Koçer
Leader Abdullah Öcalan Park has become a frequent destination for all citizens in Til Koçer. A library will be open in the park this year.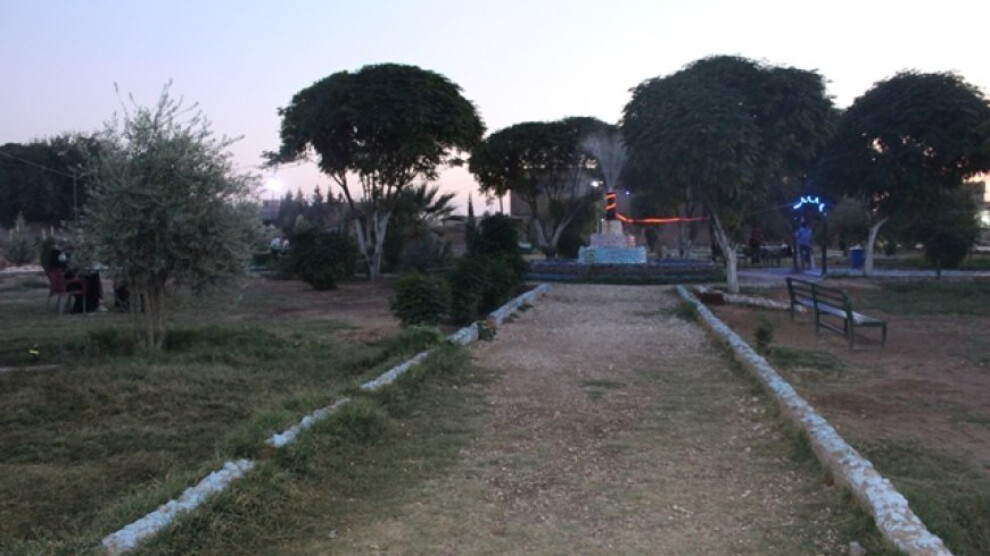 The People's Municipality of Til Koçer, in Qamishlo Canton, opened the Leader Abdullah Öcalan Park in 2015. Benches were placed in the park and trees were planted. Since then, the park has become a popular destination for people of all ages and sorts.
This year, district residents, in cooperation with the People's Municipality, built a coffee cup sculpture in the park. It is a tribute to the culture of the Arab community. In addition, a fountain pool was built in the park and new tables and chairs were installed.
Various events have been organized in the park, which is used by district residents, since the beginning of the year. Park officials plan to open a library in the park.
A citizen named Elî Ubêd, from Til Koçer and one of the participants in the landscaping works of the park, told ANHA: "Our plan for the future is to open a library here that will contain Leader Abdullah Öcalan's books and story books for children."
According to the park manager, there is an initiative to install a large screen in the park to hold screenings, while seminars and various events are also to be held in the park.
A citizen named Ehmed El Heneş said: "Me and my friends come together in the park to sit and talk. My aim is to know each other's views on special war methods used against the region and to inform and protect young people on this issue."
El Heneş added that, with the initiative of the Revolutionary Youth Movement, many seminars on different subjects were held in the park, from which the general people also benefited greatly.
Women in the district also come together in the park. Providing information on the subject, a woman named Firyal Esaf said: "We are breathing in the park. Thanks to Leader Abdullah Öcalan, society's mentality towards women has transformed. Now women can go out, sit in parks and share their ideas."