Önlü: Are Dersim's forests worth less than others?
Hundreds of hectares of forest have been devoured by the fire raging in Dersim, but attempts to extinguish the fire are not being made due to "lack of access roads". HDP deputy Alican Önlü appeals to NGOs to take action.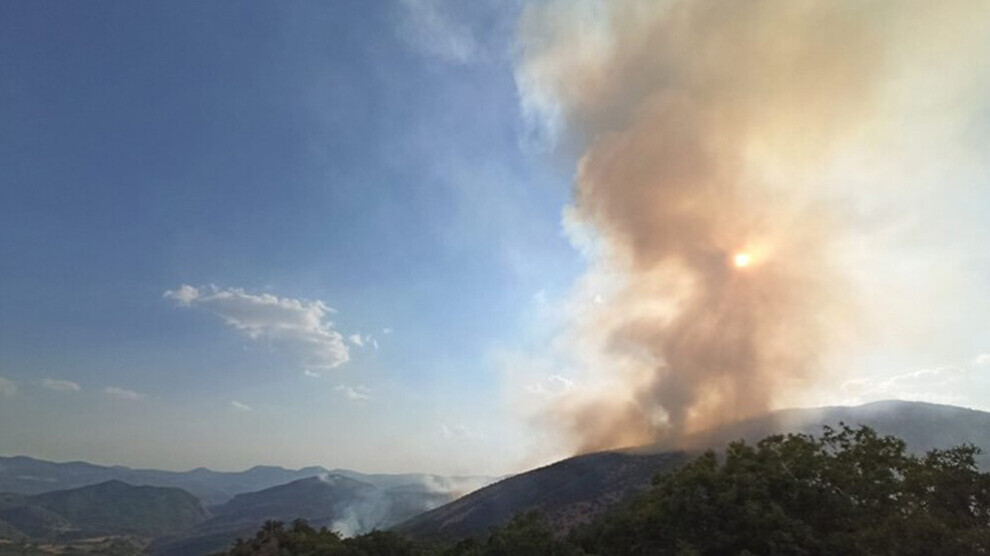 For the eleventh day in a row, the forest fire ignited by artillery fire is raging in Hozat district of Dersim Dersim and has now reached the district of Ovacık. Hundreds of hectares of forested land and cultivated areas have already been engulfed by the flames, and settlement areas are acutely threatened. But attempts to extinguish the fire are still not being made. According to the Dersim governor's office, the source of the fire is inaccessible to firefighters due to a lack of access roads and the firefighting forces are therefore standing by at the entrance to Hozat. There is no mention of possible firefighting measures from the air.
HDP deputy Alican Önlü expressed his outrage in view of the governor's statement. "Volunteers from the population have been standing by for days to fight the fire on their own. But they are not let through by the authorities," Önlü said in Ankara on Thursday. In addition, the parliamentarian pointed to a second fire that has been spreading for two days in an area between Tokmak Baba and Dere Emirgan in Ovacık. This fire, he said, was also ignited by outside interference. Önlü did not comment on whether the military was also responsible.
Criticism of ignorance of the public
"Are Dersim's forests worth less than others? For a large part of society in this country, this seems to be the case, because the long overdue outcry continues to be absent," Önlü said and continued: "If there is a fire in the West, those responsible are immediately condemned and firefighters are glorified as heroes. But when it comes to Kurdistan, the public remains silent. In Dersim, the state personally has entire forests set on fire, and the military violently attacks volunteers who want to fight the flames. In the West, forest fires are documented in order to record, among other things, the extent of the destruction. In Dersim, fires are not even registered."
According to Önlü, this inaction leaves no doubt that practically all forest fires in Kurdistan are set by the Turkish army. But the state and thus the government and its partners are also responsible for the forest fires in the west. Önlü called on Dersim-based NGOs, trade unions and the population to take action in the face of the ongoing forest fires. "It is our duty to defend nature. Let's fight together against the policy of destruction and ecocide in our region. Let's stand shoulder to shoulder against those who attack our nature, our faith, our culture and our language."