After Bingöl, forest fire rages in Besta
While the devastating fire in Bingöl continues to spread, a forest fire is now also raging in Besta near Şırnak. Several military operations are taking place in the region, and it is assumed that the fire was set by the Turkish army.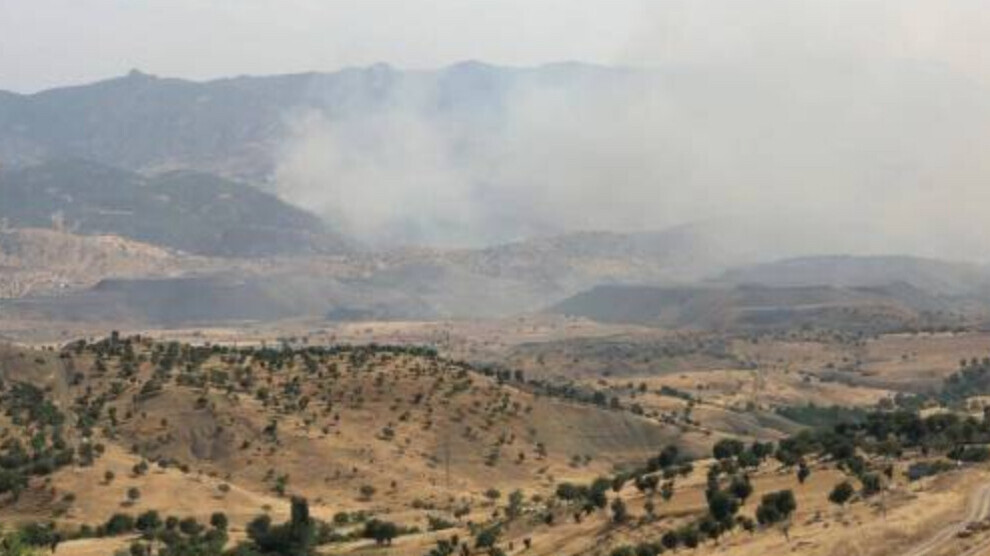 As the devastating fire in the Kurdish province of Bingöl continues to spread, a forest fire is now also raging in Besta. Affected by the flames in the region, which lies between the provinces of Şırnak and Siirt, are the areas of Girêgivara, Besta Hincê, Germav and Kanîfeşkê.
The source of the fire is in mountainous terrain, and Turkish army operations are underway at several points. The cause of the fire is suspected to be deliberate arson by soldiers. This is also the reason why the military has not allowed any firefighting operations. Last summer, Besta burned for more than three months and almost all pasture land was destroyed. The population, whose main livelihood is animal husbandry, was effectively deprived of its existence in this way.
In Bingöl, a huge forest area in the district of Genç has been in flames since last Friday. The fire, which broke out around noon in the immediate vicinity of the Suveren gendarmerie post, soon reached the villages of Gaz (Güzeldere), Şêxismal (Dedebağı) and Xodan (Çamlıyurt) and now threatens at least twelve other settlement areas in the region. The Koya Spî area has already been engulfed by flames. Local residents are completely overwhelmed by the firefighting efforts, and there is no sign of adequate help from the authorities. Here, too, arson by the Turkish military is assumed.