Army burns Şemdinli forests in the shape of nationalist symbol
In the northern Kurdistan region of Şemdinli in the province of Hakkari, the Turkish military sheds petrol in star and crescent shapes, thus setting the woods on fire.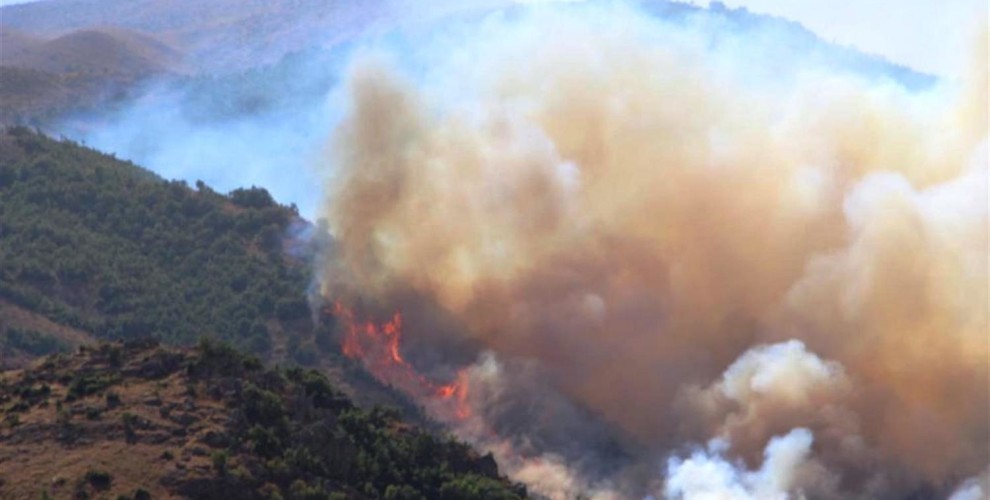 The district of Şemdinli in Hakkari province is adjacent to southern and eastern Kurdistan and is known for the beauty of its nature. The mountains and valleys are covered by forests and the region is home to many endemic animal and plant species. There are many fruit trees on the mountains and thousands of animals live there. Unfortunately, this miracle of nature is being destroyed by the Turkish state. The Turkish army lays forest fires, destroying thousands of hectares of forest and destroying countless animal species.
In the municipality of Rubarok (Derecik) near Şemdinli, the Turkish military sets fire to several forests on the border with South Kurdistan.
"They spill gasoline and set everything on fire"
The forest fires laid by the soldiers have lasted for a month. The villages of Rubarok are in the middle of the smoke. The population trying to extinguish the fires is being hindered by the military. Soldiers repeatedly spit gasoline in the form of a star and a crescent in the evening, setting the woods on fire.
"For a month the forests of the region have been burning"
Residents of the military fortress-occupied border region report to ANF: "The forests and gorges between Derecik and South Kurdistan are completely covered by forest. There live many different wild animals. Especially at night the soldiers lay fires again and again. Last month, in the military fortresses along the border, the soldiers poured out petrol in the form of the star and crescent and set fire to the forests. For a month the woods are burning. We wanted to put out the fires, but they did not allow us. The fires have turned the forests into ashes both in our region and on the South Kurdish side. Due to the fires Derecik stood in the smoke for days. The soldiers destroy both the forests and the living beings in them. We call all humanity for help. They must stop this inhumane practice immediately."