KESK: High-security border posts cause ecological destruction
KESK prepared a report on the Dersim fires and said that the fires increased systematically and were not extinguished.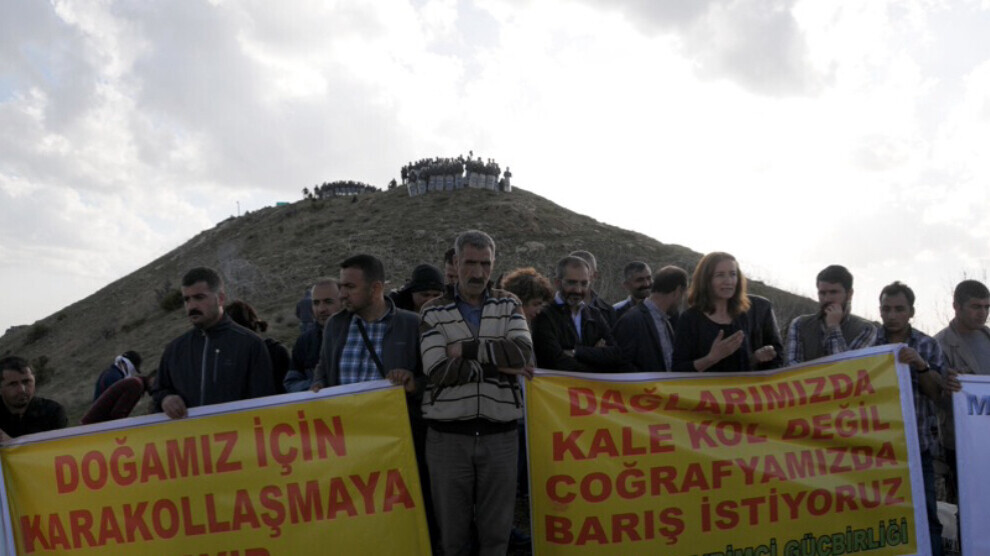 The Public Workers Union Confederation (KESK) delegation released a report about the investigation they carried out on the fires in Dersim.
The delegation was made of KESK Co-Chair Mehmet Bozgeyik, Education and Science Workers Union (Egitim Sen) Central Executive Board (MYK) MEMBER İkram Atabay, Health and Social Service Workers Union (SES) Co-Chair Selam Atabay Tarım, Forestry Environment and Livestock Service Branch Public Workers Union (Agriculture Orkam Sen) Chairman Ahmet Keleş, Office Workers Union (BES) Chairman A. Bahadır Berdicioğlu and Temel, Energy, Industry and Mining Public Workers Union (ESM) VQA member Hamit Cansever, All Bülent Türkmen, a member of the Municipal and Local Government Services Workers' Union (TÜM Bel-Sen) MYK.
The fire destroyed 140 hectares of land in the Fırtına Veli district in Munzur valley, according to the report, which also said: "Hundreds of juniper trees and oak trees were burned. 100-year-old trees have been destroyed. Local sources once again informed our delegation that an area of 340 hectares was burned down in the Hozat district."
The report stated that capitalism's rent and plunder tactics contributed to the daily destruction of nature, and added that "the system that makes nature an object of capital and a market product is responsible. The reality of the system, which stands in the way of the flow of life by controlling both nature and humans, is well known."
According to the report, fires regularly increased during periods when "security" norms were introduced and attempts to extinguish the fire were not implemented.
High-security border posts built by TOKI in the border region contribute to the destruction of nature. "While villas were built up quickly in the western provinces following the fires, the building of big security posts in Dersim in the name of security policies also caused environmental damage. The forest fire that started after the military operation on 17 August in the villages of Kuru Kaymak and Koçeri in Hozat, province of Dersim was only extinguished 13 days after it started. Instead of insisting on security policies, we should work to re-establish a peaceful coexistence with the existing nature."
What should be done
According to the report, the following steps should be taken as preventive measures:
"* We should work to build an awareness that underlines that we are not the owners of nature, but rather a part of it. This should become a culture, and public services should be handled accordingly by making it a permanent policy.
 * Dam construction, forest destruction, fire, and non-intervention/late intervention should all be prohibited.
* Workers' working and living circumstances in the forest should be improved, and a more productive working environment should be developed.
 * Action plans for fighting forest fires should be presented in detail to the public, required tools and equipment should be provided, and the principle of transparency should be used as the foundation for tenders on this subject.
 * To combat forest fires, workers must be employed in a safe way, and worker health and safety measures must be implemented.
* An 'Action Plan for Combating Drought' should be prepared together with trade unions, ecology organizations, and the general public, and the areas opened for rent and deforested should be transformed into green areas in accordance with their natural structure, and ecological destruction should be eliminated."