Human trafficking through KDP-AKP collaboration!
Travel agencies in Hewler facilitate human trafficking. Turkey is responsible for issuing visas and even passports to immigrants from Kurdistan to Belarus.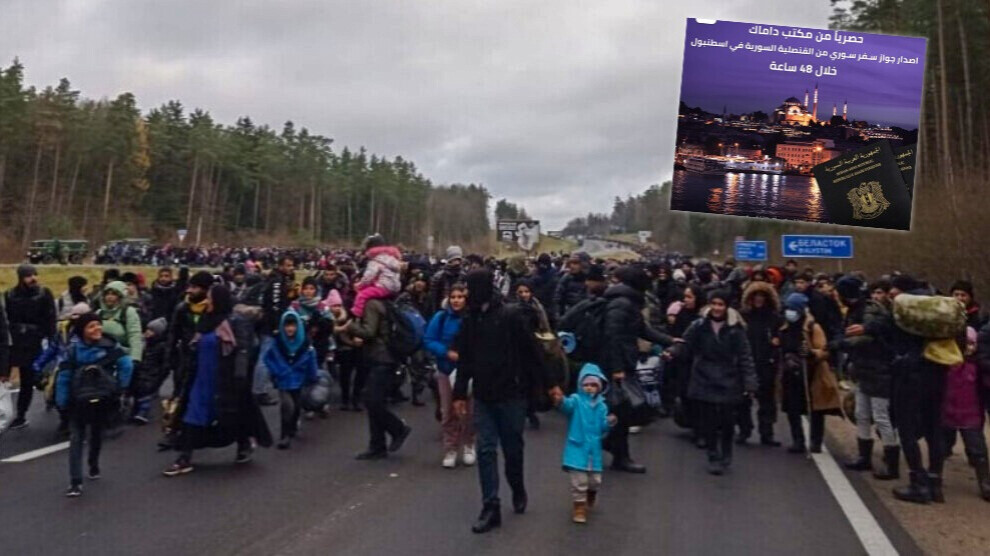 In recent days, the European Union's top priority has been the increase in human trafficking through Belarus throughout the summer months. The number of immigrants, predominantly Kurds, who were brought to Belarus and left at the borders with the aid of the Lukashenko government had surpassed 30 thousand as of October. Again, the number of illegal immigrants entering Germany through Belarus topped 7,000.
The rapid influx of Kurdish immigrants to Europe is the product of systematic people smuggling in collaboration with the Belarusian government, the AKP administration of Turkey, and the KDP of South Kurdistan (North Iraq).
According to an ANF investigation, several travel agencies in Hewlêr (Erbil), capital of South Kurdistan, engage in human smuggling with the collaboration and supervision of the ruling party of KDP. Furthermore, these agencies are explicitly permitted to promote human trafficking on their social media platforms.
People apply to travel agencies with advertisements with headlines such as "Ready to travel to Belarus with us? Bring your passport, we will take care of the rest at our office" and "Issuing a visa to Belarus is as easy as it can be, all you have to do is to bring your passport." The visa and even passport procedures are conducted in cooperation with the KDP and Turkey's AKP government. Immigrant visas are given in Turkey because Belarus does not have an official representative in South Kurdistan and Iraq.
SYRIAN PASSPORTS ARE ISSUED IN ISTANBUL
Similarly, travel agencies in Hewler organize passport issuance procedures for Rojava-based Syrian refugees who do not have a passport. The advertisement with the headline "Your trip is all set! Syrian passport will be issued within 48 hours at the Syrian consulate in Istanbul", demonstrates that the Assad government is also involved, and that a significant portion of the refugees from Rojava who arrived in Europe is made up of those who were staying in camps affiliated with the KDP.
A 17-year-old teenager from Dêrik, Rojava, who did not want his name published, described his journey to Germany to ANF. He indicated that he had been staying with his family in Dumiz camp, which is located between Zakho and Duhok, since 2012. He stated that he came from Istanbul, where he had been taken to without a passport, with the assistance of KDP officials. The young guy from Rojava, who is presently staying in a Youth Office camp in Germany's Brandenburg State, said that despite his age, he has had no problems.
He stated that after his family agreed with the travel agency, all transactions went smoothly and that after he was issued a Syrian passport in Istanbul, they flew to Minsk in Belarus with a group, and from there they were taken by bus to the Polish border under the supervision of Belarusian police.
TWO AGENCIES IN MINSK SOLD TO SOUTH KURDISTAN CITIZENS
On the other hand, the anti-Lukashenko regime NGOs and media organizations publish extensive reports and news on how the visa procedures of illegal immigrants who arrive in Minsk proceed. According to opposition investigations, a section for the organizing of human trafficking was established within the Lukashenko government. This unit oversees the entire procedure, including how to fill out visa application forms, how immigrants are welcomed at the airport and where they will stay, and which buses will transport them to the border crossings.
According to the opposition broadcaster "kyky.org", human trafficking brings firms in Belarus 75,000 Euros per day and 2.2 million Euros per month on average. While the same website published the names of 12 Minsk-based tour companies that brought illegal immigrants, Belsat TV, a Polish-based broadcaster, announced that two Minsk-based tour companies, "Oscar Tour" and "Vizak," which brought illegal immigrants, were sold to Iraqi citizens from South Kurdistan.
It is reported that staff from both companies may simply enter and exit the security parts of Minsk Airport, where only officials are permitted to cross, and ensure that immigrants who arrive by plane can easily execute their transactions. According to Belsat TV, which points out that former police officer Dzmitry Korabau is the company's head and that 6-7 interpreters who speak Kurdish and Arabic operate at the airport, the visa fee for Belarus, which is 180 Euros under normal circumstances, can exceed 3000 Euros. Because airport officials, particularly tour businesses, are rewarded significantly.
MIGRANTS TOUR IN MINSK'S CITY CENTER
Another opposition media outfit, Nexta TV, released footage of migrants being taken for a tour through Minsk's city center. In the video, it can be seen that immigrants, the majority of whom are young, are being escorted to shopping malls in a systematic manner. Another video produced by the same media shows a guy yelling in Kurdish during the previous day's chaos near the Polish border, stating, "Don't be afraid, these are Belarusian police, they are just shooting into the air."
EU PRESSURE ON SOUTH KURDISTAN, WARNING TO TURKEY
The fact that the Turkish state and the KDP administration organize illegal immigration has prompted the European Union (EU) into action. Under EU pressure, flights from Hewlêr and Baghdad to Minsk were canceled at the first stage, while Turkish Airlines, which plays a significant role in the trafficking of illegal immigrants, was also implicitly warned.
EU Commission President Ursula von der Leyen told the German news agency DPA that the EU is working especially to impose sanctions on third-country airlines that carry refugees to Belarus. Manfred Weber, Group President of the European People's Party, the European Parliament's largest group, asked that the Erdogan administration be given stern warnings. "If Erdogan is seeking to blackmail the EU by flying a significant number of migrants from Turkey to Belarus, a clear response is necessary," Weber stated.
RELATED NEWS: