Leyla Guven: Don't expect us to end the hunger strike
Leyla Guven, imprisoned in Amed, said the isolation of Ocalan has not ended and that the hunger strike will continue.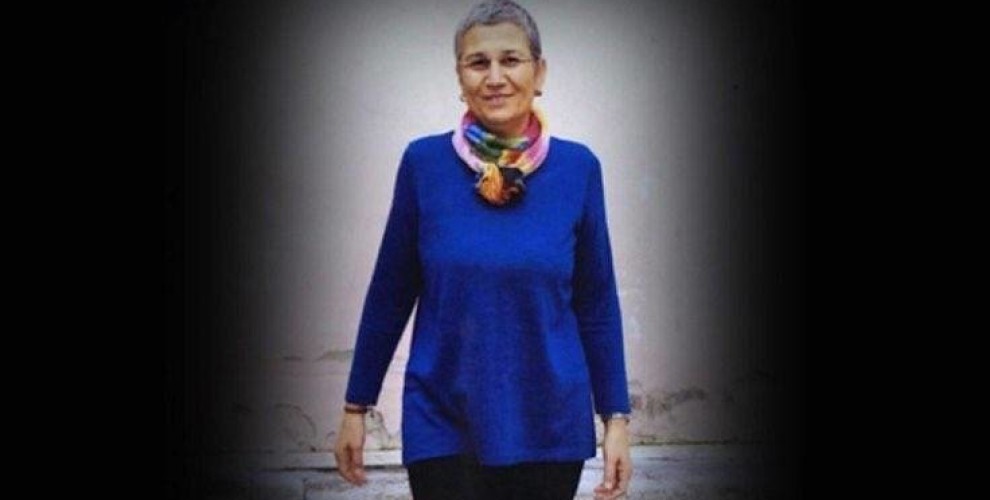 Leyla Guven, on a hunger strike for the last 69 days demanding an end to the isolation imposed upon Kurdish People's Leader Abdullah Ocalan, said the isolation has not ended with the recent visit to Ocalan.
Leyla Guven said: "Don't expect us to end the hunger strike with this visit. Our demands are not illegal, they are legitimate."
In a message she sent to JinNews on Monday, Guven said: "One will go and a thousand will return. We will continue our fight, keeping our principles in mind at all times. We have prevailed through resistance, we resist now, and we shall prevail."
GUVEN'S HEALTH
Guven's message is as follows:
"First I would like to briefly inform everybody about my health. I have my daily check-ups. There has been a plunge in my blood pressure in the last 20 days, for instance it can be 7/5 in the morning check-up and 11/6 in the evening. This has brought on a constant state of sleepiness. I have lost some 10 kilos. I am having trouble walking, and my headaches have intensified. I am having nausea and a high fever, my sensitivity to lights, smells and sounds have increased while I also have trouble taking in liquids and am drinking less water. All the symptoms increase every day. This is all there is to say for now, I guess.
THE RESISTANCE WILL CONTINUE TO MAKE THEM AFRAID
I am on the 68th day of my hunger strike. Our friend Nasir Yagiz is on his 55th day. The hunger strike in Strasbourg is on day 20, and the first group among the 226 friends in prisons have completed 30 days. Our hunger strike that we continue with great resolve and morale being supported strongly by our people in all the lands they live in gives us extra motivation. The AKP-MHP fascist alliance has set attacks in motion to prevent the embracing of our hunger strike that continues with the spirit of July 14. The ravenous AKP police has been obstructing even the slightest democratic protest by the people of Amed. They batter MPs, who have immunity, to give a message to the people: 'If you continue, we will do the same to you, even worse.' Of course they don't do this in Amed alone, this happens in Van, Urfa, Batman and other places as well. AKP has also banned the Yeni Yasam newspaper from prisons. The law is completely disregarded. Newspapers are held back because they have articles on the hunger strike. This means the hunger strikes and news of the strike put the AKP in quite a difficult position. They try to mask their fear through oppression, but it is in vain. The resistance will continue to make them more and more afraid.
THE ISOLATION CONTINUES
According to information I received from my lawyers, Mr. Ocalan's brother Mehmet Ocalan was taken to the island and they had a visit. He said Mr. Ocalan is well. This information is of course important, and I am sure it has given great morale to the Kurdish people. As our people also know, the isolation has not ended with this visit. We have previous experiences. In 2016, 50 Kurdish politicians including myself had started a hunger strike to end the isolation. AKP sent Mehmet Ocalan to Imrali to meet with Mr. Ocalan then, and we ended the hunger strike when we received a message from him. But the isolation continued. Now they are trying a similar method.
DON'T EXPECT US TO END THE HUNGER STRIKE
Mr. Ocalan is a political leader. He isn't held in that island due to his family. Like all prisoners, he has the right to family visits. Our demand has been clear from the beginning. We demand an end to this isolation, a crime against humanity, that Mr. Ocalan can meet with his family, lawyers and political committees, and that he is provided with conditions where he can continue his efforts and meetings for a democratic solution and a lasting peace. So, don't expect us to end the hunger strike. Our demands are not illegal, they are legitimate. If the AKP-MHP fascism aims to make us pay a price, we had started this hunger strike accepting this risk. We would like to send a warning to this fascist alliance of a government. If coffins start to come out of the prisons, you can't continue to sit about like nothing happened. Do not think at all that the Kurdish people, knowing that 226 of their children melt away further every day, will sit idly by.
WE PREVAILED THROUGH RESISTANCE, WE WILL PREVAIL AGAIN
History is full of these examples. In a world of global developments, there is no benefit in bilaterally paying a price. We have put our lives on the line, as that is the only thing we have. You have been coming at us with all the resources of the state. Of course this is not something that can't be overcome. There are still millions of people in Turkey who can think with reason, believe in the fraternity of peoples, who want to live in a democratic, ecologist, moral political system that upholds a life with women's freedom. "One will go and a thousand will return. We will continue our fight, keeping our principles in mind at all times. We have prevailed through resistance, we resist now, and we shall prevail."