The symbol of women's revolutionary resistance: Sakine Cansız
Sakine Cansız or Sara, who travelled from one mountain to the next... She became a fighter, a commander, a teacher, and a comrade. Martyr Sara, who bravely stood up to her adversary, became the emblem and symbol of the women's movement.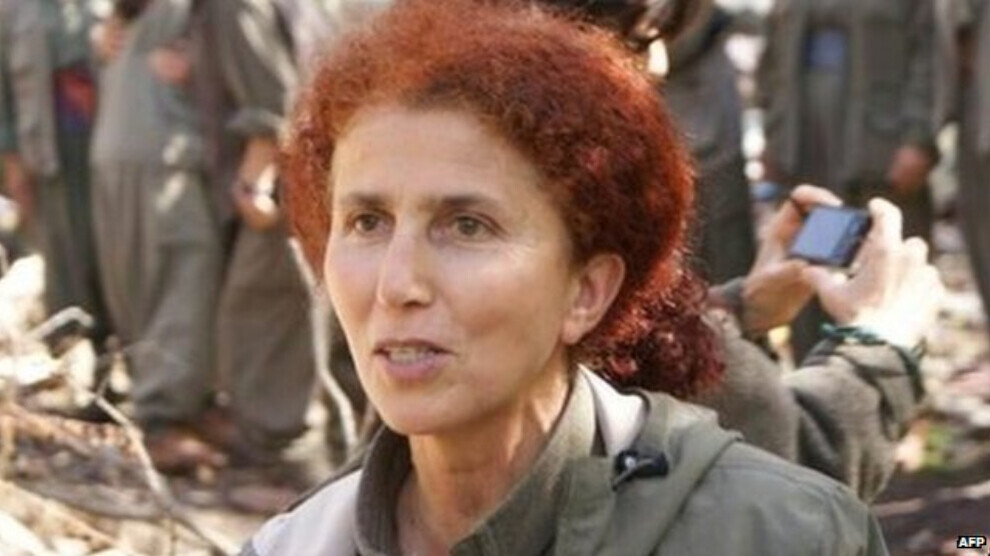 The somber day of January 9, 2013 comes to mind as the month of January approaches. That day, three independence fighters were assassinated in Paris, France's capital. Their comrades, Kurds, and the families of three revolutionary women descended on Paris. Since that day, Paris, known as the city of freedom and lovers, has been a city of darkness, a city of death for Kurds. Three revolutionary women who pursued the truth became the enemy's target. On January 9, 2013, three female revolutionaries, Sakine, Fidan, and Leyla, were assassinated in France.
Martyr Sara (Sakine Cansız) was one of the founders of the PKK. She was born on February 12, 1958, in the Dersim town of Tahti. Martyr Sara regards her birth as a blessing and says: "When I was born, my father was in the military. I was born in February and registered as such. So my official birthday is February 12, 1958. Is it luck to be born in cold and snow? I'm convinced it is. I think it is luck to be born in a snowy region."
Martyr Sara, who worked in a factory, was involved with Turkey's socialist groups in defending workers' and labourers' rights. But martyr Sara, who couldn't find what she was looking for in Turkey's leftist movements, travelled to Ankara from Dersim and met with the Apoists. She attended the PKK's founding conference, which was held on November 27, 1978, in the village of Fis, Lice district, Amed. Sara is one of the two women that helped create the PKK. She sowed the first seeds of the PKK's women's liberation movement.
A freedom fighter
Martyr Sara was working in Ankara, Bingöl, and Elazig. In 1979, she was detained on the Elazig-Bingöl railway line. In Diyarbakır Prison, she was subjected to severe abuse. With the slogan 'Surrender leads to treachery, resistance leads to victory,' she strongly opposed torture. Sara lived her life fearlessly because she stood up to the torturer Esat Oktay Yıldıran. Esat Oktay Yıldıran and her resistance to the enemy's tortures provided inspiring examples for all of her comrades.
While imprisoned, she sent letters or photographs to her friends and family, and she added some words on the back of those pictures. With these pictures, she gave morale to her friends.
Her entire life has been a struggle and a war. She fought for a free life, a free woman, and a free society. Sara was a freedom and peace seeker. Thousands of Kurdish women today follow in her footsteps and carry on with her cause.
Sara's tenacity and valour influenced generations of people growing up in the 1980s and 1990s. Martyr Sara, who escaped from prison by travelling to the Middle East and then to the Kurdish mountains, travelled from mountain to mountain. She became a fighter, a commander, a teacher, and a comrade. Fighting bravely against her adversary, she became the symbol and emblem of the revolutionary resistance.
''My whole life was a struggle"
Martyr Sara, who said, "'My whole life was a struggle," was in constant conflict with the system.
In her book 'My whole life was a struggle', Martyr Sara writes about her release from prison: "The date was December 26, 1990. On May 17, 1979, around morning, I was arrested. I was released from prison in Çanakkale. From where we are, the colour of the sea is stunning. The sun's rays are reflected on the sea.  It enhances the beauty of it. The weather is lovely. We spoke with a few friends who knew Basra before travelling to Istanbul. I had been thinking about the final day I spent with my friends all day. At the time, I couldn't get enough of my comrades."
Newroz 1991
Sara was released from prison and wrote the charter for the Patriotic Women's Association (YDK) in Istanbul, becoming one of the organization's founders. With Kurdish intellectuals and artists, she formed the Mesopotamia Cultural Center (MKM). She was the editor of the Özgür Ülke newspaper and the Özgür Halk Journal.
In 1991, she addressed thousands of people at Newroz in Istanbul. Sara, who had been in Turkey for five months, continued her work despite state constraints. The government continually controlled her activities and prohibited her work from being completed.
Sara describes those days as follows: "I was determined to participate in the organisation. I had a strong desire. Despite my best efforts, the enemies did not relent. They could catch me at the most inconvenient times, but I had a lot of faith in myself. There was a tenacious struggle."
Sara said of Kurdish people's leader Abdullah Öcalan: "Leader Öcalan is my revolution, resistance and cause."
Sara arrived in Greece on May 1, 1991, five months after her release from prison, and spent some time in Europe before heading to Damascus.
Martyr Sara described the procedure for travelling to Damascus as follows; "We arrived at Damascus International Airport. My heart was racing at a fast pace. I was quite eager because all I wanted was to see was the leader." At the request of Kurdish people's leader Abdullah Öcalan, four people received Sara at Damascus airport with a bouquet. Thirteen years later, Abdullah Öcalan met Sara in Damascus. Sara recalls: "The last time I saw the president was at the Fis assembly. We left there the next day. Thirteen years have gone by. After years of incarceration, I tore the shroud and arrived at the best moment of my life. A lot has changed over this process, but the leader remained the same."
She became a symbol of resistance
It was time to depart for Sara, who had spent six months studying at Mahsum Korkmaz Academy. Abdullah Öcalan said: "Sara, you adore the mountains. I'm hoping to hear good news from you." Sara also mentions the following about the separation: "I told Leader Öcalan that I would always make him happy, and I went out into Damascus' streets. For a long time, his hand remained in the air. I felt once again happy to be an Apoist."
Sakine Cansız (Sara) was murdered Paris on January 9, 2013, along with KNK Paris representatives Fidan Doğan (Rojbin) and Leyla Şaylemez (Ronahi). The Paris Massacre occurred nine years ago. Despite the overwhelming evidence, the defendants have not been tried in 9 years. For the past nine years, Kurdish women, Kurdish society, and Kurdish friends and families have worked tirelessly to expose the truth of the massacre of three revolutionary women.
Sara's entire life had been a struggle and a war. She fought for a free life, a free woman, and a free society. Sara was a fighter of freedom and peace. Thousands of Kurdish women today follow in her footsteps and carry on with her cause. Sara has been a symbol of the resistance line in every field, from domestic life to the fight for independence. Everyone remembers her for her bravery and her stand against the tyrants.