Call for international investigation on Turkey's destruction of martyrs' graves in Afrin
Lawyer Ferhad Baqir said that an international committee should investigate Turkish state's destruction of martyrs' graves in Afrin. Documents deny Turkey's claims that the victims were killed by Kurdish forces.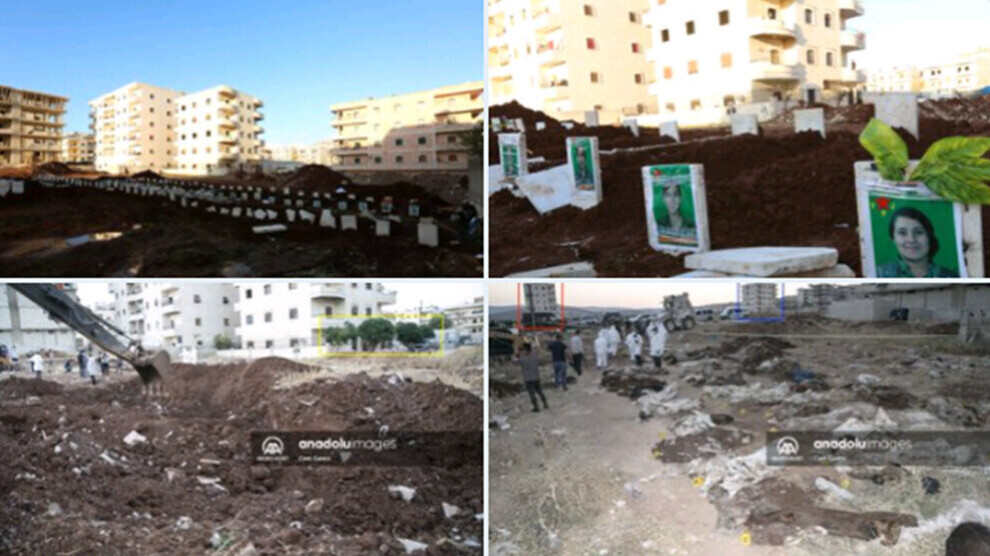 Turkey's war propaganda has apparently reached a new low. The occupation forces in Afrin in northern Syria snatched the remains of YPG and YPJ fighters and civilians killed in Turkish airstrikes from the earth of the Şehîd (Martyr) Avesta Cemetery and spread the lie that a mass grave with people "executed by the YPG/PKK" had been discovered. On July 14, the Erdoğan regime's Anadolu Agency (AA) spoke of 35 people who had been executed for refusing to join the YPG. The following day, there was talk of 61 corpses lying in a mass grave in a mess of body bags.
As the Turkish state's destruction of graves has sparked reactions, lawyers in the region state that the Turkish state should be held accountable for its crimes. Lawyer Ferhad Baqir spoke to ANHA about the issue insisting that an international committee should be established to investigate the allegations.
'THEY ARE DISTORTING THE FACTS'
Baqir pointed out that the Turkish state is afraid of an official recognition of the Autonomous Administration of North and East Syria, therefore it wants to defame it. He noted that the Turkish state clings to false allegations.
Baqir said that the Turkish state seeks to legitimize its occupation. "They want the global trust in the Autonomous Administration to disappear. Furthermore, they are trying to cover up their own crimes. The images and documents have revealed the truth to the public. People who could not bury bodies of their relatives in cemeteries because of Turkey's attacks established a small cemetery of martyrs at that time."
"The Turkish state is committing crimes against humanity. It is kidnapping, killing and torturing people. It is destroying nature and history. It is changing the demographic structure. The Turkish state should be held accountable for these crimes," Baqir noted.
'CRIME AGAINST HUMANITY'
Baqir slammed the international community for remaining silent in the face of the crimes committed by the Turkish state. "All countries should launch an investigation into the crimes committed by the Turkish state in the occupied territories. Opening graves is a crime. Human dignity cannot be trampled on. The Turkish state has committed such crimes in the region before because the international community remains silent."
"The Hague Conventions adopted in 1899 and 1907 and the Washington treaty signed on April 15, 1935, underline that the occupying state should respect people's property, institutions, organizations, historical artifacts, cultural items, art materials, religious places during the war.However, the Turkish state and its mercenaries have committed crimes despite all these international regulations," Baqir concluded.
RELATED NEWS: