Young man who set his body on fire to protest isolation loses his life
25-year-old Mehmet Akar burnt himself to death in protest against the isolation of Kurdish leader Abdullah Öcalan. He succumbed to his severe burns in hospital.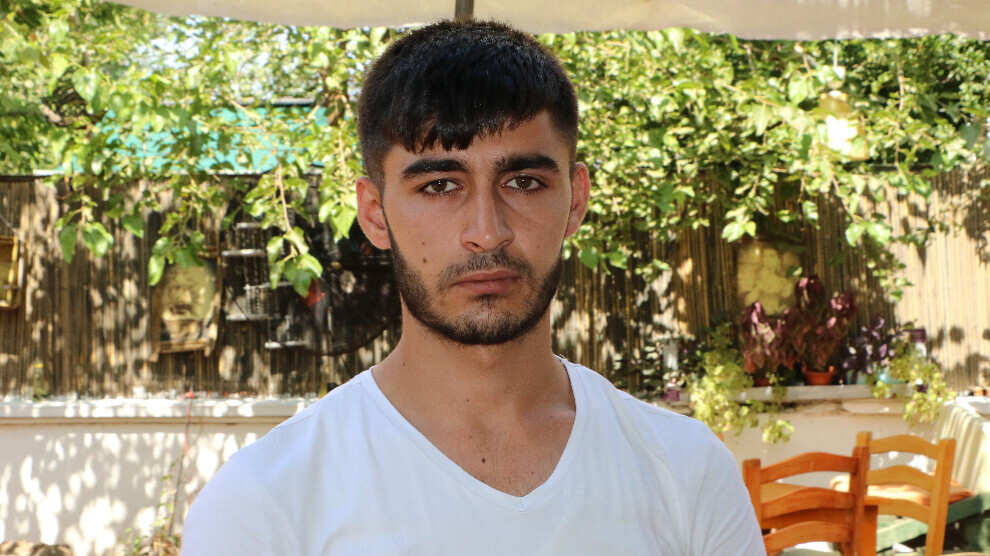 On Monday evening, a young man set his body on fire in the central Sur district of Amed (Diyarbakır). The young man, identified as Mehmet Akar, succumbed to severe burns in hospital on Tuesday. In his suicide note, he makes it clear that he set himself on fire in protest against Öcalan's isolation on Imrali.
25-year-old Akar has experienced the Turkish state's warfare first-hand. In 2019, his family claimed that he had been abducted "to the mountains" and participated in the "vigil" organised by the Turkish secret service MIT in front of the Peoples' Democratic Party (HDP) building in Amed. A few days later, Mehmet Akar himself spoke out and explained that he had not been abducted. Rather, he said, he had not gone to the mountains but left his parental home because he was to be married off against his will. Later, he also stated that his mother had been manipulated by MIT.
FAREWELL LETTER FROM AKAR: "BIJÎ SEROK APO"
Akar's farewell letter reads: "Hello friends. I would like to welcome the action of Comrade Bubo. There is no news of Leader Apo [Abdullah Öcalan]. Neither his family nor his lawyers are allowed to see him. The applications are rejected without justification. We are concerned about the health condition of Leader Apo.
In protest, I will set my body on fire at 21:21 in Amed's Keçi Burcu (Goat Bastion).  May the light of the fire that ignites my body illuminate Imralı. I hope that this action will lead to the physical freedom of Leader Apo."
SECOND SELF-IMMOLATION WITHIN A FEW DAYS
The self-immolation of Mehmet Akar was preceded by the action of Veysi (Bubo) Taş in Mardin. On 12 January 2023, 65-year-old Veysi (Bubo) Taş burned himself to death in the industrial area of the central district of Artuklu in the province of Mardin in protest against the total isolation of Kurdish leader Abdullah Öcalan. After unsuccessful treatment in hospital, Taş lost his life and was buried by his family. Commenting on the action, the Kurdistan Communities Union (KCK) said: "Veysi Taş has carried out a great action and called on our people, our international friends and the democratic forces to intensify their struggle and make it a success until the health, safety and freedom of Leader Apo are guaranteed." At the same time, however, KCK demanded that such an action should not be repeated. The Kurdish freedom movement has repeatedly appealed not to carry out self-immolations.
AKAR'S FAMILY ONE OF THE FIRST FAMILIES IN INTELLIGENCE OPERATION
Hacire Akar, the mother of Mehmet Akar, is considered one of the first participants in the "vigil" orchestrated by the Turkish intelligence service in front of the HDP building in Amed. She went to the police station in Amed on 22 August 2019 and filed a missing person's report, claiming that her son had been "abducted to the mountains". Following her application, she went to the Amed HDP provincial organisation building, broke windows and started a sit-in protest. She claimed that her son had entered the party building and had not come out. She accused HDP members that her son had been abducted from there to the mountains. Anadolu Agency (AA) and other pro-government media also reported that Mehmet Akar had been "abducted to the mountains". However, it became known that Mehmet Akar was to be forced into marriage.
On 23 August 2019, Mehmet Akar addressed the Mezopotamya news agency and stated that he had not been kidnapped but had left because he was being forced to marry his niece. Akar reported that he was at his sister Ceylan Mutaş's house in the district of Bağlar when he was forcibly detained by his father Aziz Akar and older brother Mustafa Akar and taken to his house in the Soğanlı district. He reported at the time: "Because I refused to be forcibly married, they came to my sister's house when I was asleep and took me to the village by force. They insulted me, took my phone, wallet, mobile phone and money. They did not let me leave the house. I didn't eat anything either." Regarding his family's participation in the "vigil", Akar said, "Nobody kidnapped me, it has nothing to do with the HDP. It is fundamentally wrong for my family to be there. I told my family: 'I have nothing to do with you', I didn't go anywhere, I am here. I will definitely not go to them. They should not blame anyone. I left home on my own accord. Nobody instructed me and nobody sent me anywhere. I did not go anywhere, I am here. It is also wrong for my family to continue the sit-in protest there. This has nothing to do with the HDP. I am not dependent on anyone. I left home alone. My family should not blame anyone. I will not meet with my family. I can decide my own life. I don't accept forced marriage by my family."
THE "VIGIL"
Despite this manipulation by the police, which has become public, other families continue their sit-in protest in front of the HDP headquarters. The HDP has stated from the beginning that this protest was orchestrated by the state. It has now emerged that parents who report their children missing or who are known to be with the guerrillas are being pressured by the Turkish security forces to take part in the protest. At the same time, they are promised payments and other benefits if they stand in front of the HDP building. There, the "vigil" repeatedly attacks visitors to the HDP office. These attacks take place under the eyes of the police. Any resistance is a pretext for police violence.
DEPUTY MINISTER OF THE INTERIOR TOOK PART IN FORCED MARRIAGE CEREMONY
According to the report, Akar was arrested and held for eight days at the Diyarbakır police station. He was then released under house arrest with an electronic anklet. The family took advantage of his situation and married him off against his will on 19 October 2019. The wedding was also attended by Deputy Interior Minister Muhterem İnce and former Diyarbakır governor Hasan Basri Güzeloğlu, former Sur district governor Abdullah Çiftçi and former AKP regional chairman Süleyman Serdar Budak. Government officials also claimed at the time that they had given Mehmet Akar a job. But it became known that Akar earned his living as a taxi driver.