Self-immolation in protest against Imrali isolation
In Mardin, 65-year-old Veysi (Bubo) Taş self-immolated in protest against the isolation of Kurdish leader Abdullah Öcalan. Before his death, he appealed: "We as Kurds must stand up for our chairman."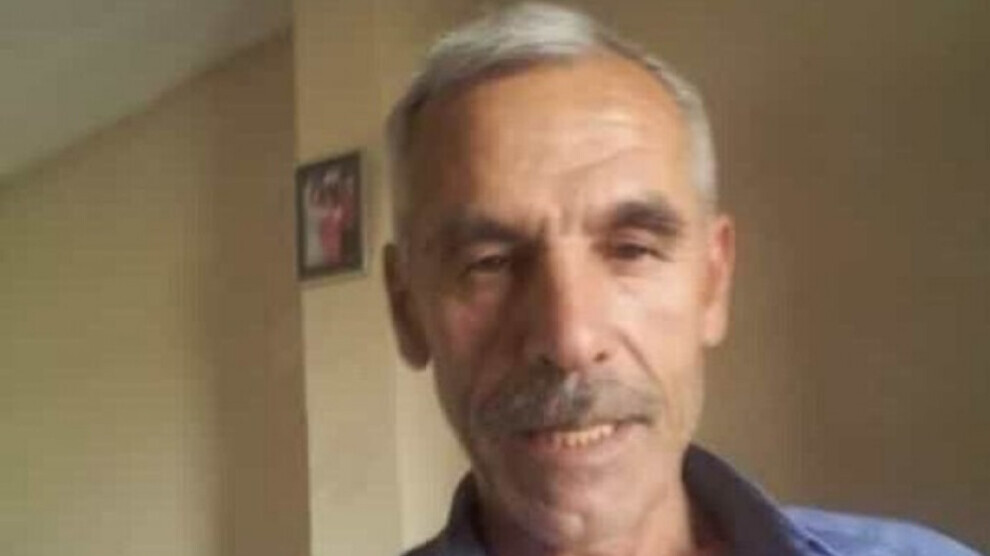 On Thursday evening, 65-year-old Veysi (Bubo) Taş burnt himself to death in the industrial area of the Artuklu district in the northern Kurdish province of Mardin in protest against the total isolation of Kurdish leader Abdullah Öcalan. After unsuccessful treatment in hospital, Taş lost his life and was buried by his family.
Veysi (Bubo) Taş experienced repression and torture in his life. He was detained during the military coup of 12 September and severely tortured in Amed (tr. Diyarbakır) prison. Six months ago, he was released after a second detention. Before his self-immolation, he recorded a video and justified his act.
"TONIGHT, I WILL PROTEST AGAINST THE ISOLATION ON IMRALI"
In the video, Taş explained: "As Musa (Anter) said, I am both a witness and a defendant in this case. I have dedicated my life to this cause, though not as strongly as he has. For ten years I had withdrawn from the struggle. For ten years I tried to stand on my own two feet. My life has passed. That is why tonight I will set my body on fire to protest against the Imrali isolation. I have no other goal or motivation. I want my children, my siblings and my nephews and nieces to be sure of this. I have a wish for them, I want them to be sure that I am not sacrificing my life because of the people on the other side. I am not such a simple-minded person.
I sacrifice my life for this cause, I sacrifice my life for the leader of Kurdistan, because I have dedicated my whole life to this cause. For ten years I had separated myself from the struggle. I was ready to do anything, but I became silent and could not do anything because of my age. Because I am old, I can no longer do anything. Think of Abdullah Öcalan - 22 years in captivity ... Don't get me wrong. I don't hate anyone. I'm not angry. I appeal to the Kurdish people. Hold each other. Nothing else will help us."
"I AM LEAVING OUT OF LOVE AND FREE WILL"
Taş went on to say: "I am personally carrying out this action tonight for Abdullah Öcalan, the leader of Kurdistan. He has been in solitary confinement for 22 months. I condemn this isolation. If our leader, who has been totally isolated for 22 months, is not allowed to speak, then we as Kurds must stand up for him. Otherwise, we will all be destroyed one by one along the way. We will disperse. This is my wish for the Kurdish youth and Kurdish women. I bow deeply to you. Goodbye, all of you. The caravan of martyrs is waiting for me. Xelef Kavri has been my comrade from the beginning. The Night of Four, Ferhat Kurtay, are waiting for me. I will carry out my action with my head held high. No matter how many grandchildren and children I have, they are all in my heart. I love and kiss them all. May my brothers and sisters be healthy. May they take care of my grandchildren and children, help them. That is what I ask of them. I have told my daughters that their father is an honourable man. Your father has never brought anything bad upon you. Money, property, possessions have no meaning. They will all disappear with death. We will all go that way. But when a man is honourable, is on the path of humanity, on the path of home, that is the most beautiful thing. As beautiful as life is, so is death. If you don't know your life, you don't know your death ... My daughter-in-law, my children, my nephews, don't cry after me. Trill after me. For I have opened the way of dignity and decency for you.
My time is over. I kiss you all. Don't cry for me. Trill. My time is over. Goodbye. Goodbye. Take care of yourselves. I go with a smile. I go out of love and my own will. I am not leaving under pressure, don't get me wrong. This action is a political action. It is for our leader. I want you to understand that. Take care of yourselves. Whoever has a right to do so, I ask for their forgiveness. May they do the same. May they also be on a good path. Stay well."