12 politicians and activists jailed in Amed
Out of the 18 people who were detained in political genocide operations in Amed, 12 have been imprisoned.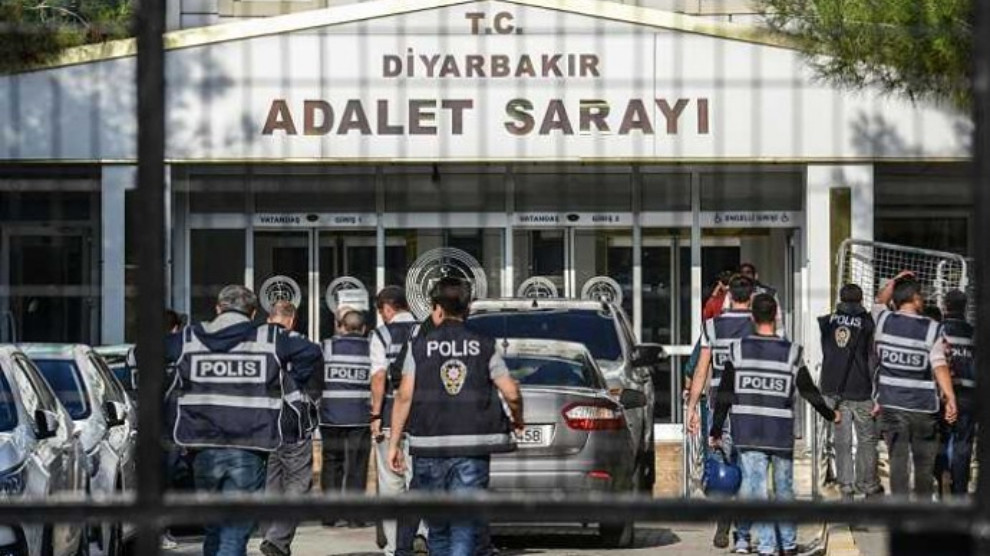 Last Friday, 18 people were arrested during house raids conducted as part of an investigation launched by the Chief Public Prosecutor's Office in Amed (Diyarbakir) against the Rosa women's association. Last night, an arrest warrant was issued for twelve of those arrested for membership in a terrorist organization. Five of the detainees were released on bail, while Peace Mother Havva Kiran was placed under house arrest.
Statements of anonymous witnesses
As is customary in terrorism-related trials in Turkey, the accusations are based on statements by witnesses who are kept secret. Those targeted in political genocide operations are accused of participating in protests, demonstrations and events. According to lawyers, the activists and politicians were asked during the interrogation why they had organised a rally for the International Women's Day on 8 March. Other accusations included statements made against the appointment of trustees to municipalities run by the Peoples' Democratic Party (HDP) and the support of the Peace Mothers Council during the hunger strike launched against the isolation of Abdullah Öcalan last year. The detainees were asked what the relationship between the Rosa women's association and the Free Women's Movement (TJA) is and why they support each other.
The Rosa women's association was founded at the end of 2018 after all women's institutions in Amed were closed down by government decree in 2016. It is the only women's organisation that provides support and actively fights against violence against women.
The Turkish authorities have also criminalised the campaigns for the missing student Gülistan Doku in Dersim and for the gender parity system of dual leadership that is in force in all HDP structures. The slogans "Jin Jiyan Azadî" (Women, Life, Freedom), "Don't get in the way of our free will", "No to isolation", "Where is Gulistan Doku?", "Women want peace", "The dual leadership is our purple line" and "Femicides are political" are used as evidence of the "terrorist motivation" of the Kurdish women's movement.
Protest against patriarchy is considered a crime
In a statement about the latest wave of oppression, the TJA said the following: "Women's right and freedom to independent organization is being taken up as an incriminating matter. All uses of the right to freedom of expression in favour of women's freedom are being treated as incriminating evidence. These attacks show that the AKP-MHP government is intent on continuing as a misogynist, militaristic, racist, sexist and monist government exploiting religion. Being a woman, being a Kurd, living in the Kurdish geography results in a threefold increase in oppression."
House arrest for Peace Mother
Those released on bail are TJA activists Zelal Bilgin and Nazile Tursun, Ayla Akat Ata, a former HDP member of parliament and co-founder of the Rosa women's association, and Nevriye Çur and Hüseyin Harman from Yenişehir District Council. Peace Mother Havva Kiran was placed under house arrest.
Those remanded in custody after appearing in court are as follows:
Adalet Kaya, the chairwoman of Rosa women's association,
Narin Gezgör, co-founder of Rosa women's association,
Fatma Gültekin from the association's board,
TJA activist Gülcihan Şimşek,
Former co-chair of the Democratic Regions Party (DBP) Mehmet Arslan,
Özlem Gündüz from the central executive council of the HDP,
HDP Yenişehir district association co-chair Remziye Sızıcı,
HDP Bağlar district councilors Gönül Aslan and Veysi Kuzu,
Diyarbakır Metropolitan Municipality Councilor Sevim Coşkun,
HDP member Mehmet Ali Altınkaynak
DBP Party Council member Celal Yoldaş.