Conference at the European Parliament: Isolation must be lifted
Dilek Öcalan read a statement on behalf of the activists on hunger strike in Strasbourg. She reiterated that "the isolation imposed on Kurdish People's Leader Abdullah Öcalan is unacceptable."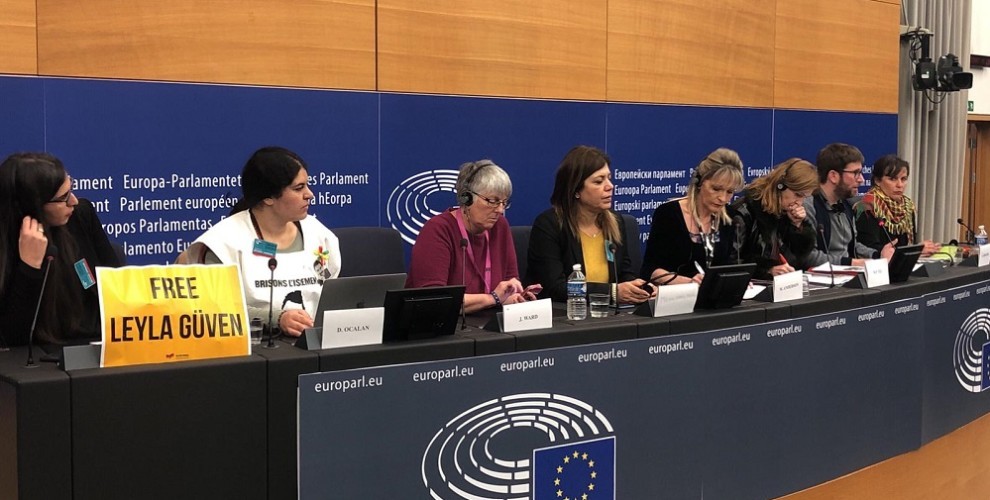 A press conference was held at the European Parliament on Tuesday about the hunger strikes going on in Turkey, Kurdistan and Europe.
Hunger strike activists Dilek Öcalan and HDP Siirt deputy Meral Danış Beştaş attended the press conference together with MEP Julie Ward and French Left Front (Front de Gauche) member Marie-Pierre Vieu, Sinn Fein MEP Martina Anderson, Miguel Urban Crespo, a member of Podemos and Ana Miranda Paz, Galician MEP.
Among the hunger strikers who attended the press conference were also Yüksel Koç and three other activists.
At the press conference, British MEP Julie Ward said the isolation of Kurdish People's Leader Abdullah Öcalan is a clear violation of human rights.
Ward said that Öcalan was prevented from having the legal visits he is entitled to with unacceptable reasons. "What we are left with is lies and excuses", she said, adding the importance of the Committee for the Prevention of Torture (CPT), prompting a delegation to Imralı Island and investigating Öcalan's situation.
Ward reminded that Öcalan's brother Mehmet was allowed a 15 minutes visit, while of demands by hunger strikers were not met.
Speaking on behalf of Podemos, Miguel Urban Crespo, rejected the isolation and asked the CPT and European countries to take a clear stance on Turkey's repressive policies.
Beştaş: Isolation must be lifted, listen to Leyla Güven
HDP Siirt MP Meral Danis Beştaş, said: "Mr. Abdullah Öcalan has not been able to use any of the rights prisoners are entitled to, such as visits by lawyers and family, telephone call. Over 10 million people have signed a petition asking freedom for Öcalan in the last years. He is the person who can pave the way to democracy and peace in Turkey. Therefore, even though this attitude by the Turkish state is both against the European law and the same Turkish law, it does not change. Isolation is torture and torture is a crime against humanity."
Beştaş added: "I urge the European governments and the European Parliament to make sure their institution and laws are respected."
Beştaş also pointed out that HDP Hakkari MP Leyla Güven has been on hunger strike for 69 days and her situation is critical.
Dilek Öcalan: Isolation is unacceptable
Dilek Öcalan read a statement on behalf of the activists on hunger strike in Strasbourg. She reiterated that "the isolation imposed on Kurdish People's Leader Abdullah Öcalan is unacceptable."
Dilek Öcalan emphasized that there was no change in the isolation policy of the Erdogan regime, despite the 15 minutes visit granted to Mehmet Öcalan last Saturday.
After the statement, MEP Ana Miranda Paz reiterated their solidarity with Leyla Güven.