"Stand against the Turkish state invasion"
Prominent members of society and Arab sheiks in Afrin and Shehba called on clan leaders in Syria to stand against Turkey's invasion.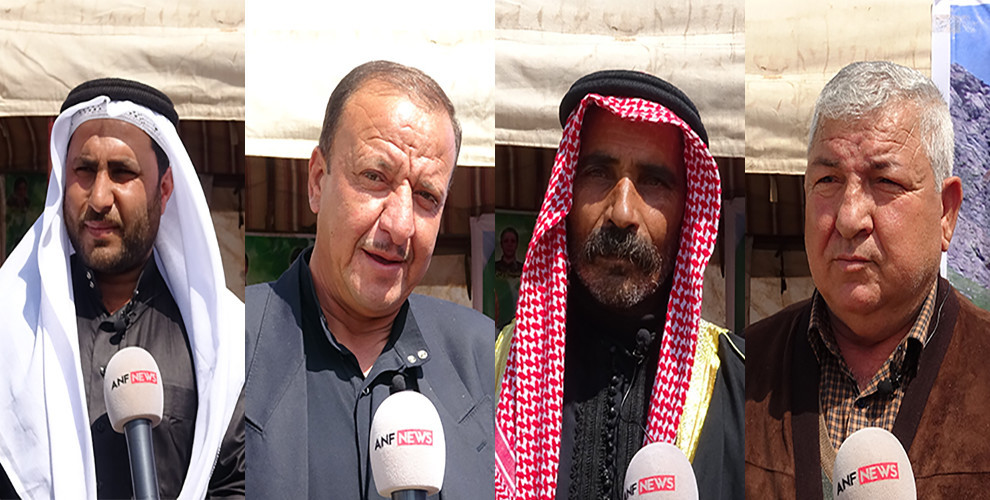 Prominent members of society and Arab sheiks in Afrin and Shehba gathered today in the Fafine district to assess the SDF's success in the west of the Euphrates. The Turkish state's invasion of Afrin, Azaz, Bab and Jarablus was also discussed in the meeting where all clans in Syria were called to stand against the invasion.
Batos clan member Xelef El Mihemed commended the SDF for the victory against ISIS and stressed that the biggest terrorist organization in the world was defeated on the battlefield. El Mihemed said they are in favor of a united Syria and added: "All Kurds and Arabs must come together and fight against the Turkish invasion. I am calling on all clans under Turkish state occupation right now, stand against the Turkish state which supports terrorism."
"WE BELIEVE SDF WILL END TURKISH STATE OCCUPATION"
Prominent Afrinite Welid Xubari protested the US decision on Golan Heights and said they as the people of Syria will not allow their lands be sectioned off. "We are calling on the whole world, end Turkish occupation in Afrin now." Xubari added: "And the SDF should turn to the west of the Euphrates at once to rid Afrin of the Turkish state."
Eli El Xemisi from the El ximsi clan said they believe the SDF will end Turkish occupation in Syria and continued: "Foreign powers should know that the peoples of Syria can resolve their own issues. The Imerat clan and others in Afrin should rise up against the Turkish state occupation in Afrin, and we as the Syrian peoples should stand united."
"WE WILL BUILD A DEMOCRATIC SYRIA"
Ibrahim Muse from the Batuseh clan condemned Turkish and Israeli invasions and said the people of Syria have the strength to resolve their issues among themselves.
Hec Welid Hemede commended Syrian Democratic Forces' success and said: "In today's meeting, we agreed that we should come together and stand united. The enemies of Syria should know that we live on these lands and we won't leave our homeland. We will build a democratic Syria together."