Thousands rallied in Amed: End isolation
"We have fought for years a battle for brotherhood, justice and equality. Our Hakkari MP, Leyla Güven, is on hunger strike for 73 days. Her demand is our demand. That's why we say we will win.''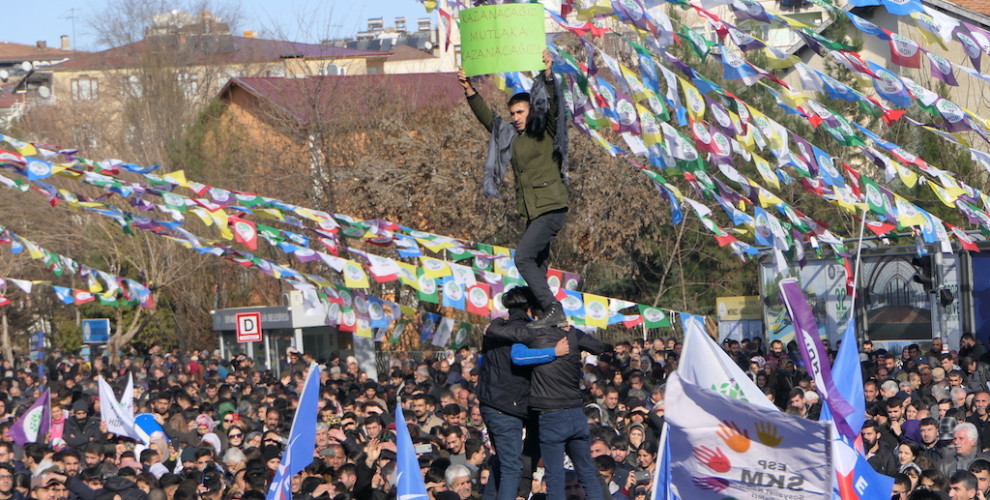 A rally took place in Amed, 5 June Democracy (Station) Square to support the hunger strike and demand the end of isolation against Kurdish People's Leader Abdullah Öcalan.
'Democracy, freedom and justice' was the slogan chosen for the rally which was attended by HDP co-chair Pervin Buldan, DTK co-chair Berdan Öztürk and DBP co-chair Mehmet Arslan.
Speaking on behalf of the Organization Committee, Ramazan Kaval said: "Today we have guests from all regions, our co-chairs are among us. This rally as you know is in solidarity with our friends on hunger strike in prisons. Isolation is inhumane. We have fought for years a battle for brotherhood, justice and equality. Our Hakkari MP, Leyla Güven, is on hunger strike for 73 days. Her demand is our demand. That's why we say we will win.''
The names of the prisoners on hunger strike demanding an end to isolation were read at the rally.
HDP Amed MP Dersim Dağ read the letter sent by Leyla Güven from prison.
End isolation, let the voice of freedom and democracy be heard
DTK co-chair Berdan Öztürk, saluted Leyla Güven and said: "How many times they tried to end our people yet, they haven't succeeded. The AKP-MHP fascist government wants to do the same thing, but they will be defeated by our resistance. The isolation against Mr Öcalan today is what the entire Kurdish people is experiencing. We won't surrender our will and identity to anybody.
Today, - Öztürk continued - Leyla Güven and her friends have put their bodies in the fight to remove isolation against Mr Öcalan, and today the Kurdish people are fighting for their existence, in Rojava (West), Rojhilat (East), Bashur (South) and Bakur North) Kurdistan. If isolation in Imrali is abolished, the voice of equality, freedom and democracy will be heard. Those speaking about brotherhood where were they, when Sur, Cizre, Gever and Nusaybin were burned down? Where were they when mother Tibet's body lied for days on the street? We won't forget all that. That's why we believe that our friends in Hewler, Strasbourg and the prisons will win."
Arslan: The AKP will not find a single Kurd willing to surrender
DBP co-chair Mehmet Arslan said the AKP is trying to impose its dirty policies against the Kurds and the peoples of Kurdistan. Arslan continued his speech saying:  "Today, all our comrades in prisons are resisting the dirty policies carried out against the Kurdish people. No problem has been solved with war and tension in this land. Instead of confronting these people, the people who govern this state should deal with their representatives. The AKP will not find a single Kurd willing to surrender. The biggest example is the hunger strike carried out by Leyla Güven, Sebahat Tuncel and other comrades.
They want to eliminate the Kurds in the political sphere so that they cannot use the democratic politics field. Let us step up our struggle and resistance wherever we are."
Buldan: Amed sent strong message to Ankara
After Arslan, HDP co-chair Pervin Buldan delivered a speech. Buldan said: "The crowd here has sent once again an important message to Ankara. Today Ankara has to read this message well. The thousands who have come together to end injustice and antidemocratic practices, including isolation, have shown that this honorable struggle will be won, and today we send our greetings to our beloved Leyla Güven on the 73st day of her hunger strike. In total, 239 human beings are fasting for the removal of isolation. Isolation should be removed."
Buldan added: "Isolation has been implemented in Imralı prison for 20 years. It is a practice that prevents the voice of Mr. Öcalan from reaching the public. During the talks with Mr. Öcalan, all peoples were looking at the future with more hope. Our mothers weren't crying. No teenager's body was falling to the ground. But when the isolation began that is when the political crisis began to show."
Underlining the thousands of HDP members in prisons today, Buldan said: "Our comrades, among which are Selahattin Demirtaş, Figen Yüksekdağ and Gültan Kışanak, are filling prisons.
The hunger strike carried out by Leyla Güven must give results, isolation must be removed. It is of course important that Mehmet Öcalan went to Imrali. But this is a family visit. It doesn't mean that isolation has been lifted. Once again we send this message to Ankara. The resistance of Leyla Güven is the resistance of democracy, peace, freedom and brotherhood.
Isolation today is the problem of the people of Turkey. Because what happened does not only concern Kurds. It concerns everyone. I want to make a call from here; your word must be a real word. We must hand in hand and shoulder to shoulder to remove this isolation. We know that every citizen living in this country is uncomfortable with the negative attitude of the AKP government. I want to say that we never accept an understanding that ignores section of the society. That's why we all have to hear to Leyla's voice."
If isolation is not lifted, dark days expect us
Buldan ended her remarks saying: "I believe that Turkey's society will be able to remove isolation. Either we win, or we win. We'll definitely win. I thank once again on behalf of the HDP the people who came here. Everyone should bring isolation on the agenda, wherever they are."
The rally continued with the songs of artists Kadir Çat, Mizgîn Tahir and Şerzat.