Manbij people: Our politics is resistance
The people of Manbij organised a march against the threats of Turkish president Erdoğan.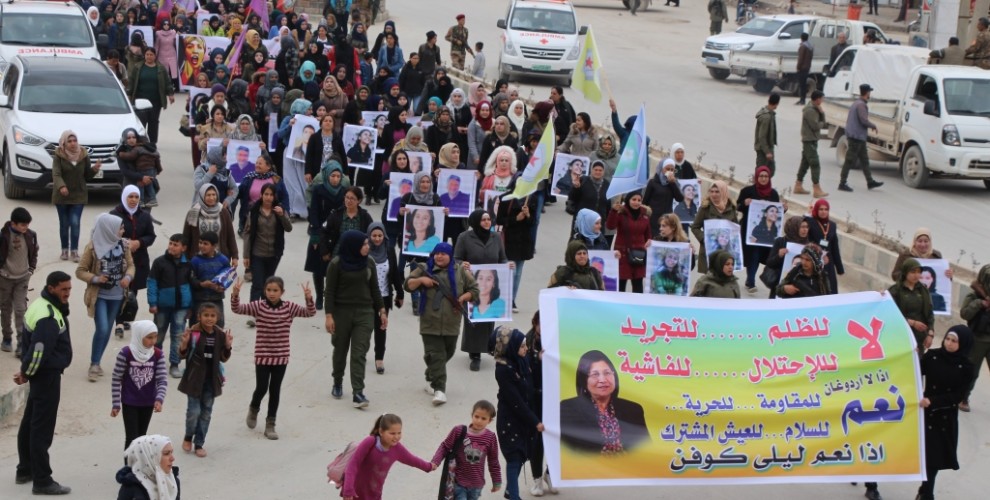 Hundreds of people, including members of the Manbij Civil Assembly gathered in front of the Fırat hospital and organized a march to support the hunger strike resistance and the prison resistance protesting the isolation imposed on Kurdish People's Leader Abdullah Öcalan.
Flags of the Syrian Future Party, Manbij Women's Assembly, Syrian Revolutionary Youth Movement, Young Women's Union, Martyrs' Families Council were carried by activists during the march.
A banner saying "Free Women will destroy the walls of İmralı".
When the march reached the city hall in the city center, Nezîfe Xelo, co-chair of the Manbij Democratic Civil Administration Executive Council, said: "Today we stand up and salute all the comrades who have been on hunger strike resistance, especially Leyla Güven whose fast continues for 140 days."
Nezîfe Xelo added: "The whole world must break the silence and oppose the rights violations carried out by the occupying Turkish forces. The people will not forget the threatening dictator Erdoğan, who occupied Afrin and today threatens to occupy Manbij."
Ending the speech, Nezîfe Xelo said that the people will protect their rights and achievements, because their politics is the politics of resistance and they will build a democratic society following the footsteps of the martyrs.