SDF declares victory over ISIS, vows to continue their fight
SDF held a ceremony in Baghouz to declare victory over ISIS mercenaries, announcing that the fight against the gangs will continue.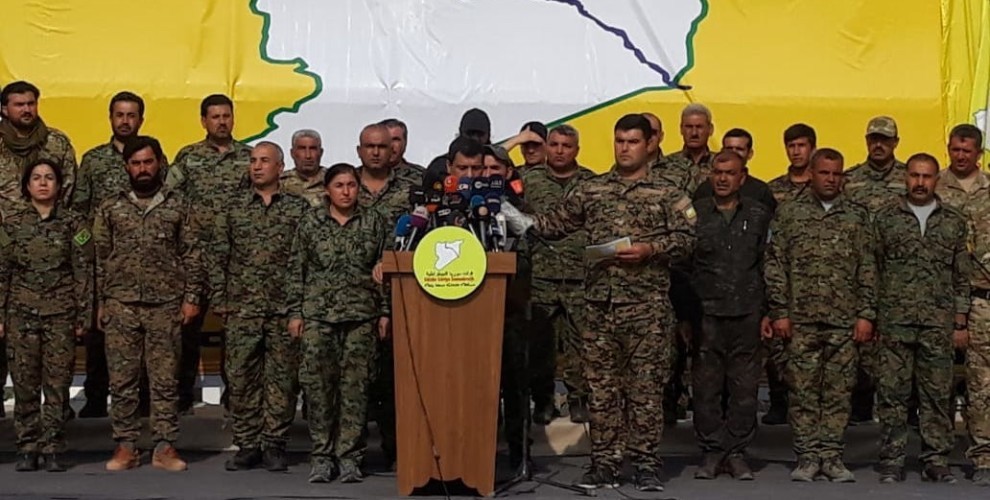 Having liberated Baghouz in the final operation to "Defeat Terrorism" as part of the Operation Jazeera Storm, Syrian Democratic Forces (SDF) ended the ground control of ISIS in its last pocket.
The SDF planted their flag early this morning to symbolize the complete liberation of Baghouz, the last piece of land ISIS had under their control.
A ceremony for victory was held in Deir ez-Zor in the early afternoon. SDF, YPG and YPJ fighters as well as other SDF constituents, veterans, Arab and Kurdish opinion leaders and families of martyrs came together for the ceremony.
The Northern and Eastern Syrian administration and canton administrations' representatives also stand out among the guests. Photographs of fighters who lost their lives during the war and SDF flags were put up around the ceremony grounds.
In a statement at Omar oil field, SDF Commander General Mazlum Ebdi announced the beginning of a new phase in their fight against ISIS mercenaries.
He stated that SDF have liberated 52 thousand km square of Syrian territory, while 11 thousand fighters of theirs fell as martyrs and 21 thousand fighters were sustainably injured.
"On this occasion we remember those heroes and pay tribute to the memory of the martyrs and wish the urgent recovery of their wounds, without their sacrifices we would not have granted this victory. Likewise, we extend our deepest thanks and gratitude to all those who contributed to this war against terrorism, particularly the International Coalition against Da'esh," he added.
Ebdi recalled that Kobani battle was the symbol of the global resistance against terrorism and the turning point of defeat of ISIS, adding; "Now, after five years of fighting, we stand here to declare the physical defeat of ISIS and the end of its public challenge over all human beings."
The SDF Commander stressed that "the main factor in the success of Syrian Democratic Forces in its war against terrorism was its adoption of the principles of the democratic nation, the freedom of women, the principles of coexistence and brotherhood of peoples, which brought together Kurd, Arab, Syriac, Assyrian, Turkoman, Chechen, Circassian and international fighters under Syrian Democratic Forces flag."
The statement underlined that just as Syrian democratic forces have helped people of the liberated areas to build their administrative and security institutions, they will also create the stability of the regions so that these areas can rebuild their administrative and legislative councils through democratic and transparent elections.
SDF Commander General Mazlum Ebdi added; "We affirm that our war against Da'ash terrorism will continue until full victory is achieved and the total elimination of its existence. At the same time, we announce to the world public opinion the beginning of a new phase in the fight against terrorists, and this through the continuation of precise military and security campaigns in coordination with the international coalition forces with the aim of completely eliminating the secret military presence of ISIS organization sleeping cells, which are great threat to our region and the whole world."