Tens of thousands from Afrin and Shehba protested the conspiracy
People from Afrin and Shehba cantons took to the streets today to condemn the international conspiracy that led to the arrest of Abdullah Ocalan on Fenruary 15, 1999.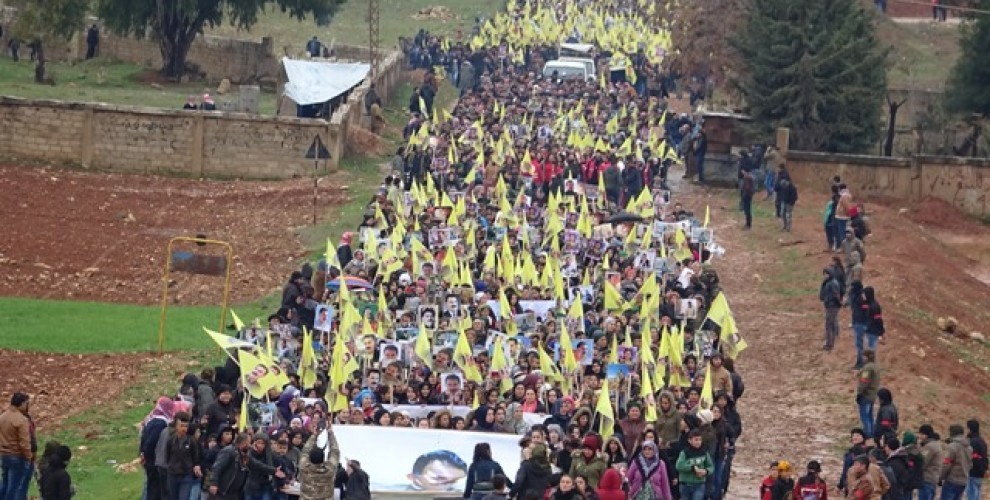 Tens of thousands of residents from Afrin and Shehba region today participated in a demonstration to denounce the 20th anniversary of the international conspiracy against the Kurdish people's leader, Abdullah Ocalan.
The rally started at 12:00 in the main neighborhood of Ehdas district, and the crowd marched to the village of Meret Mislimiyê.
Posters of Abdullah Ocalan were carried by the protesters as they cheered slogans in support of the Kurdish leader's freedom.
Referring to the ongoing hunger strikes in Kurdistan and abroad, an administrative member of the North and East Syria Federation, Hediya Yûsûf said: "Abdullah Ocalan launched an overall struggle to bring peace and freedom to Kurdistan and the Middle East. The struggle was followed by millions of people, and thousands fell martyr."
Member of the Star Congress, Hêvîn Silêmen, condemned the international conspiracy and said: "The resistance in Imrali prison has reached a great level for the freedom of Ocalan and the Kurdish people."
Moreover, Wefei spoke on behalf of the Arab residents in Shehba Canton and stated the conspiracy has been defeated. "People in northern Syria today live based on Ocalan's ideas," said Wefei.
Member of the Revolutionary Youth in Northern Syria, Xemgîn noted that the struggle will continue until peace and freedom are realized.