30 parties in North-East Syria support the KCK campaign
A total of 30 political parties in northern and eastern Syria expressed their support for the KCK campaign in a joint declaration.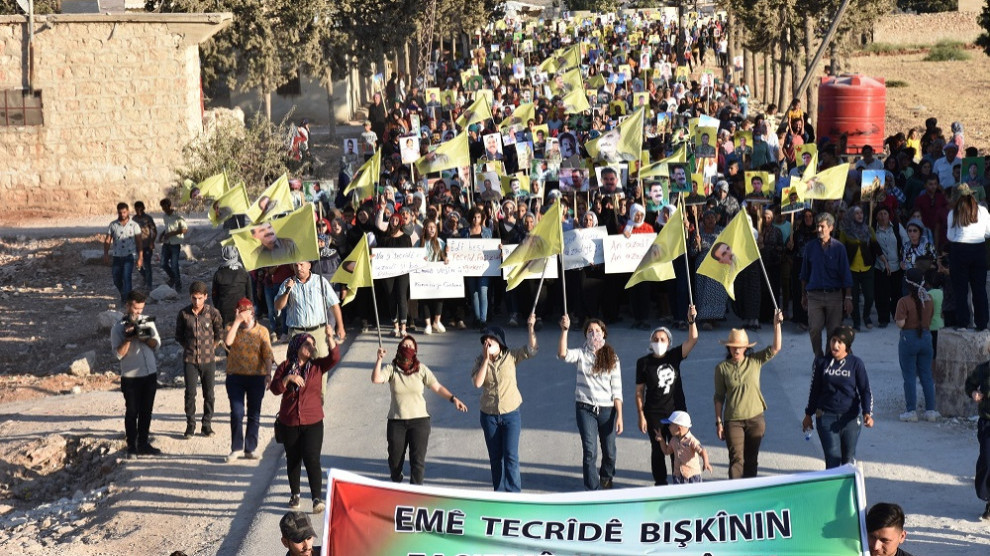 A total of 30 political parties and organizations active in the autonomous regions of Northern and Eastern Syria have announced their support for the campaign "End Isolation, Fascism and Occupation - Time for Freedom" launched by the Kurdistan Communities Union (KCK) on September 12.
In a joint declaration published on Saturday, the signatory parties justify their decision to effectively fight against crimes of the Turkish regime in the self-governing areas in Syria and all other regions in the Middle East; "As peoples who are fighting for freedom, we are directed against the activities of the Turkish state in our regions, war crimes, occupation, Turkey's support for terrorist and jihadist groups."
The declaration lists a number of war crimes and crimes against humanity in the occupation zones in northwestern and northeastern Syria, for which both the Turkish army itself and occupation militias acting under its control are responsible. These include executions, kidnappings, looting and confiscation of property belonging to the ancestral civilian population, forest fires as an ecological campaign of destruction and cutting off the water supply.
"In addition, targeted demographic changes continue to take place in the Kurdish areas, including the displacement of members of the Syriac, Assyrian, Chaldean, Armenian and Yazidi communities. The UN Commission of Inquiry on Syria has recently documented a small part of these crimes in a report. As signatories of this declaration, we condemn the crimes of the Turkish state and its terrorist groups and call on the United Nations to send its commission of inquiry to the occupation zones of northern Syria. We also demand that the UN exert pressure on Turkey so that the Turkish occupying forces and their terrorist militia group SNA (Syrian National Army) leave Syria.
The signatory parties welcomed the Memorandum of Understanding that the Syrian Democratic Council (MSD) signed with the Popular Will Party in Moscow at the end of August on strategic cooperation, which is intended to lay the foundation for a multi-ethnic, decentralized postwar Syria. they also expressed hope that the talks between the Kurdish National Council (ENKS) and the PYD or the "Parties for Kurdish National Unity" (PYNK) initiated by the SDF Command for an inner-Kurdish rapprochement will bear further fruit as soon as possible.
The parties expressed criticism of the Syrian regime's attempts to reinstate the Baathist educational model, saying: "When the Syrian government left our territories to terrorist organizations like the ISIS, it was the autonomous administration that defended our educational institutions and provided mother-tongue education for all communities in our regions. We condemn the regime's intentions and reaffirm our commitment to the autonomous education system.
The signatory parties and organizations are:
-Heyet Tensîq El-Weteniye
-Tevgera Guhartina Demokratîk
-Partiya Yekitiya Demokrat (PYD)
-Partiya Yekitiya Suryan
-Partiya Aştî ya Demokrat a Kurdistanî
-Yekitiya Lîberal a Kurdistanî
-Partiya Komînîst a Kurdistanî
-El-Partî Demokratî Kurdistanî-Sûriye
-Partiya Demokrat a Kurd a Sûriye
-Partiya Çepgir a Kurd li Sûriyê
-Partya Çepgir a Demokratî a Kurdî li Sûriyê
-Partiya Komele ya Nîştimanî ya Kurdistanî
-Partiya Guhartin a Demokratî ya Kurdistanî
-Tevgera Nûkirin a Kurdistanî
-Yekitiya Karkerên Kurdistanî
-Desteya Nîştimanî ya Ereb
-Partiya Nûjen û Demokratîk li Sûriyê
-Partiya Kesek a Kurdistanî
-Partiya Wîfaq a Demokratî
-Partiya Îslah-Sûriyê
-Partiya Demokratî ya Kurdî li Sûriyê (El-Partî)
-Partiya Asûrî ya Demokratî
-Partiya Teaxî ya Kurdistanî
-Partiya Roj a Demokratî ya Kurdî li Sûriyê
-Partiya Nîştimanî ya Azad-Rojava
-Şepêla Pêşerojê ya Kurdistanî
-Tevgera Civaka Demokratîk (TEV-DEM)
-Kongreya Star
-Partiya Muhafezkeran a Demokratî
-Partiya Têkoşîn a Demokratî