AANES delivers aid to earthquake-hit areas in Aleppo and Shehba
AANES continues providing aid to the areas affected by two Maraş-centered earthquakes on February 6.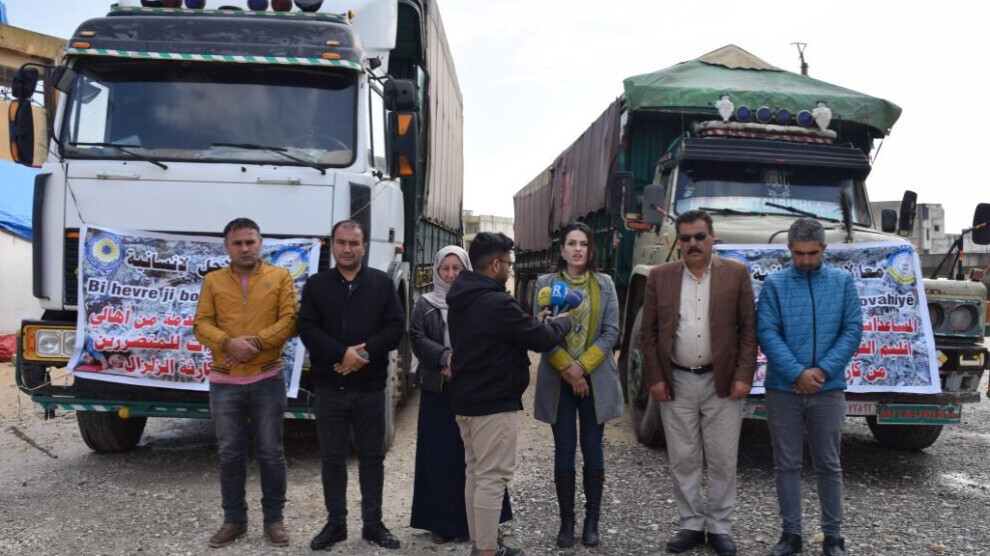 In the wake of the devastating earthquakes, the Autonomous Administration of North and East Syria (AANES) launched a campaign called "Together for Humanity" and continues providing aid to the affected areas.
AANES has now sent two trucks of aid from Kobanê Canton to the al-Tayiha crossing in Manbij to be delivered to Aleppo and Shehba.

The Euphrates Region Autonomous Administration Social Affairs and Works Committee Co-Chair Helin Hajim made a statement and said: "We have been trying to help the earthquake victims for over a month and we announced a donation campaign to this end. Today we are sending the aid materials we have collected."
Hajim said: "We have been trying to send aid to the affacted areas for over a week but we have seen roads before us closed. Only today have we been able to get permission to deliver aid to the quake-hit areas."
Following the Damascus government's obstruction of aid delivery to Aleppo on March 14, AANES withdrew the humanitarian aid convoy from al-Tayiha crossing.
The Damascus government also prevented the passage of 100 fuel trucks prepared by AANES to be delivered to Aleppo and Shehba for 9 days.