Abdullah Öcalan's book "Sociology of Freedom" presented in Torino
The Italian edition of Abdullah Öcalan's book "Sociology of Freedom" was presented in Torino on May 30.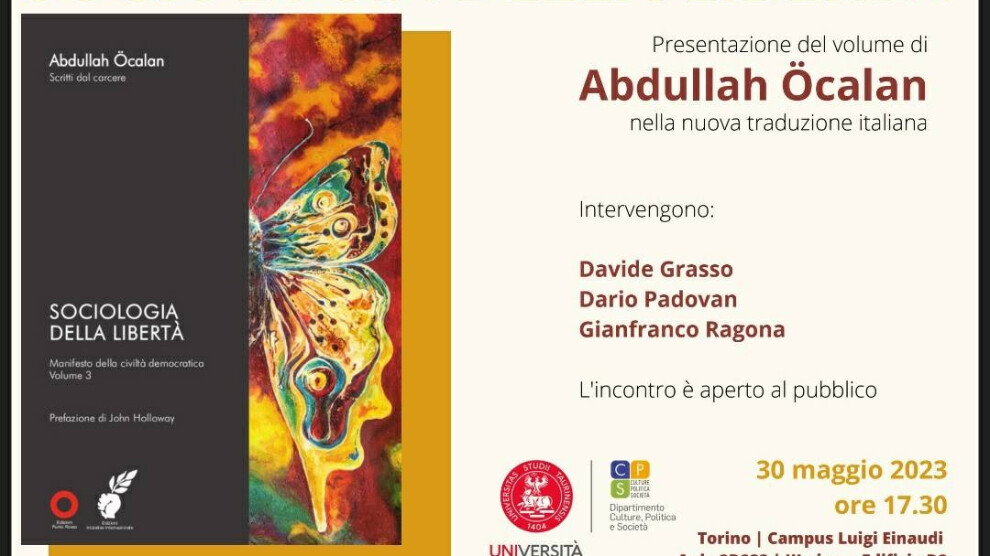 On Tuesday, May the 30th, a seminar presenting Abdullah Öcalan's book "Sociology of Freedom" (2023) - recently translated into Italian - was held at the Department of Cultures, Politics and Society at the University of Turin, Italy. Speakers included Dario Padovan, professor of Sociology of the Environment, Gianfranco Ragona, professor of History of Political Thought, and Davide Grasso, professor of Law and Ethics in times of war. Thirty students, doctoral students, and academics attended the presentation.
Prof. Grasso: "Very influential movements in Middle Eastern politics draw inspiration from this author's political proposal"
Davide Grasso recalled the harsh conditions of Abdullah Öcalan's imprisonment, who has been imprisoned by the Turkish regime on Imrali prison island in complete isolation for the past twenty years. These conditions have made the writing process fraught with obstacles. Nevertheless, Öcalan is a symbolic figure for a vast part of the Middle Eastern population. In his speech, Grasso summarized the conception of sociology, society, and the state proposed in the book "Sociology of Freedom" (2023), highlighting the critique of positivistic and Eurocentric social sciences.
Prof. Ragona: "This book is a challenge to some conceptions we have about the world and it is crucial that it be discussed today among revolutionaries"
Prof. Ragona recalled that Öcalan's thought developed in the study and critique of numerous revolutionary experiences in history; in particular, he compared anarchist thought and Öcalan's analysis, identifying commonalities in the conception of science, law, and revolution. He also stressed to today's revolutionaries the importance of critiquing the state conception of twentieth-century revolutionary thought; he declared, "It is fundamental today to build an alternative system in which free life can be realized."
Prof. Padovan: "Sociology has become social engineering, positivist sciences cannot solve the problem"
Prof. Padovan explained that sociology became social engineering because it has relied on the positivist model, which, however, has shown itself unable to analyze and solve the problems of capitalist modernity. Instead, according to Padovan, a holistic approach in this regard is necessary. The talk continued with an analysis of the common elements between Öcalan's thought and that of Braudel, Lukacs, Rosa Luxemburg, and Murray Bookchin.
The meeting concluded with a rich discussion and the hope that Öcalan's thought to be studied more within universities and become a pillar of thinking in the humanities, political and social sciences.