Girkê Legê citizens and war veterans take over the tent action at Semalka Border Gate
Girkê Legê citizens and war veterans took over the tent action launched in front of the Semalka Border Gate by the Families of the Cizre Martyrs.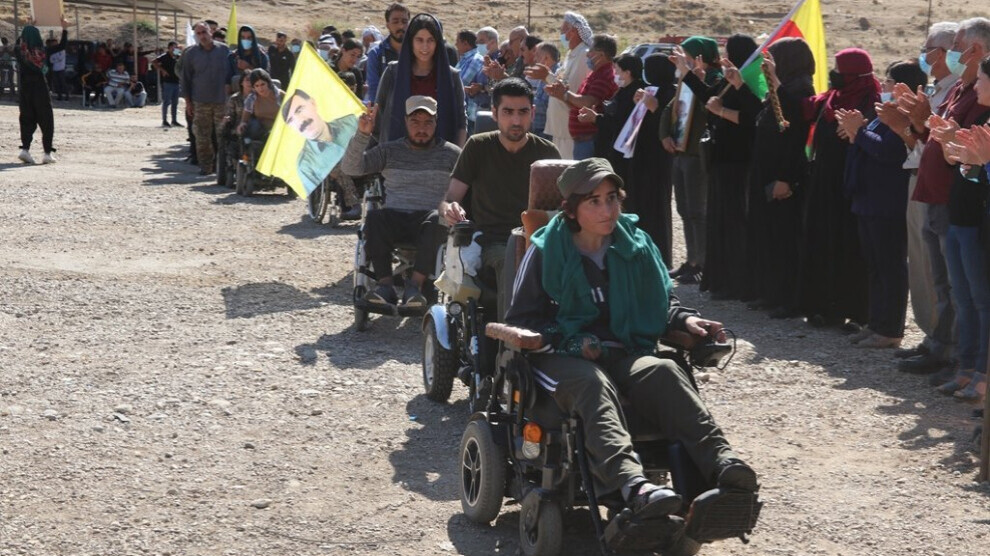 The tent action, which was launched four days ago to demand the delivery of the remains of the guerrillas who fell as martyrs in the KDP's attack on the Medya Defense Areas, continues. The citizens and war veterans from Girkê Legê took over the action.
On the third day of the action, Kongreya Star Girkê Legê Coordination member Firyal Mihemed Selîm delivered a speech. Stating that the gains of the Kurdish people should be protected, Selîm said: "KDP President Mesut Barzani was saying that they would not allow a civil war. So who is targeting the HPG, who ambushes the guerrillas and kills them, who does not give the remains of those guerrillas fallen as martyrs?"
Selîm said that the Kurdish people were full of hope after the Rojava Revolution and wanted to remove the borders between Bashur and Rojava. She pointed out that the KDP did the opposite and supported the siege against Rojava.
Mizgîn Idris, member of the War Veterans Association, said: "If a civil war breaks out among Kurds, it will be the Kurdish people that will suffer the most. The gains of the Rojava Revolution and the gains in Bashur would disappear. The Kurdish people would face massacres. In order for this not to happen, the KDP needs to abandon its policy as soon as possible."
Mizgîn Idris made a call to the public and asked everyone to raise their voices against the KDP's betrayal.