HRE announces the names of five fighters martyred in Turkish attacks
HRE fighters Xelîl, Çayan, Brûsk, Dilsoz and Baran were martyred in Afrin in the Turkish wave of attacks on the autonomous region of northern and eastern Syria.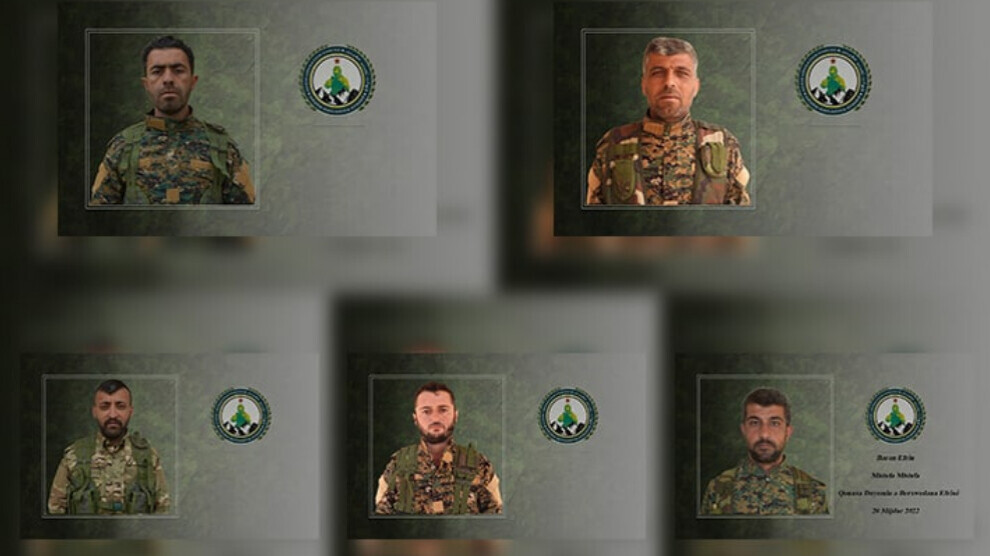 The Afrin Liberation Forces (HRE) released the identity information of five fighters who were martyred in the attacks of the invading Turkish state against the Afrin region. Accordingly, Xelîl Cindirês (Zeîm Reşo), Çayan Efrîn (Şiyar Silêman), Brûsk Efrîn (Abdullah Îsa), Dilsoz Şêrawa (Mihemed Hisên) and Baran Efrîn (Mistefa Mistefa) fell in a Turkish attack in the Afrin region on 20 November.
The statement released by the HRE on Thursday includes the following:
"The Turkish state has been bombing the towns and villages of northern and eastern Syria with fighter jets, drones, tanks and missiles since the night of 19 November as part of its genocidal concept. These attacks target not only military forces, but above all the civilian population. Hospitals, schools, health centres, cultivation areas and infrastructure facilities are attacked. This results in massive property damage and humanitarian problems.
On 20 November, numerous settlement areas in Shehba and Afrin were bombed by fighter jets and drones. Our companions Xelîl, Çayan, Brûsk, Dilsoz and Baran were martyred in these attacks. They had joined us at different times and were from Afrin. They had patriotic motives to build a revolutionary personality and joined our forces to liberate Afrin and the other occupied areas.
When a people and a country are occupied, honourable people are left with only one path: the revolutionary struggle against the occupiers. This is what our fallen comrades did with all their hearts. They took part in the liberation struggle because, like our people, they dreamed of a free life in their country. As the Afrin Liberation Forces, we promise to continue the struggle of Xelîl, Çayan, Brûsk, Dilsoz, Baran and all the martyrs for a free country and the coexistence of peoples. We offer our condolences to the families of the martyrs and to our people."
The identity information of the fallen HRE fighters is as follows:
Nom de Guerre: Xelîl Cindirês
Name and surname: Zeîm Reşo
Mother's name: Nezira
Father's name: Mihemed
Date and place of martyrdom: November 20, 2022-Afrin Region
***
Nom de Guerre: Çayan Afrin
Name and surname: Şiyar Silêman
Mother's name: Asya
Father's name: Evdileziz
Date and place of martyrdom: November 20, 2022-Afrin Region
***
Nom de Guerre: Brusk Efrin
Name and surname: Abdulah Îsa
Mother's name: Hemida
Father's name: Abdulhenan
Date and place of martyrdom: November 20, 2022-Afrin Region
***
Nom de Guerre: Dilsoz Şêrawa
Name and surname: Mihemed Hisên
Mother's name: Nazliye
Father's name: Behri
Date and place of martyrdom: November 20, 2022-Afrin Region
***
Nom de Guerre: Baran Efrin
Name and surname: Mistefa Mistefa
Mother's name: Necla
Father's name: Sebri
Date and place of martyrdom: November 20, 2022-Afrin Region