Martyr Faisal Abu Leyla's daughter is fulfilling her father's dream and is becoming a doctor
Martyr Faisal Abu Leyla's daughter, Leyla, is fulfilling her father's dream and she is becoming a doctor, treating the fighters and the children of the martyrs.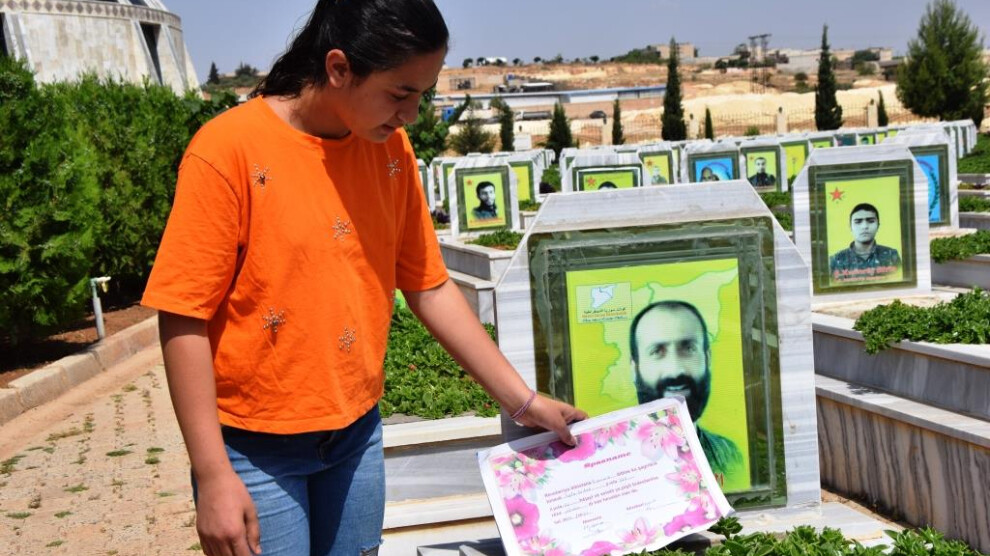 Faisal Abu Leyla, Commander of Shams Al Shamal Battalions, fell as a martyr in the operation to liberate Manbij from ISIS mercenaries on 5 June 2016. His daughter Leyla was 6 years old. Martyr Abu Layla wanted his daughter Leyla to become a doctor. She is trying to fulfil her father's wish.
Leyla, who successfully completed 7th grade, visited her father's grave on the anniversary of his death and said that she would fulfil his will, and that she would become a doctor to treat the children of martyrs and wounded fighters on the resistance fronts.
Leyla said that her father was a great hero and sacrificed his life so that the children of her country could live in peace. "I am proud of my father. Wherever there was war, my father was present. My father was always telling us the truth, he was fighting not just for us, but for all children who face the dangers posed by ISIS mercenaries. He always told me to study and make him proud of me. I am learning Kurdish because that is what my father wanted."
Leyla said that her father came home very little and added: "My father did not accept that these lands were occupied by mercenaries and he devoted his time to opposing them. We were never angry because we knew what our father did was right. Our faith in him was very strong. We knew that he would not abandon his land in the hands of the terrorists, and he fell a martyr with his head high."
Abu Leyla wrote a letter to his daughter Leyla during the Kobanê war.
The letter reads as follows:
"This is our duty. Defense and work is our duty. I will fight for you and for children like you. We will defend our land from all dangers so that children can live a better and free future. Just so you won't say 'you didn't do anything for us' when you grew up. I miss you so much Leyla. Whether I live or die a martyr, you will be proud of your father."
Commander Faisal Abu Leyla fought heroically in the war against the Damascus government on the fronts of the Shexmeqsûd, Eşrefiye neighbourhoods, Old Aleppo and Latakia. He also participated in the operations to liberate Sirîn, Girê Spî, Hol, Şedade and Tişrîn Dam from ISIS mercenaries during the historical resistance of Kobanê.
He fell as a martyr in the last Manbij Liberation Campaign. After his death, the campaign continued, taking the name "Commander Faisal Abu Leyla Manbij Rescue Campaign" and resulted in the complete liberation of Manbij.