North-East Syrian Council of Martyrs' Families holds 1st Congress in Hesekê
The 1st Congress of the North-East Syrian Council of Martyrs' Families is being held in Hesekê.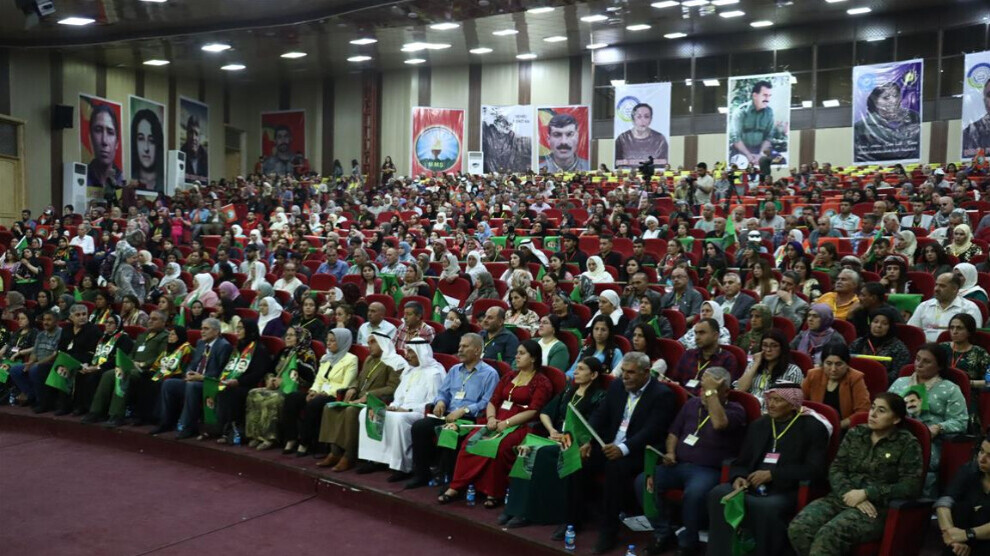 The North-East Syrian Council of Martyrs' Families is holding the 1st Congress under the motto "We will develop the revolutionary people's war and ensure the physical freedom of Abdullah Öcalan."
The congress in Hesekê is being attended by Kurdish, Arab and Syriac representatives from the institutions of the Autonomous Administration of North and East Syria (AANES), Newroz Ehmed, a member of the General Command of the Syrian Democratic Forces (SDF), Democratic Union Party (PYD) Co-Chair Asya Abdullah and TEV-DEM (Democratic Society Movement) Co-Chairs Rûken Ehmed and Xerîb Hiso.
In a speech addressing the participants, Asya Abdullah raised concern over the aggravated isolation of Kurdish leader Abdullah Öcalan and said that the isolation imposed on him was directed against all peoples who promote freedom and oppose colonialist policies.
Abdullah described the struggle of the people of North and East Syria as a historic resistance, saying: "The North and East Syrian Revolution has been a historic one thanks to the sacrifices of our martyrs who gave their lives to protect the achievements of the revolution and the resistance of our female comrades who have never bowed to the enemy."
Abdullah emphasized that the Turkish state and its mercenaries wanted to invade the region by weakening the will of the people through their attacks on North and East Syria.
As the congress continues, the AANES Executive Council Co-Chair Hemdan El Ebid, SDF General Command Member Newroz Ehmed and Kongra Star Coordination Member Remziye Mihemmed are expected to deliver speeches.