People of Kobanê celebrate Newroz
Thousands of people celebrate Newroz in Kobanê.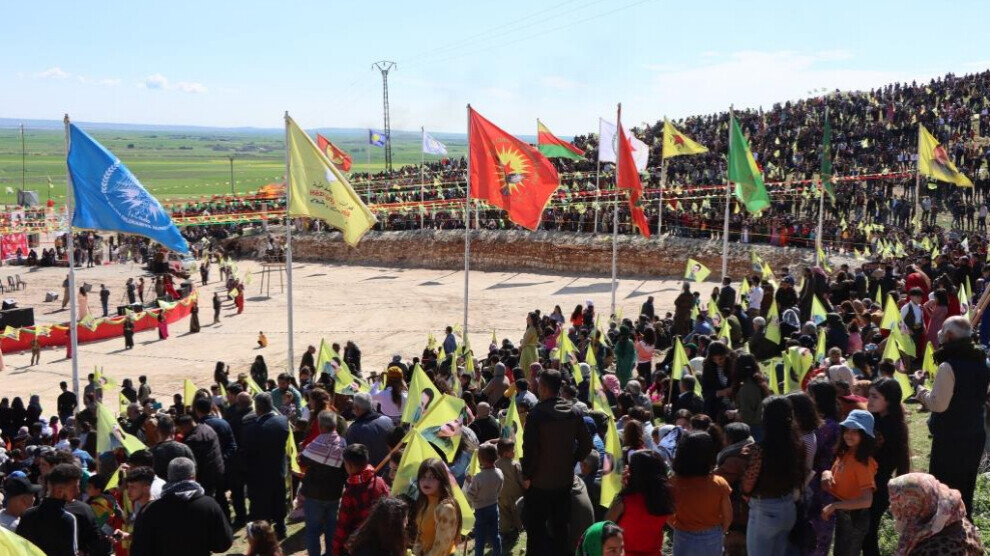 The Newroz celebration on Miştenur Hill in Kobanê kicked off following a moment of silence and the lighting of the Newroz fire on Tuesday.
In a speech, Mehmet Şahin, Co-Chair of the Euphrates Region Executive Council, congratulated Kurdish leader Abdullah Öcalan, the freedom guerrillas and the people on Newroz. Şahin said that they endorsed the "Jiyan Jiyan Azadî" (Woman, Life, Freedom) uprising that continues in Iran and Rojhilatê (East) Kurdistan. He emphasized that they would make Newroz an international celebration under the leadership of Kurdish leader Abdullah Öcalan and with the democratic nation project.
TEV-DEM (Democratic Society Movement) Co-chair Rûken Ehmed said that the resistance of Öcalan in the Imrali prison for 24 years has become a school for humanity. She added: "The resistance on the leader's line continues. We must expand the resistance and defeat the invaders."
Ute Gedig, mother of internationalist fighter Andok (a German fighter), who was martyred in the ranks of the SDF following a Turkish attack in Serêkaniye in 2019, said: "Martyr Andok showed that the Rojava revolution and the struggle of Öcalan are a cause for the entire humanity."
The music groups of the Baqi Xido Cultural Centre appeared on stage during the event.