People of Afrin protest the international conspiracy
The people of Afrin protested the international conspiracy and drew attention to the fact that Kurdish people's leader, Abdullah Öcalan, opened the way to a social revolution.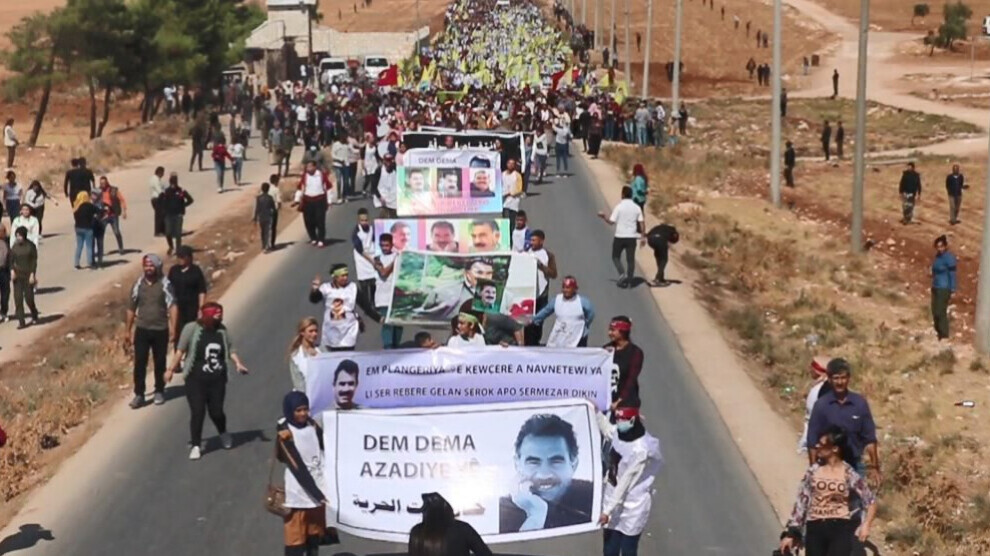 The people of Afrin protested the international conspiracy against Kurdish people's leader Abdullah Öcalan.
The people, carrying Abdullah Öcalan's photographs and the flags of the Martyrs' Families Assembly and Kongreya Star, started walking in the Til Qirax town of Ehdas district and proceeded towards the Serdem Camp in the village of Til Sosin.
Speaking at the march that turned into a rally in Serdem Camp, Afrin Kongreya Star Coordination member Şêrîn Hesen said: "Leader Abdullah Öcalan has created a social revolution for the freedom of women and society."
Hesen added: "The oppressed peoples take Leader Abdullah Öcalan's philosophy as their source of life. Conspiratorial states, who cannot stand the people's support for Leader Öcalan, took him prisoner with an international conspiracy. But the conspiratorial states will not be able to extinguish the spark of freedom that Leader Öcalan has spread. With each passing day, the people insist on the struggle and state that they will continue their resistance."
Stating that Abdullah Öcalan is the source of enlightenment and truth, Freedom for Abdullah Öcalan Committee member, Ferzende Munzur, said that the invading Turkish state is hostile to the freedom movement and the conspiracy is continuing.