People of Kobanê bid farewell to fighter martyred in Turkish drone attack
Masses bidding farewell to fallen fighter Ehmed Eli saluted the guerrilla resistance.
The people of Kobanê bid farewell to Ehmed Eli (Şoreş Kobanê) who lost his life in a Turkish drone attack in Tirbespiyê on January 18.
The crowd attending the funeral ceremony at Şehit Dicle Cemetery of Martyrs also paid tribute to Rêncber Rêbaz (Mihemed Osman), a guerrilla fighter of the HPG (People's Defense Forces) from the city, whose martydom in the Zap region of Medya Defense Zones in southern Kurdistan (northern Iraq) on 26 September 2022 was announced by the HPG ten days ago.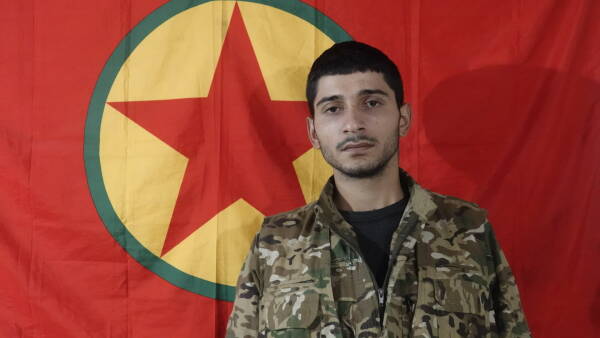 Addressing the crowd, Kongra Star Euphrates Coordination member Macîda Hesûn said, "We are a people waging a fight and struggle. We do not bow to invasion."
Speaking after, TEV-DEM (Democratic Society Movement) member Bozan Dali from the Euphrates Region stated, "We are alive thanks to the guerrilla resistance. We are subject to attacks with all kinds of weapons and chemical agents but we will not surrender to the occupying Turkish state. Resistance is life and we will liberate occupied territories through struggle."
Bozan Dali called on the people of the region to develop resistance against occupation attacks.
After the speeches, martyr Ehmed Eli was laid to rest under slogans.