Political parties call for international action to stop Turkey's colonial project
10 Kurdish, Arab and Syriac political parties in Qamishlo reacted to the Turkish attacks on North and East Syria and called on the international community to stop Turkey's project of resettling Syrian refugees in the occupied regions in North-East Syria.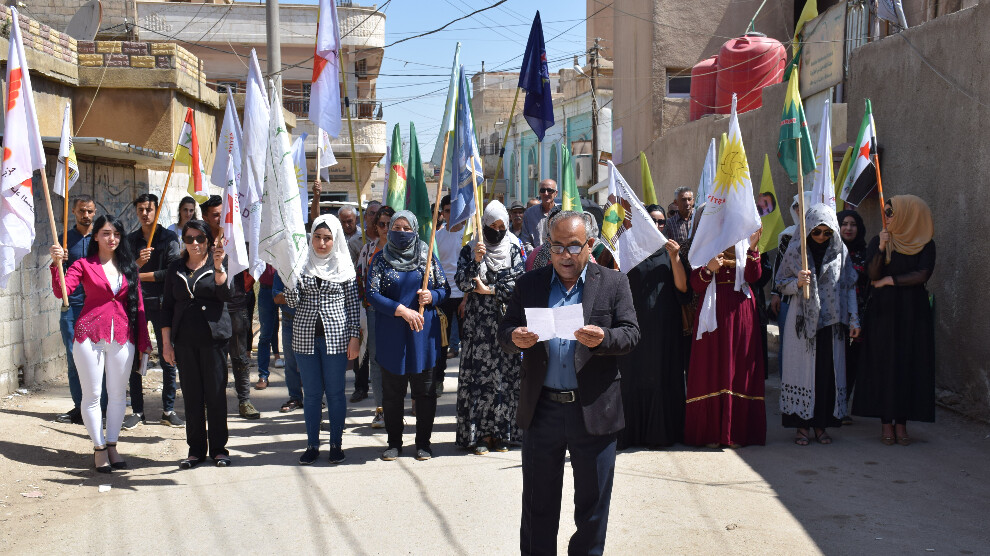 The invading Turkish state continues its crimes and violations in North and East Syria in sight of the world and the international community.
Political parties in the Tirbespiyê district of the Qamishlo Canton condemned the Turkish attacks and changing of the demographic structure. The statement was read out in front of the Democratic Union Party (PYD) Tirbespiyê office by Îbrahim El-Selac, a member of the Executive Committee of the Democratic Modern Party.
"The Turkish state continues to pursue fascist and racist policies against the peoples in Turkey and abroad, specifically against the people of North and East Syria," said the statement, which further said: "The Turkish invasion seeks to eliminate the Shengal and North and East Syrian Autonomous Administration project which represents the will of the Kurds, Arabs and Syriacs. The invading Turkish state announced at the beginning of May a project to resettle Syrian refugees in the occupied areas. Turkey will settle nearly one million Syrian refugees in colonial houses."
The Autonomous Administration of North and East Syria welcomed the return of Syrian refugees but demanded that they return to their own regions rather than the territories of Girê Spî, Idlib, Jarablus, Serêkaniyê, Afrin, Bab and Azaz that have been occupied by the Turkish state.
"The invading Turkish state has recently built colonial houses in Afrin, Girê Spî, Serêkaniyê to settle Syrian refugees," the statement of the political parties in Tirbespiyê said.
The statement urged the international community and the United Nations (UN) Security Council to stop the colonial project of the Turkish state so that the suffering of the Syrian people would not be repeated in future.
Parties that signed the statement are:
-Syriac Unity Party
-Democratic and Modern Party
-Conservative Party
-Kurdistan Democratic Roj Party
-Democratic Green Party
-Syrian Development and Construction Party
-Democratic Peace Party
-Syrian Kurdistan Democratic Party (Al-Party)
-Arab National Committee
-Democratic Union Party (PYD)