SDF announces the identity of four fighters martyred in Turkish attack
SDF vowed to thwart increasingly ongoing Turkish aggressions and violations and to liberate the occupied areas in North-East Syria.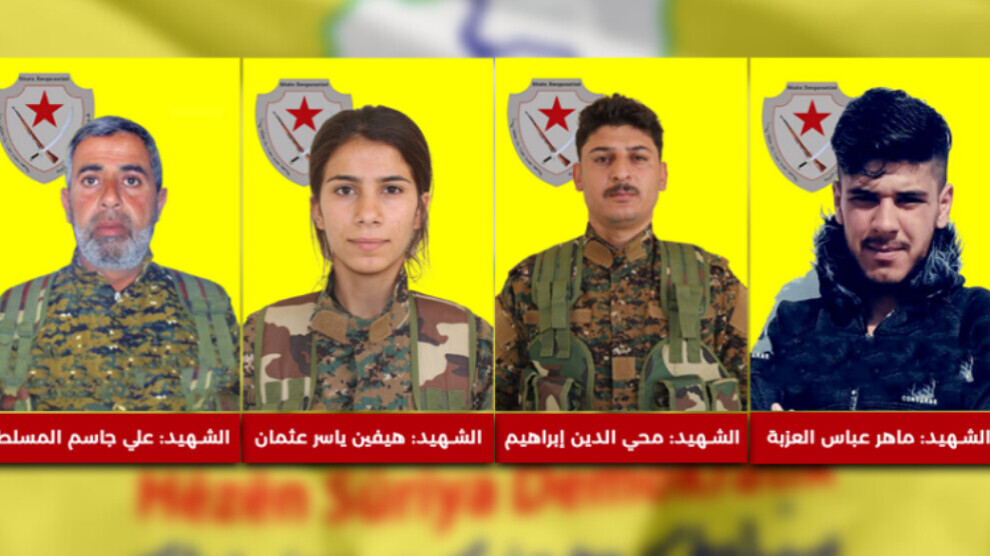 The Press Centre of the Syrian Democratic Forces (SDF) announced the identity information of four members of Self-defense forces who were martyred in a Turkish attack near Qmishlo city on July 9.
The statement by SDF Press Centre includes the following:
"The Turkish occupation has escalated its daily aggressions against North-East Syria, reaching unprecedented levels. Over the past few days, it has targeted the heavily populated areas, let alone the military outposts in the de-escalation areas, breaching the international laws and covenants, primarily violating the 2019 Ceasefire Agreement signed by the two guarantors (The US and Russian Federation).
Yesterday, the Turkish occupation targeted an outpost belonging to the Self-Defense Forces near Qmishlo city, resulting in the martyrdom of four fighters and three others injured while on duty.
We extend our heartfelt condolences to our four martyrs' families, all our martyr's families, and our people, and we wish speedy recovery for our wounded fighters, and we pledge to retaliate for their sacred blood by escalating the resistance and the struggle against the enemies.
The Turkish aggressions and violations have entered a new phase by launching a full-scale war against our areas, but we will thwart its aggressions by putting an end to its repeated violations and liberating our occupied areas.
Once again, we express our condolences to our martyrs' families, and wish speedy recovery for our wounded fighters."
The identity details of the fallen fighters are as follows:

Nom de guerre: Dilsuz Terbaspi
Real name: Hevin Osman
Mother's name: Maysa'a
Father's name: Yaser
Place and date of birth: Qamishlo, 2004
Place and date of martyrdom: Qamishlo, August 9, 2022
Real name: Ali al-Muslat
Mother's name: Fuddah
Father's name: Jasim
Place and date of birth: al-Aal
Place and date of martyrdom: Qamishlo, August 9, 2022
Real name: Mohiuddin Ibrahim
Mother's name: Shams Khan
Father's name: Qahraman
Place and date of birth: Qamishlo, 1991
Place and date of martyrdom: Qamishlo, August 9, 2022
Real name: Maher al-Ozbah
Mother's name: Thuraya
Father's name: Abbas
Place and date of birth: Tal Mushhin, 2004
Place and date of martyrdom: Qamishlo, August 9, 2022