SDF fighter El Salih laid to rest in Tabqa
SDF fighter Ûsama Ehmed El Salih, who fell as a martyr in Deir ez-Zor, was laid to rest in Tabqa.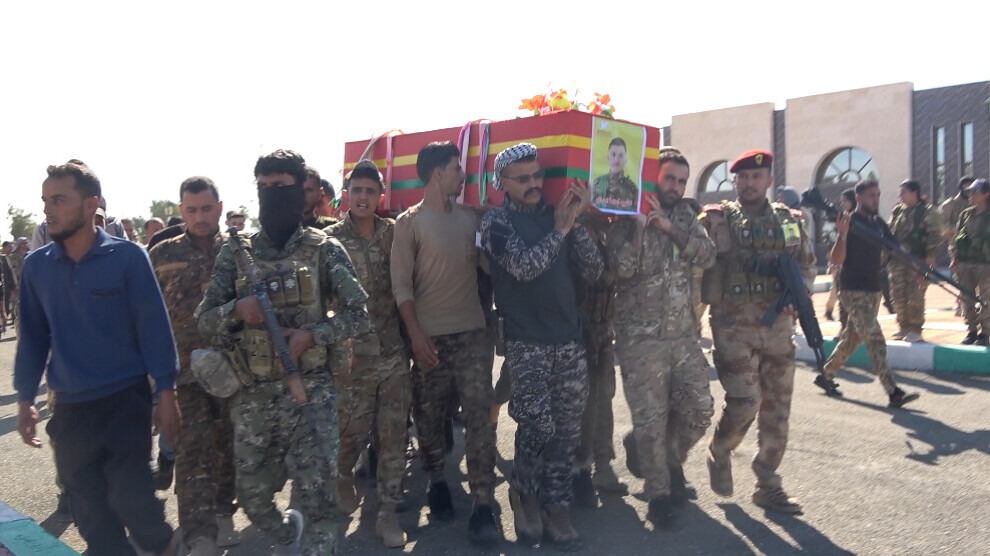 A ceremony was held in Tabqa to bid farewell to Democratic Syrian Forces (SDF) fighter Ûsama Ehmed El Salim, who fell as a martyr on 29 September during the Security Reinforcement Operation launched in Deir ez-Zor.
Hundreds of people gathered at the Tabqa Martyrs' Martyrs' Cemetery, where a minute's silence and a military ceremony were held in memory of the martyrs of the revolution.
Speaking on behalf of SDF, Agirî El Mihemed, Tabqa Executive Council Deputy co-chair Ebdulezîz El Esker and Northern and Eastern Syrian Autonomous Administration representative Farûq El Maşî made a speech and underlined that they would never give up on the struggle to defend the people and the lands.
Farûq El Maşî, co-chair of the Social Affairs Board, said: "We sacrificed thousands of martyrs for a safe and peaceful country. We are still paying a heavy price to end the occupation of our lands. We will protect the gains achieved with the blood of our martyrs. The enemy wants to destroy our will and dignity as well as destroy our established life with its vile attacks. We are telling the enemy that we own this land. It is our land, and we will live on it. We have children who will defend our lands. They cannot break our will. We defeated the ISIS mercenaries and established our administration. Nobody cannot sever our ties with our land."
Foza El Mihemed, a member of the Council of Martyrs' Families, read the martyrdom certificate of Martyr Ehmed El Salim and handed it over to his family.
The body of the martyr was buried at the Tebqa Martyrs' Cemetery with slogans of loyalty to the martyrs.