Threat of invasion against Rojava and the current situation in North-East Syria-III
The Turkish state invaded Afrin in 2018, and Serêkaniye and Girê Spî in 2019. Here is the current situation in these occupied areas.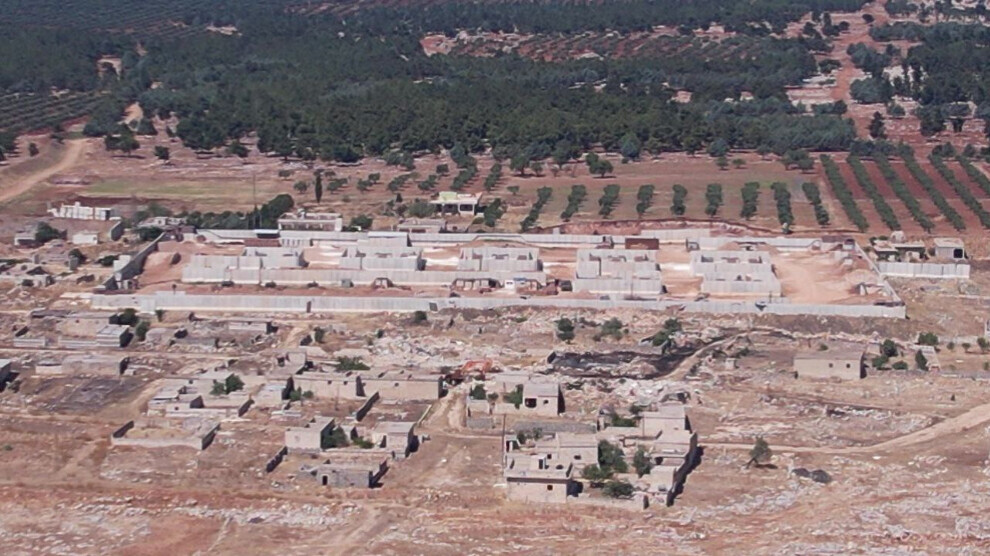 When we look at the violations of rights in Syria's Idlib, Azaz, Jarablus, Bab, Afrin, Serêkaniye and Girê Spî regions, which are under the occupation of the Turkish army and their mercenaries, we can imagine how a possible invasion will affect the region.
In this part of our article series, we will talk about what has happened in the occupied regions, from demographic change to torture, from violations against children and women to natural destruction, and what dark future the occupation promises for these regions.
WHAT IS HAPPENING IN OCCUPIED REGIONS?
Afrin Canton: Countless crimes have been committed in Afrin, which has been under the occupation of the Turkish state and its mercenary groups for 5 years, including massacre, rape, torture and organ trafficking. In the past 5 years, 663 people have been tortured to death, 8,644 people have been kidnapped, Kurdish names of villages, other settlements and dozens of historical places were removed, and the nature of the region has been destroyed. For 5 years, 12 hectares of gardens and forests have been burned down by the invading mercenary groups. 367,000 trees have been cut down and more than 13,500 trees have been burned. Mercenaries from different nationalities and their families replaced the settlements of more than 300 thousand people from Afrin, who were forced to migrate following the policy of demographic change. The city of Afrin, once described as the safest region in Syria and home to those fleeing the persecution in Idlib, is currently used by the Turkish state as a testing ground for the spread of terrorism. The Turkish army has more than 50 military bases in the villages and centres of Cindirêsê, Şiyê, Raco, Mabata, Shera and Sherawa districts in the Afrin Canton. Areas that are not occupied and where refugees reside are constantly shelled from these military bases.
Serêkaniyê and Girê Spî: More than 400 thousand citizens had to migrate following the attacks that started on October 9, 2019. As the crimes committed by the Turkish state and its mercenaries increased, more people were forced to migrate. A statement made on October 8, 2022, by the Serêkaniyê Migrant Committee of North and East Syria said: "185 people were abducted. 325 people were tortured. At least 5 people were killed under torture. 92 detainees, 48 of whom received prison sentences up to 13 years and life imprisonment, were transferred to Turkey. While 11 people were executed, 56 people were killed."
In Serêkaniye, where more than 72 explosions took place, 145 civilians, including women and children, lost their lives. More than 300 people were injured.
Other regions: There are intense violations of rights also in occupied Idlib, Azaz, Bab and Jarablus. In these regions, the Turkish state trains members of extremist groups, including ISIS and Al-Qaeda, and deploys them to various parts of the Middle East. Numerous documents were exposed by the media regarding the groups sent to Karabakh and Libya in 2020.
VIOLATIONS AGAINST CHILDREN AND WOMEN
Crimes such as torture, rape and forced conscription of children and women are frequently committed in occupied areas. Several international organizations published reports on the crimes committed in the region. In its March 2021 report on crimes against children, the Mait Law Organization in Egypt revealed that 1,316 children had been forcibly recruited.
Afrin Canton: 96 women have been tortured to death in Afrin for the last 5 years. Hundreds of women were kidnapped by Turkey-backed mercenaries and subjected to rape and torture. Children are also forcibly recruited after being brainwashed by the ideology of "radical Islam".
Serêkaniyê and Girê Spî: According to a statement made on October 8, 2022, by the Serêkaniyê Migrant Committee of North and East Syria, 511 people, 68 of whom were women and 42 were children, have been arrested and 11 women have been killed since the occupation. We also published a report on January 11, 2021, that the Turkish army provided war training to children under the age of 18 in schools in Serêkaniyê and Girê Spî under the pretext of "Mine Disposal".
Other regions: Some media outlets reported that mercenaries affiliated with the Turkish state were forcibly recruiting children in other occupied regions of Syria. The Afrin Activists Network shared documents that revealed how the Jabhat al-Shami mercenary group recruited children under the age of 18.
DEMOGRAPHIC CHANGE
Afrin Canton: Mercenaries and their families were settled in places where the displaced Afrin people lived before the invasion. The names of cities, villages, towns and neighbourhoods were changed. Turkish has become the educational and official language. Public spaces were covered with Turkish flags.
The Azadi Square in Afrin city centre was changed to Atatürk Square; Newroz Square to Salaheddin Square; the Niştimani Square to 18 March Square and the Kawa Hesinkar Square to Olive Branch Square. The name of the village of Qestel Miqdad was changed to Selçuk Tent, the village of Kotana to Zafer Tent and the Kurzêle village to Cafer Tent. The signboard of Avrin Hospital, written in Arabic and Kurdish, was also changed into Turkish. Moreover, the signs of shops and streets are now only in Turkish. Turkish identity cards have been issued to those living in the region and the currency has been changed to Turkish lira. Schools are made affiliated to the Turkish Ministry of Education and students are compelled to wear Turkish school uniforms.
Historical places in Afrin Canton were also destroyed and historical artifacts were stolen and taken to Turkey. According to the Afrin Historical Sites Directorate, 59 historical sites were destroyed and the artifacts inside were stolen. With the financial support of the Muslim Brotherhood, more than 20 colonial houses were built in Afrin where more than 500,000 mercenary families were settled.
Serêkaniyê and Girê Spî: According to a statement made on October 8, 2022, by the Serêkaniyê Migrant Committee of North and East Syria, "more than 85 percent of the residents of Serêkaniyê could not return to their homes, and 2,500 migrant families replaced the original residents. 55 Iraqi ISIS families were resettled in the confiscated houses in Serêkaniyê. After the occupation, more than 5,500 houses and more than 1,200 shops were confiscated in the two occupied regions. 55 villages were evacuated. More than one million acres (100 thousand hectares) of land were confiscated.
Til Xelef, the first city settlement in history, dating back to 6000 BC., was destroyed. There is also information that excavations were carried out in religious places and churches.
Turkey and its mercenaries stole a huge number of historical artifacts during the excavations in the historical places called "Medinet El Faw" and "El Sebi El Ebyed".
WHAT WILL NEW OCCUPATION ATTACKS BRING?
Turkey occupied the cities of Jarablus, Bab and Azaz after a military operation dubbed 'Operation Euphrates Shield' on August 24, 2016, Afrin after a military operation dubbed 'Operation Olive Branch' on January 20, 2018, and Serêkaniyê and Girê Spî after a military operation dubbed 'Operation Peace Spring' on October 9, 2019. The Turkish state has deepened the Syrian crisis in its 7-year occupation. Under the spell of Neo- Ottoman ideology, the Turkish state seeks to create a terror country in line with its own interests by disrupting the stable, peaceful and secure environment in North and East Syria.
The invasion of another region by the Turkish state, which has been threatening North and East Syria since June 1, means that new serious violations of rights will emerge. The Turkish state has not been held accountable for the crimes it has committed so far. On the contrary, the indifference to Turkish aggression paves the way for new crimes. The peoples of North and East Syria develop their self-defence mechanism so that what is happening in the occupied regions does not permeate into these regions.